Pentagon Rejects Sinema Proposal To 'Negotiate' With Tuberville Over Abortion
@CynicalBrandon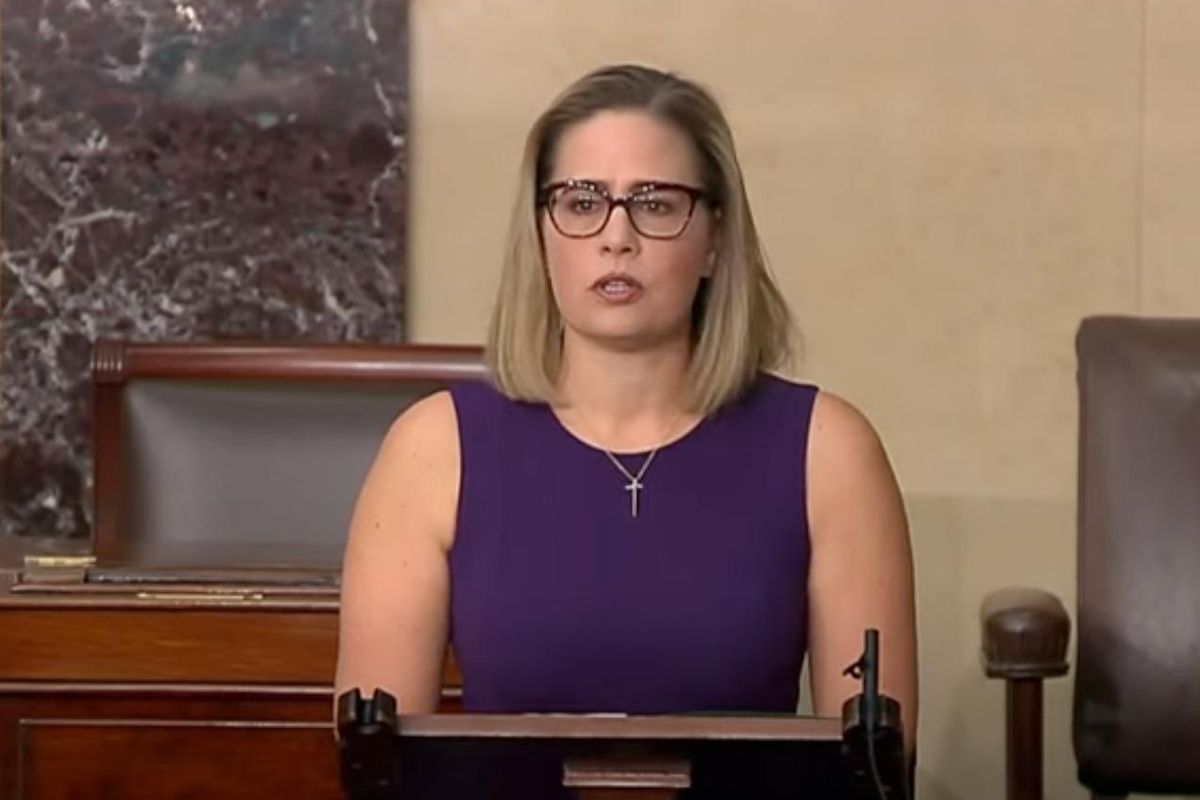 Kyrsten Sinema
Sen. Kyrsten Sinema (I-AZ) wants President Joe Biden and Senator Tommy Tuberville (R-AL) to negotiate a "middle ground" to settle ex-college football "Coach" Tuberville's one-man blockade on military appointments, stemming from his personal opposition to the Pentagon's healthcare policies on abortion, NBC News correspondents Allan Smith and Sahil Kapur exclusively report.
NBC obtained a recording of Sinema telling the Greater Phoenix Chamber of Commerce last week that "she has 'offered' to help both sides come to a consensus," Smith and Kapur explain.
"I know that Coach does not want to undermine the readiness of our United States military. And I know that the United States military and the administration does not want to undermine the authority and the right of any United States senator. What we need are for folks to step off a little bit from their positions and find that middle ground to solve the challenge that we're facing," Sinema reportedly said, adding that "I've volunteered to help do that" and that "we'll see if they take me up on the offer."
Smith and Kapur recall that "Tuberville has blocked promotions for more than 250 high-ranking military officers" and that despite Sinema's "long record of voting in favor of reproductive rights as a senator," she "didn't specifically discuss abortion or detail what shifts she wants to see from the Pentagon or Tuberville," with whom she "disagrees" while nonetheless maintains "respect" for Tuberville's flex.
"What we're in is a position of pain — we're in a pinch point right now," Sinema said, per NBC. "Coach wants something the military and the administration is not willing to give him. But it would be a mistake to take away that tool from a United States senator because it is an important tool to address unmet needs."
Sinema added that "what I'm encouraging both Coach and the administration to do is to be flexible in finding a solution," insisting that "there is always a solution to be had. It may not be everything the Coach wants. And it may not be everything that the United States military or the administration wants. But there is a solution to be found. And so what I have offered to both Coach and to the administration is to help in any way that I can to help find that solution, because it does exist. It always exists."
Meanwhile, Department of Defense spokesperson Sabrina Singh declared that the Pentagon is not going to acquiesce to Tuberville's demands.
"No, we're not going to change our policy on ensuring that every single service member has equitable access to reproductive healthcare," Singh told reporters on Tuesday. "If you are a service member stationed in a state that has rolled back or restricted healthcare access, you are often stationed there because you were assigned there. It is not that you chose to go there. And so a service member in Alabama deserves to have the same access to healthcare as a service member in California, as a service member stationed in Korea."
Singh continued, "And so that's what that policy does. It's not an abortion policy. We have a travel policy that allows for our service members to take advantage of healthcare that should be accessible to them."
Sahil and Smith further note that "a person close to the Alabama senator said he 'has not spoken to Sinema' about the matter."
Reprinted with permission from Alternet.