Trump Struggles With 'God Bless America' Lyrics At White House Celebration
@AlterNet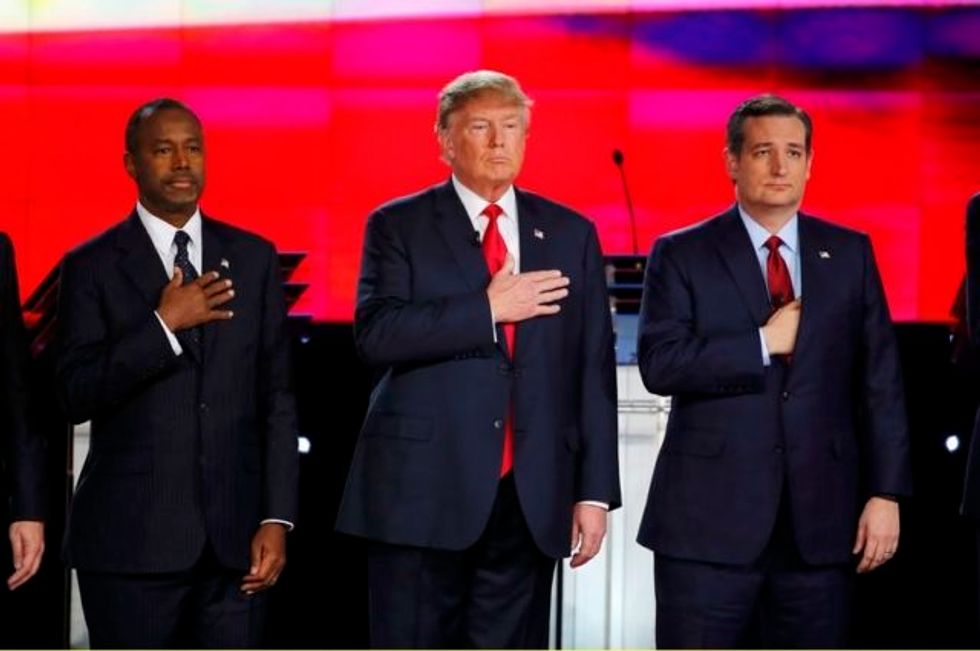 Reprinted with permission from AlterNet.
President Donald Trump has been quick to wrap himself in the trappings of patriotism as he denounces the NFL players who protest during the national anthem — and even those that don't — but he often struggles with the basic performance of rituals concerned with revering the flag.
There was that time that First Lady Melania Trump had to nudge him as a reminder to put his hand over his heart at the national anthem. Then there's the well-documented fact that he doesn't seem to know all the lyrics to the national anthem itself, despite his fierce defense of the song.
On Tuesday, Trump had a similar struggle — he appeared not to know the lyrics to "God Bless America" during, of all events, his "Celebration of America" gathering, which replaced his hosting of Super Bowl winners the Philadelphia Eagles. Trump had said he disinvited the team over disagreements about kneeling during the national anthem, even though none of the team's players kneeled in the past season.
While Trump sang along with the choir at first, he seemed to become less confident at the lyric "through the night with the light from above." So he just nods along instead.
Watch the clip below:
Pres. Trump, though standing, does not sing "God Bless America" word-for-word, nodding along to melody as military chorus sings "through the night with the light from above" https://t.co/SvRFR0SLJu pic.twitter.com/UlBL0NlgoB

— CBS News (@CBSNews) June 5, 2018