Weekend Reader: 'The Cynic: The Political Education of Mitch McConnell'
@AlecMacGillis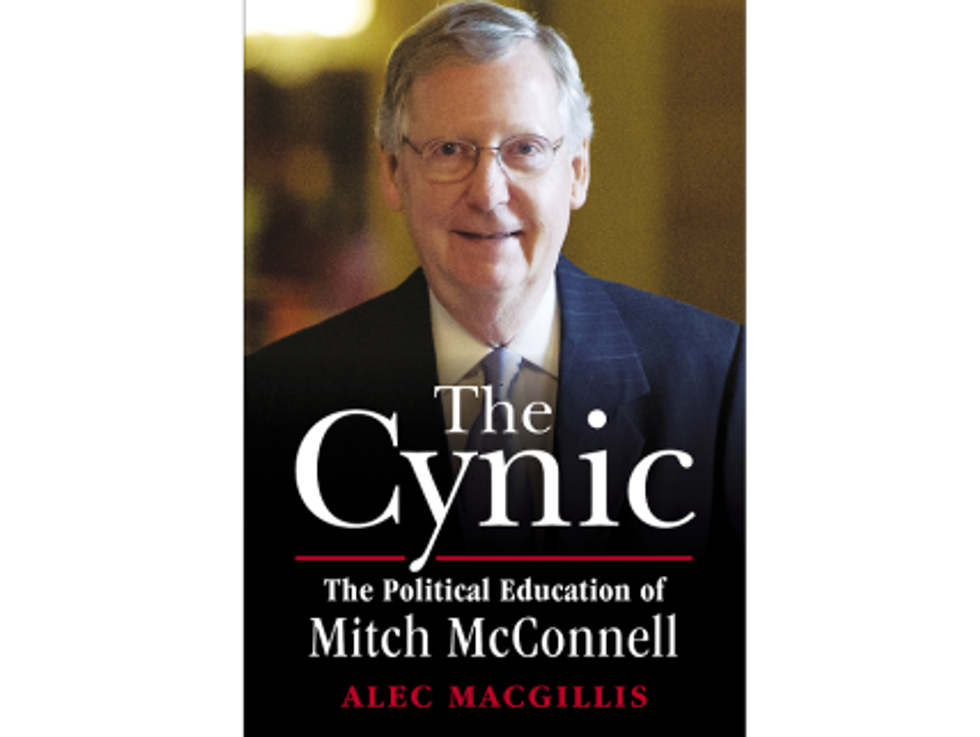 There was a time when Senate Minority Leader Mitch McConnell was pro-civil rights, pro-union, pro-choice, and pro-voting rights. But McConnell was also known as a malleable candidate who would do or say anything to win. 
In the following excerpt from his richly researched new eBook, The Cynic: The Political Education of Mitch McConnell, New Republic senior editor Alec MacGillis details McConnell's transformation from a pragmatic local leader to a ruthless senator who has stopped at nothing to hold on to power in Washington, D.C. His rise to the top tells us what to expect from the final weeks of his current re-election battle — and reveals some hard truths about our dysfunctional political culture. 
You can purchase the book here. 
The pattern had been set. Every six years, McConnell would deploy pretty much the same strategy against whichever Democrat emerged to challenge him.
He would cast votes in Washington with the election foremost in mind. In 1996, running against former state attorney general and lieutenant governor Steve Beshear, he voted for an increase in the minimum wage even though it came without the business tax relief he thought any wage increase should be paired with. In 2008, he voted to override President George W. Bush's veto of a massive farm bill—he had managed to slip a special tax provision for racehorse owners into the bill, and breaking with the deeply unpopular president would help McConnell's reelection odds.
He would build up so massive a campaign account that it would scare off credible potential challengers who lacked the personal wealth or tolerance for the fund-raising that would be necessary to compete. In 2008, a difficult year for Republicans, McCo­nnell came into January having already raised nearly $11 million, a whopping sum for so early in the season. The best the Democrats could come up with to take that on was Bruce Lunsford, who had lost two gubernatorial primaries but had the advantage of a personal fortune made in the nursing home business. Even that only went so far—by the final weeks of the race, when Lunsford was closing in the polls following the worldwide financial collapse, McConnell had nearly $6 million of the $18 million he had raised still on hand. Lunsford had raised only a third as much and had less than a quarter as much left to use.
And with this money at this disposal, McConnell would set about countering voters' lukewarm feelings toward him by doing what had worked so well against Harvey Sloane: He would make his opponents unacceptable. And he would make them unacceptable in the same way: he would cast them, as he had done Sloane, as elitists out of touch with working-class Kentuckians, even if it meant attacking wealth and success in business in ways that might make many Republicans uncomfortable. He mocked Beshear for his fondness for foxhunting: "Can you imagine a working-class hero who wears a hunting pink and brandishes a riding crop?" He ran an ad attacking his 2002 challenger, Lois Combs Weinberg, the daughter of a former Kentucky governor, for owning a house in the Virgin Islands. He hit Lunsford for owning homes in multiple states and for questions about his health-care companies.
It was a remarkable strategy, year in and year out, given that McConnell was not exactly tilling the bluegrass himself. He was as citified as they come. His Kentucky home was a townhouse in Louisville a few blocks from a trendy commercial district with coffeehouses and shops that now carry "Louisville: The Gayest City in Kentucky" T-shirts. (In Washington, he lived in a Capitol Hill townhouse where neighbors saw him come out on a regular basis with a broom in hand to sweep away every last bit of leaf or twig from his stoop.) Early in his career, he had tooled around Louisville in a little sports car. And he was, by his 1996 race, a wealthy man from his marriage in 1993 to Elaine Chao, the daughter of a Taiwanese shipping magnate.
Yet the populist attacks kept coming, to the astonishment of his opponents. "He did all that shit about [Beshear] fox-hunting, about him being an elitist—Steve had two or three million dollars to McConnell's nine!" says Jim Cauley, who'd gone on to manage Beshear's campaign. Lunsford shrugged about the attack on his wealth and business, even if McConnell was, by 2008, himself worth as much as $13 million. "In a state as poor as Kentucky, that's an easy target," Lunsford said. "Why wouldn't you do that?" Lunsford said he never thought of countering by pointing out Mc­Connell's own fortune, because he knew that much of it had come from Chao.
Chao's wealth was not only hard to use against McConnell, but his campaign was adept at deploying Chao, with her cheery demeanor, to humanize her dour husband. Lunsford couldn't help but wonder if Chao was so present on the campaign trail in 2008 to highlight that he himself was single. "My initial reaction was to say, 'He brought in the secretary of labor [Chao's government position at that point] to keep his job.'" But he decided that "that was hard to do when a woman is as nice as she is. If she was considered a bitch, it would've been different."
McConnell's approach of rendering the opposition unacceptable could be discerned in other political races, as well. In 1997, in his third try, he was named head of the National Republican Senatorial Committee—the campaign organ for GOP senators—thus extending his hand into races across the country. And he was also becoming active in races back home, taking it upon himself to speed the state's shift into the Republican column (a 1994 victory he engineered in a special election for an open congressional seat in a Democratic-leaning Kentucky district was a harbinger for the GOP sweep that fall). In 1998, he encouraged state legislator Ernie Fletcher to run for Congress against a Democrat who, as a public defender, had represented a man charged with raping and shooting a woman. The victim appeared in a Fletcher ad attacking his opponents for taking the case. The Kentucky Bar Association and Lexington Herald-Leader editorialists protested, but the ad swung the polls toward Fletcher, and McConnell later said, as related by Dyche, that he found it "legitimate" to attack a lawyer in that way. "I mean, I think you make a conscious decision in picking your clientele," he said.
If you enjoyed this excerpt, purchase the full book here.
From The Cynic: The Political Education of Mitch McConnell by Alec MacGillis. Copyright © 2014 by Stefan Alexander MacGillis. Reprinted by permission of Simon & Schuster, Inc.
Want more updates on great books? Sign up for our daily email newsletter here!