Weekend Reader: 'The Age Of Sustainable Development'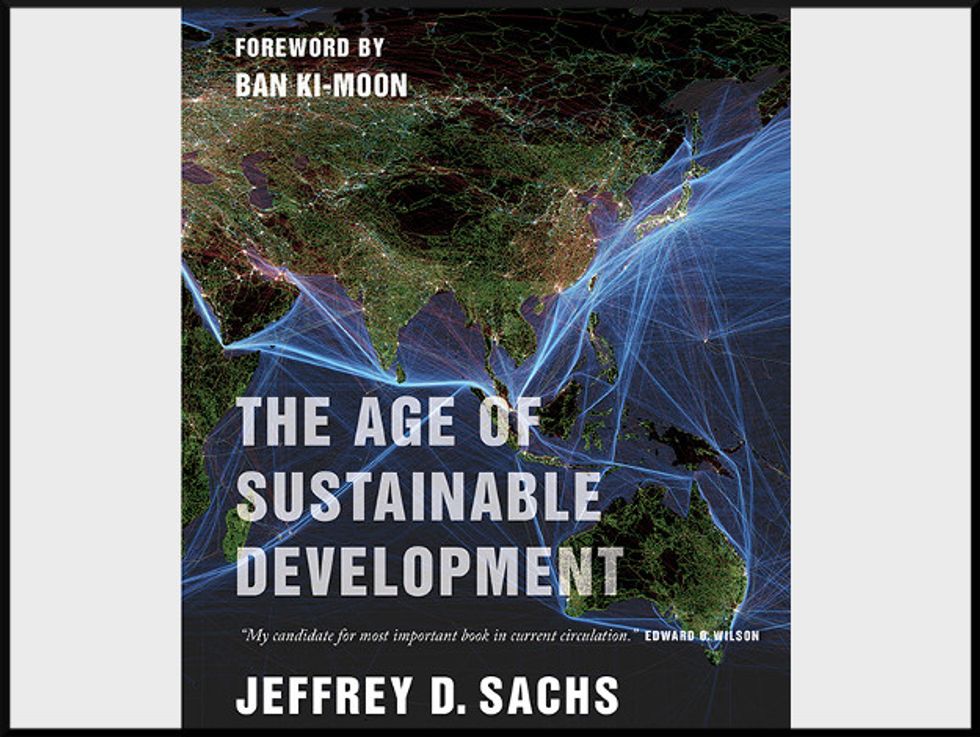 As the planet becomes a smaller, hotter, and more crowded place, unless we change our practices, we will all become more imperiled. Jeffrey D. Sachs is one of the foremost minds in the fields of global economics and international development. His understanding of the combined ramifications of climate change, the growing population, and our increasingly entangled economies is virtually unrivaled.
And as the director of the Earth Institute at Columbia University and a long-time senior advisor to the United Nations, Sachs is uniquely placed to address the challenges facing our world. He brings to bear his savvy analysis as well as knowledge of international economic, environmental, and political issues in The Age Of Sustainable Development.
In his latest book, Sachs addresses the systemic problems of environmental degradation, extreme poverty, and economic injustice, and points the way for policymakers and corporate leaders to begin a new era of sustainable development. But the book is necessary reading not only for politicians and executives, but for all citizens of our troubled little world.
You can purchase the book here.
Global Environmental Threats Caused by Economic Development
One of the most important messages of the field of sustainable development is that humanity has become a serious threat to its own future well-being, and perhaps even its survival, as the result of unprecedented human-caused harm to the natural environment. Gross world product per person, now at $12,000 per person, combined with a global population of 7.2 billion people, means that the annual world output is at least 100 times larger than at the start of the Industrial Revolution. That 240-fold increase in world output (or even a thousandfold increase on particular dimensions of economic activity) results in multiple kinds of damage to the planet. Large-scale economic activity is changing the Earth's climate, water cycle, nitrogen cycle, and even its ocean chemistry. Humanity is using so much land that it is literally crowding other species off the planet, driving them to extinction.
This crisis is felt by rich and poor alike. In late October 2012, police cars floated down the street in Manhattan during Superstorm Sandy, one of the strongest storms to hit the Eastern Seaboard in modern times. Even if scientists can't determine whether the storm's remarkable ferocity was due in part to human-induced climate change, they can determine that human-induced climate change greatly amplified the impact of the storm. As of 2012, the ocean level off the Eastern Seaboard of the United States was roughly one-third of a meter higher than a century earlier, the result of global warming causing a rise in ocean levels around the world. This higher sea level greatly exacerbated the flooding associated with the superstorm.
Superstorm Sandy wasn't the only climate-related shock to the United States that year. Earlier in the year, U.S. crops suffered major losses as the result of a megadrought and heat wave in the Midwest and western grain-growing regions. Drought conditions have continued to burden some parts of the U.S. West since then, with California in an extreme drought as of 2014.
Halfway around the world from New York City, also during 2012, Beijing experienced massive flooding that followed especially heavy rains. Bangkok experienced astounding floods in October 2011. Indonesia experienced heavy flooding in early 2014, while Australia suffered another devastating heat wave. All of these events were huge setbacks for both the local and global economy, with loss of life, massive loss of property, billions or even tens of billions of dollars of damage, and disruptions to the global economy. The floods in Bangkok, for example, flooded automobile parts suppliers, shutting down assembly lines in other parts of the world when the parts failed to arrive.
The particular disasters are varied, but it is clear that one broad category — climate-related catastrophes — is rising in number and severity. One major class of climate shocks is known as "hydrometeorological disasters." These are water- and weather-related disasters, including heavy precipitation, extreme storms, high-intensity hurricanes and typhoons, and storm-related flood surges such as those that swept over Manhattan, Beijing, and Bangkok. Massive droughts cause deadly famines in Africa, crop failures in the United States, and a dramatic increase in forest fires in the United States, Europe, Russia, Indonesia, Australia, and other parts of the world. Other climate-related catastrophes include the spread of diseases and pests that threaten food supplies and the survival of other species.
The frequency and severity of these threats have risen dramatically and are likely to increase still further. Indeed, the reshaping of the Earth's physical systems — including climate, chemistry, and biology — is so dramatic that scientists have given our age a new scientific name: the Anthropocene. This is a new word that comes from its Greek roots: anthropos, meaning humankind, and cene, meaning epoch or period of Earth's history. The Anthropocene is the era — our era — in which humanity, through the massive impacts of the world economy, is creating major disruptions of Earth's physical and biological systems.
From The Age of Sustainable Development by Jeffrey D. Sachs. Copyright © 2015 by Jeffrey D. Sachs. Published by Columbia University Press, on March 3, 2015. Reprinted with permission.
If you enjoyed this excerpt, purchase the full book here.
Want more updates on great books? Sign up for our email newsletter!