White Mothers Drive Continued Increase In U.S. Home Births, CDC Says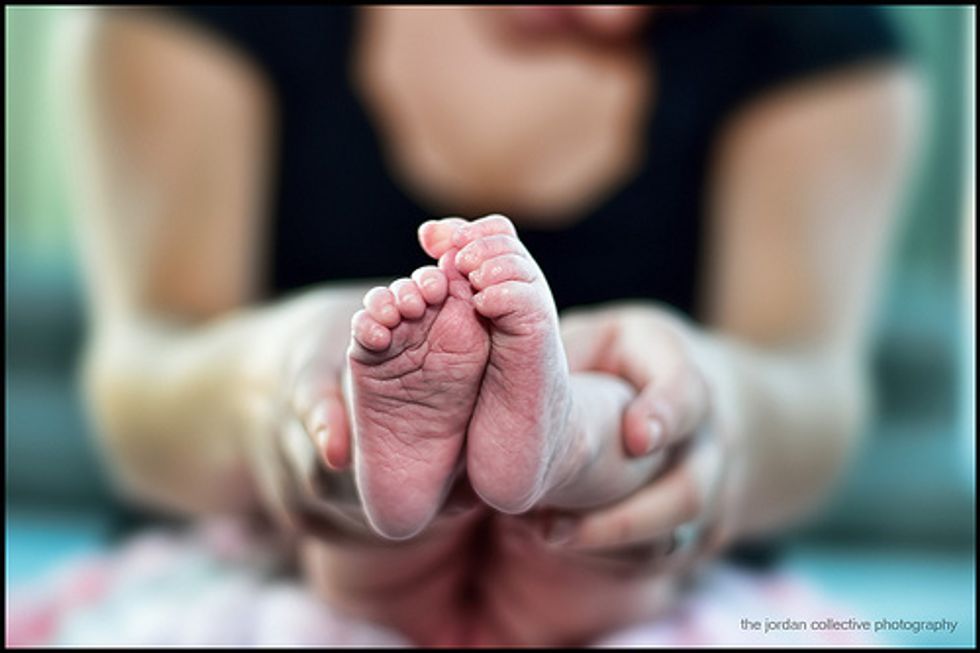 By Karen Kaplan, Los Angeles Times
LOS ANGELES — American women — especially white women — are increasingly choosing to have their babies at home instead of in a hospital, new government data show.
One out of every 49 babies born to non-Latino white mothers in 2012 came into the world outside of a hospital, according to a report published Tuesday by the Centers for Disease Control and Prevention. About two-thirds of those births occurred at home.
Mothers of all racial and ethnic backgrounds gave birth to 35,184 babies at home in 2012. That amounted to 0.89 percent of all births that year. Another 15,577 babies were born at birthing centers, accounting for 0.39 percent of all births in 2012. Both of those trends have been rising since 2004, according to the report.
Altogether, 1.36 percent of American babies born in 2012 began life outside of a hospital, the data from the CDC's National Center for Health Statistics National Vital Statistics System show.
That is the highest out-of-hospital birth rate since 1975.
Home births accounted for 66 percent of these non-hospital births, deliveries in birthing centers accounted for 29 percent, and the remaining 5 percent occurred in clinics or medical offices.
The increasing popularity of home births is driven primarily by white mothers, according to the report. These women accounted for 89 percent of the growth in out-of-hospital births, and they were two to four times more likely than mothers of other racial and ethnic groups to give birth outside of a hospital.
Still, the data show that from 2011 to 2012, the proportion of non-hospital births rose significantly for Latinas and for Asian American women.
Both the American Congress of Obstetricians and Gynecologists and the American Academy of Pediatrics advise that "hospitals and birthing centers are the safest settings for birth" in the United States. ACOG's latest official statement on the matter says pregnant women should be told that "planned home birth is associated with a twofold to threefold increased risk of neonatal death when compared with planned hospital birth." However, both professional groups offer advice to their members on how to make a home birth as safe for mother and baby as possible.
In 2012, deliveries in homes and birthing centers tended to be lower-risk than the national average, the CDC data show. For instance, only 3.2 percent of babies delivered in non-hospital settings in 2012 had low birth weight, compared with 8.1 percent of babies born in hospitals that year. In addition, 4.4 percent of non-hospital deliveries were delivered preterm, compared with 11.6 percent of births in hospitals. Twins, triplets and other multiples accounted for 0.8 percent of non-hospital births, compared with 3.5 percent of births in hospitals.
Teen mothers were far more likely to give birth in a hospital — they delivered 7.9 percent of the babies born in hospitals but only 1.9 percent of babies born at home or in birthing centers. On the flip side, mothers who were 35 or older gave birth to 19 percent of the babies born outside of hospitals and 14.9 percent of babies born in hospitals.
In 2012, home births and other non-hospital births were most common in the Pacific Northwest. The out-of-hospital birth rate was highest in Alaska (6 percent), followed by Montana (3.9 percent), Oregon (3.8 percent), Washington (3.4 percent) and Idaho (3.4 percent). The only other state to top the 3 percent rate was Pennsylvania, at 3.1 percent.
Photo: The Jordan Collective via Flickr