Will Trump Derail Mueller's Investigation With Pardons?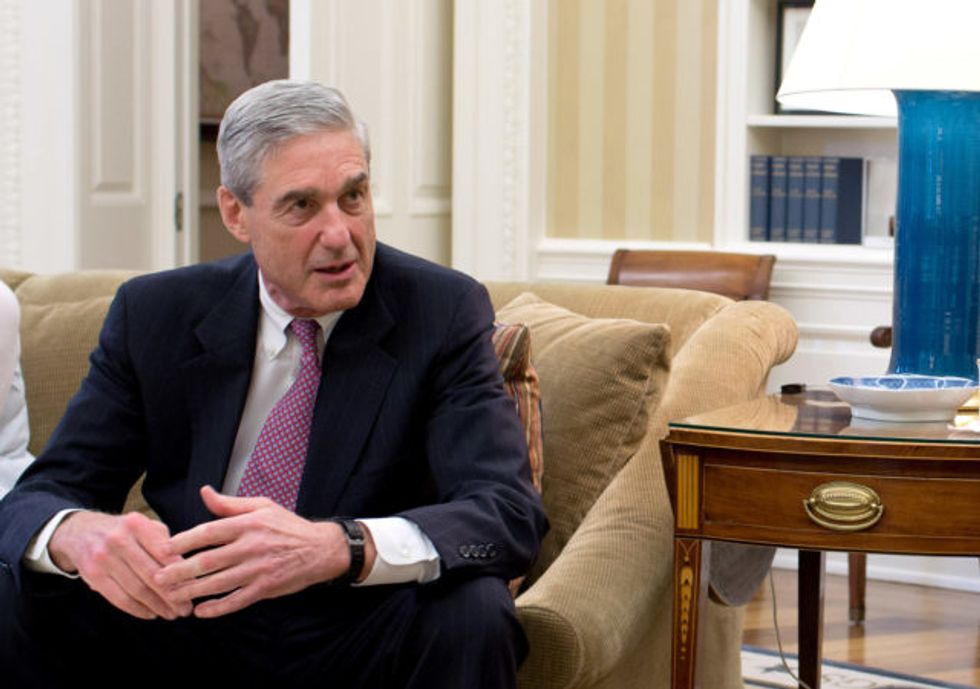 Reprinted with permission from AlterNet.
As a brooding President Trump ragesover the continuing investigation of his Russia connections, two more White House aides lawyer up and son-in-law Jared Kushner begins to slowly twist in the wind.
Special prosecutor Robert Mueller's case against the former beauty pageant entrepreneur in the Oval Office is taking shape. At the same time, Trump is trying to rescue his presidency with talk of "unity." In the past 48 hours, Trump has floated the possibility of a deal with the Democrats on the Dreamers, held an ostentatiously public meeting with Sen. Tim Scott (R-SC), the only African-American Republican in the Senate, and criticized congressional Republicans.
The stress-fractures in Trump's incoherent administration are visible. As a desperate president scrambles for some kind of political "win," a determined prosecutor is bearing down on his biggest vulnerability: his pre-election dealings with Russian officials.
The crafty Mueller and his high-powered team operate in secret—except when they leak key details of their investigation for the edification of the public. A series of news reports over the past week show that Mueller is pursuing an obstruction of justice case in which the president and his entourage sought to hide the connection between their business interests and Russia's role in Trump's 2016 campaign.
Two Key Events
The key events, it seems, are the infamous Trump Tower meeting on June 9, 2016 and Trump's firing of FBI director James Comey 11 months later on May 9, 2017.
The Trump Tower meeting was attended by Kushner, Donald Trump Jr., Paul Manafort, a Russian-American lobbyist and a lawyer promising incriminating information about Hillary Clinton. According to a statement crafted by the president, the get-together concerned "adoptions in Russia."
The firing of Comey, a friend and protégé of Mueller's, was supposedly based on the recommendation of Deputy Attorney General Rod Rosenstein.
As Mueller presses his case with the help of two grand juries and New York state attorney general Eric Schneiderman, Trump's twin cover stories have collapsed. Trump admitted on national television that he had fired Comey over the Russia probe. Mueller has now obtained an earlier draft of a Trump letter blaming Comey for the handling of the Russia investigation, complaining that the FBI director would not publicly exonerate him before his investigation was done.
Mueller ordered a pre-dawn raid on Manafort's house in search of records Manafort had not yet shared with investigators. Manafort had worked for Ukrainian and Russian oligarchs aligned with Russian president Vladimir Putin before becoming Trump's campaign manager, resigning and engaging in curious real estate transactions that resemble money laundering.
Now Mueller wants to interview six White House aides about the June 9 meeting, according to the Washington Post, "a sign that the FBI's wide-ranging probe into the Trump White House and campaign is intensifying," says Politico.
Mueller has also interviewed two senior FBI officials—Carl Ghattas and James Rybicki—about Comey's firing, according to CNN. The Justice Department has declined to make the two available to congressional investigators, citing Mueller's appointment and "related matters." That would suggest the special prosecutor doesn't want their testimony to become public until he is ready, i.e, when he finishes his investigation and issues indictments or closes the case.
Lawyered Up
Meanwhile, the Post, following up on a Wall Street Journal story, reported Monday that unidentified "White House lawyers" urged Kushner to resign from his White House role earlier this summer: "Some of the lawyers worried that the presence of Kushner, a senior adviser with a broad domestic and foreign policy portfolio, created potential legal complications for Trump."
One of those unnamed lawyers was probably White House Counsel Donald McGahn, whose job is to defend the president, and not his family. McGahn is one of the six people Mueller hopes to interview. McGahn retained his own lawyer last week, demonstrating that he appreciates Kushner's legal situation is precarious, if Trump does not.
The suspected criminal conduct linking the Trump Tower conclave to Comey's firing is Trump's sustained effort to prevent law enforcement from discovering the true purpose of that meeting, and the reason for the dismissal of the FBI director.
There's plenty of reason to think that the June 9 summit concerned a deal in which the Russians offered help in the 2016 campaign in return for favorable consideration of Trump's business interests in Russia, but that is not certain. Mueller will have to decide.
Trump's Defense
Trump will likely take a page from Bill Clinton's impeachment defense playbook and denounce Mueller as a "runaway prosecutor." In the 1990s, independent counsel Kenneth Starr, named to investigate Clinton's failed real estate deal, Whitewater, found no criminal wrongdoing, but shifted his investigation onto Clinton's affair with intern Monica Lewinsky.
Trump laid the groundwork for that defense when he told the New York Times any investigation of his family business was beyond Mueller's purview and would constitute a "violation" of his mandate.
The latest revelations confirm that the Trump family business is central to Mueller's prosecutorial assignment.
Back in June, the Times reported that "people close to Mr. Trump say he is so volatile, they cannot be sure that he will not change his mind about [not firing] Mr. Mueller if he finds out anything to lead him to believe" the investigation has strayed into his family's business dealings.
Now that there is little doubt the FBI investigation is focusing on the president's personal dealings, Trump has three options: He can fire Mueller and incur the wrath of congressional Republicans, who warned against such drastic action and now feel abandoned by him since his about-face on DACA. He can let Mueller's investigation run its course and see members of his inner circle, perhaps even his family, indicted. Or he can issue pre-emptive pardons, as he did for disgraced Arizona sheriff Joe Arpaio.
On July 22, Trump tweeted about the president's "complete power to pardon." Five weeks later, he used it for the first time to save Arpaio from jail time.
It's a volatile situation: a determined prosecutor and a desperate target, a lawman with the power to indict, and a lawless man with the power to pardon. A constitutional collision is approaching.