Wingnuts! Veep Debate Revealed Extremism Of Pence's Republican Party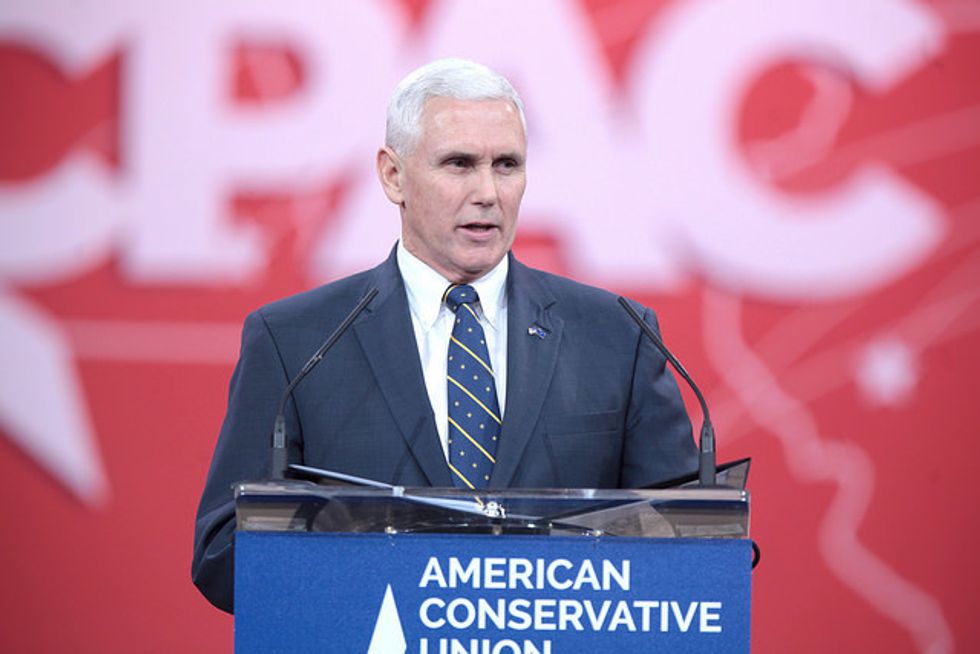 The second big fall debate, featuring the vice-presidential candidates, may not change many voters' minds because it was a strange affair. Democrat Tim Kaine seemed over-rehearsed but dominated on the substance of issues, while Republican Mike Pence was polished but lied repeatedly, and kept accusing Kaine of insulting Donald Trump, when he was in fact quoting him.
Pence's biggest lie was declaring that Trump was no fan of Russian dictator Vladimir Putin. He also denied Trump would try to deport millions of undocumented immigrants and their U.S.-born children, even ridiculing Kaine for bringing up that "Mexican thing again," referring to Trump's racist slurs. Pence also denied Trump was fine with more nations acquiring nuclear weapons, which again, is something Trump has said.
Kaine, who did not hit his stride until midway through the 90-minute debate, needled Pence to defend Trump's indefensible stances, which Pence repeatedly evaded. Kaine reminded viewers that Trump's sons say they have major investments in Russia, posing big conflicts of interest. He said Democrats want comprehensive immigration reform and a path to citizenship, not a "deportation nation" like the Republicans want. And Kaine said Trump's statements about having more nuclear-armed states are prescriptions for a far more dangerous world.
If you got past the interruptions, crosstalk, moderator's inability to steer the discussion and spectacle of Pence saying that electing a strongman would solve the country's problems, the debate was a striking reminder of how deeply Democrats and Republicans disagree, and how the GOP—as epitomized by the agenda laid out by Pence, a former member of the House Republican leadership—has become a party dominated by right-wing extremists.
These days, it's easy to overlook the Republicans in Congress when Trump has dominated the news for more than a year. But Pence's stances are a potent reminder of what a Republican-majority Congress and White House would do if given the chance.
Pence said women's reproductive rights, upheld by the Supreme Court's Roe v. Wade decision, would fall. He did not deny he was a proponent of privatizing Social Security and cutting Medicare while in the House and still favors those policies. He promised to cut taxes for the wealthy, and did not deny opposing minimum wage increases. He promised to end the "war on coal," which means denying and ignoring the climate crisis. He pledged to repeal Obamacare and all of President Obama's executive orders—which include many workplace, environmental and LGBT protections. He said the military needs a major infusion of new weaponry and a commander in chief willing to use America's might to dominate global adversaries.
Kaine, in contrast, gave one of the campaign's most eloquent defenses of reproductive rights, saying what he believes as a religious person should not be imposed on the public. He said Social Security could be expanded by raising the cap on income taxes contributing to it. He said Clinton has targeted tax increases on wealthier Americans to pay for a major domestic stimulus, from rebuilding transportation, energy and broadband infrastructure to making public universities tuition-free for most households.
Their differences didn't stop there. On criminal justice and police reform, Pence and Kaine both endorsed community policing, but Republican Pence said Democrats and civil rights activists should respect police and pledged a "law and order" strategy, including bringing back so-called stop-and-frisk, a tactic in which police racially profile citizens. Democrat Kaine, in contrast, said that institutional racism is real in arrests, prosecutions and sentencing, and that background checks for gun buyers are needed. He chided Pence for denying the reality of institutional racism, saying you cannot solve a hard problem if you cannot talk about it.
When the debate turned to immigration, Pence refused to explicitly say that Trump would build a wall along the Mexican border and arrest and deport upwards of 16 million migrants and their family members. Instead, he accused Kaine and the Democrats of stooping to a campaign of insults, when, as almost everybody paying attention knows, Trump's insults and character assassinations have been the election's most defining feature.
Kaine pointedly noted that the Democrats are calling for the same immigration reform policies that Republican President Ronald Reagan adopted in 1986, a statement Pence did not respond to.
That back and forth—more talking past each other than rebutting points—bled into the foreign policy arena, where, as Kaine pointed out, Trump's solutions would ban entire creeds or nationalities from entering or visiting America, from Mexicans to Muslims to Syrians. Pence's answer was it's better to be safe than sorry, regardless of the country's history as a nation of immigrants or the Constitution's protection of individual rights.
Pence repeatedly said that the U.S. was weakened by the Obama administration, including Hillary Clinton as secretary of state, and that is why there is more chaos in the Middle East, why Russia is expanding its military domination along its borders, and why China is doing the same in the Pacific. He said all that would change once the world faced a U.S. president who was tough and commanded respect. Kaine countered that the Obama administration has solved some big problems by killing Osama bin Laden, negotiating a nuclear arms reduction treaty with Russia and making the recent nuclear deal with Iran. When asked why Russia was so difficult, Kaine responded that Putin was a dictator, but the U.S. had to work with him on some issues while opposing him on others. He said Clinton, not Trump, knows how to negotiate that line.
As the debate went on, the details flying back and forth became a blur. The moderator, CBS News' Elaine Quijano, tried to corral the candidates but could not stop them from jumping to any point they wanted to pursue. In the end, the most poignant exchange might have come from her question seeking an example of where their private religious faith conflicted with their public stances on issues while holding elected office.
Kaine said he personally opposes the death penalty but was forced to carry out executions as Virginia's governor, as he had pledged when running for that office. Pence, in contrast, spoke of becoming a born-again Christian in college and using any power at his disposal to protect the rights of unborn children, leading to a very aggressive record on opposing choice. If elected, Pence said he would work to repeal Roe v. Wade, prompting Kaine to interrupt and ask why Trump said women seeking abortions should be punished.
Pence surprisingly admitted Trump was "not a polished politician," trying to dismiss the remark. Kaine quickly quoted a biblical verse saying you should believe what someone says when they speak from their heart: "When Trump says this, he is telling you who he is."
"Why don't you trust women to make this choice for themselves?" he asked Pence. "Why doesn't Donald Trump trust women to make this choice for themselves?"
Pence replied that a country will be judged by how it treats its most vulnerable, echoing an oft-repeated line from the anti-choice movement.
The debate ended as abruptly as it began, with both candidates painting very different pictures of America—one hopeful, one failing—as the presidential candidates do every day on the campaign trail. What was most striking was not just that the vice presidential nominees were actually delving into policy details and very different agendas, but how the Republican Party, devoid of Trump, remains a party dominated by right-wingers who would wreak havoc domestically and abroad.
Reprinted by permission from Alternet. Steven Rosenfeld covers national political issues for AlterNet, including America's retirement crisis, democracy and voting rights, and campaigns and elections. He is the author of Count My Vote: A Citizen's Guide to Voting (AlterNet Books, 2008).
IMAGE: Governor Mike Pence of Indiana speaking at the 2015 Conservative Political Action Conference (CPAC) in National Harbor, Maryland. (Gage Skidmore/Flickr)