6 Times National Anthem Protests Rocked America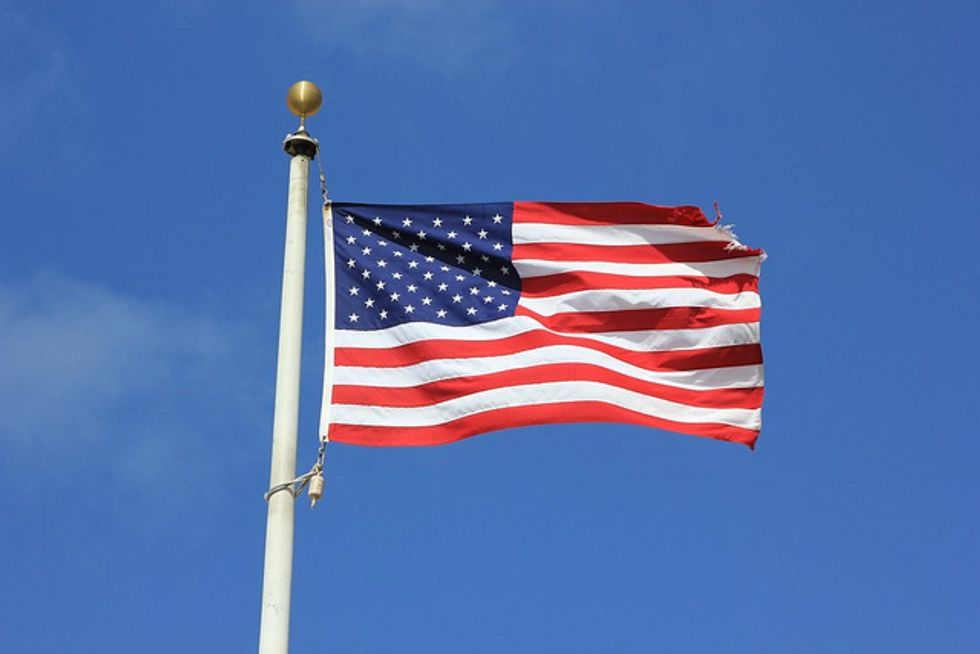 Reprinted with permission from AlterNet.
President Trump's rage about how certain unnamed "sons of bitches" (i.e., Colin Kaepernick) are disrespecting the national anthem is an old story in American life. The national anthem, intended to be a song of unity, has also long divided us.
For Trump and millions of Americans, the singing of the "Star-Spangled Banner" is a ritual intended to affirm a version of patriotism that is historically ethnocentric and jingoistic. Any deviation from that ritual is interpreted as a sign of disrespect for America. But for the estimated 130 NFL players who took a knee or linked arms on Sunday, and for millions of other Americans who support them, reimagining the ritual of the "Star-Spangled Banner" signals a different kind of patriotism that is multicultural, humanistic and urgent.
This conflict has erupted repeatedly in America over the last two centuries. Long before Kaepernick and Trump came along, some Americans were using the spirit of the "Star-Spangled Banner" to call out hypocrisy in hopes of forging a more perfect union, while partisans of a less critical patriotism reacted with dismay.
Here are six times the "Star-Spangled Banner" became a lightning rod for America's racial contradictions.
1. 1836, 'Home of the Oppressed'
When the American anti-slavery movement emerged in the 1830s, abolitionists set their sights on eliminating slavery in Washington D.C., where Francis Scott Key, the author of the famous song, served as district attorney.
Key deployed his patriotic celebrity to advance a racist version of American justice. Between 1833 and 1840, Key persecuted the abolitionists who dared advocate for human rights in the shadow of the Capitol dome. To prove his pro-slavery politics, Key sought to hang a young black man for a crime he did not commit (a story I tell in my book, Snow-Storm in August: Washington City Francis Scott Key and the Forgotten Race Riot of 1835).
In response, the abolitionists mocked Key for the hypocrisy of his lyrics. An 1836 broadsheet highlighting the crimes associated with slavery in Washington came with the headline "Land of the Free, Home of the Oppressed."
Key was indignant. Expressing such thoughts in the nation's capital was sedition in his view and he brought charges against anyone who distributed anti-slavery publications. He was supported by President Andrew Jackson (who not coincidentally, is Trump's favorite American president). The meaning of the "Star-Spangled Banner," its author insisted, is not compatible with racial equality.
When Trump says today's controversy has "nothing to do with race," he is expressing the same opinion as Key: the "Star-Spangled Banner" contains no message of racial equality.
2. 1852, Banner of Slavery
Frederick Douglass agreed. In his classic 1852 oration, "What to the Slave is the 4th of July?" Douglass observed that Key's song was sung to celebrate the ongoing expansion of Southern tyranny, as exemplified by passage of the 1850 Fugitive Slave Act.
"By an act of the American Congress, not yet two years old, slavery has been nationalized in its most horrible and revolting form," Douglass declared to an audience in Rochester, New York. "By that act, Mason and Dixon's line has been obliterated; New York has become as Virginia; and the power to hold, hunt, and sell men, women and children, as slaves, remains no longer a mere state institution, but is now an institution of the whole United States."
Slave power, Douglass declared, "is co-extensive with the 'Star-Spangled Banner,' and American Christianity."
No wonder African Americans never embraced the "Banner" the way whites did.
3. 1968, A New 'Banner'
In October 1968, Jose Feliciano sang the "Star-Spangled Banner" to open the fifth game of the World Series between the St. Louis Cardinals and the Detroit Tigers. For those Americans accustomed to hearing the Banner played by a military band or sung by firemen, the sight and sound of a young, blind Puerto Rican plucking an acoustic guitar and singing "Oh say can you see" was shocking.
The Detroit stadium's switchboard received more than 2,000 calls. The New York office of NBC, which broadcast the game, received more than 400. Feliciano would later say he heard stories that veterans had thrown their shoes at the television and cursed his name.
Feliciano's gentle musicianship offended some Americans because it interpreted the song, not through the traditional racist patriotism of Francis Scott Key, but through his own experience.
"I had set out to sing an anthem of gratitude to a country that had given me a chance; that had allowed me, a blind kid from Puerto Rico, a kid with a dream, to reach far above my own limitations," he explained. "I wanted to sing an anthem of praise to a country that had given my family and me a better life than we had had before."
4. 1969, Rocking the Anthem
On the last day of the mammoth Woodstock rock festival in upstate New York in July 1969, Jimi Hendrix played an epic instrumental version of the "Star-Spangled Banner" that transformed the national anthem into a protest song in which the bombs bursting in air sounded very much like the B-52s then raining death on the people of Vietnam.
Critics called it "blasphemous." Hendrix told TV talk show host Dick Cavett, "I thought it was beautiful."
Hendrix's virtuoso performance is "so complex, with so many different layers of disgust and celebration and alienation and engagement, there's really no way to just characterize it as a protest against the war," wrote rock critic Greil Marcus. "It's certainly that. But he's also saying, 'I'm a citizen of this country, too.'"
5. 2006, 'Nuestro Himno'
On April 28, 2006, a Los Angeles-based music company released Nuestro Himno, a Latino variation of the "Star-Spangled Banner, performed by a host of Latino musical artists including Pit Bull and Olga Tañón, as well as Haitian-American rapper Wyclef Jean.
As immigrant organizations staged rallies and marches across the United States in the spring of 2006 in support of comprehensive immigration reform legislation in Congress, "Nuestro Himno" caught on and became a kind of Latino national anthem, played at pro-immigrant rallies in Houston, Los Angeles, Phoenix, and other cities.
The song, while certainly affectionate toward the United States in tone, took liberties with the language of the original that were deliberately provocative.
"In the remake of the anthem," reported Victor Manuel Ramos of the Orlando Sentinel, "the familiar 'rockets' red glare, the bombs bursting in air' become references to the glory of battle and a march toward liberty. The old English melody is infused with the edgy sounds of Latin pop, including a reggaeton performer who raps in the background: '!Somos Latinos, papa!' Key's militaristic bombast had been replaced by identity politics with a hip hop beat."
The immigrants' message for America was not unfriendly. More like, "Live up to your ideals, gringo," but American conservatives were appalled.
One enterprising reporter located Francis Scott Key's great-great-grandson and asked him for comment. Charles Key of Bellingham, Washington called the new rendition "despicable." The editors of the National Review called "Nuestro Himno" the "unofficial fight song of illegal immigrants." Its popularity, they worried, threatened a very American ideal: "the goal of a common culture."
"Nuestro Himno" was nothing less than a conservative cultural crisis—at least for a news cycle or two. To the anxious adherents of  "American values," the song seemed to celebrate the theft of patriotism by a lawbreaking horde of dubious loyalties. With the fate of the republic hanging in the balance, President George W. Bush was asked what he thought.
"I think people who want to be a citizen of this country ought to learn English," Bush replied. "And they ought to learn to sing the anthem in English."
"Who is assimilating whom?'" asked pundit Michelle Malkin.
Fans of "Nuestro Himno" were happy to answer that the old America was being assimilated into a new country.
"By infiltrating one of the safest symbols of U.S. national identity with Spanish syllables, this version of 'The Star-Spangled Banner' has crossed a line," wrote playwright Ariel Dorfman in the Washington Post. "It has inadvertently announced something many Americans have dreaded for years: that their country is on its way to becoming a bilingual nation."
6. 2008, Lift Every Voice
On July 1, 2008, jazz singer Rene Marie, flanked by elected officials and civil servants, sang the "Star-Spangled Banner" before Denver's state of the city address. But her rendition left residents of the Mile High City divided. The melody was the same, but the words came from the song "Lift Every Voice and Sing," also known as the "Black National Anthem."
Mayor John Hickenlooper (now governor of Colorado) said he was disappointed, and one city council member "almost walked off the stage," according to Fox News. Marie received 1,600 emails and several death threats for her artistic statement.
Presidential candidate Barack Obama distanced himself from Marie's gesture.
"If she was asked to sing the national anthem, she should have sung that," Obama said. "'Lift Every Voice and Sing' is a beautiful song, but we only have one national anthem."
Marc Lamont Hill, one of the few news commentators sympathetic to Marie, said her performance embodied black patriotism.
"It's celebrating black progress, black hope, black pride," Hill says. "But it's also keenly—fundamentally, even—preoccupied with the obstacles that lay in front of us. That's reflected not just in that moment, but in the broader political moment, where people are celebrating Barack Obama as president. People are excited that the country has moved forward—but people [are] still keenly aware that there are many, many forms of inequality, unfreedom, suffering [and] marginalization that continue to proliferate in this nation."
That was a decade ago. As Trump's temper tantrum shows, the song remains the same.