New York City Advertising Abortion Access On Billboards In Southern Cities
@Rebekah_Sager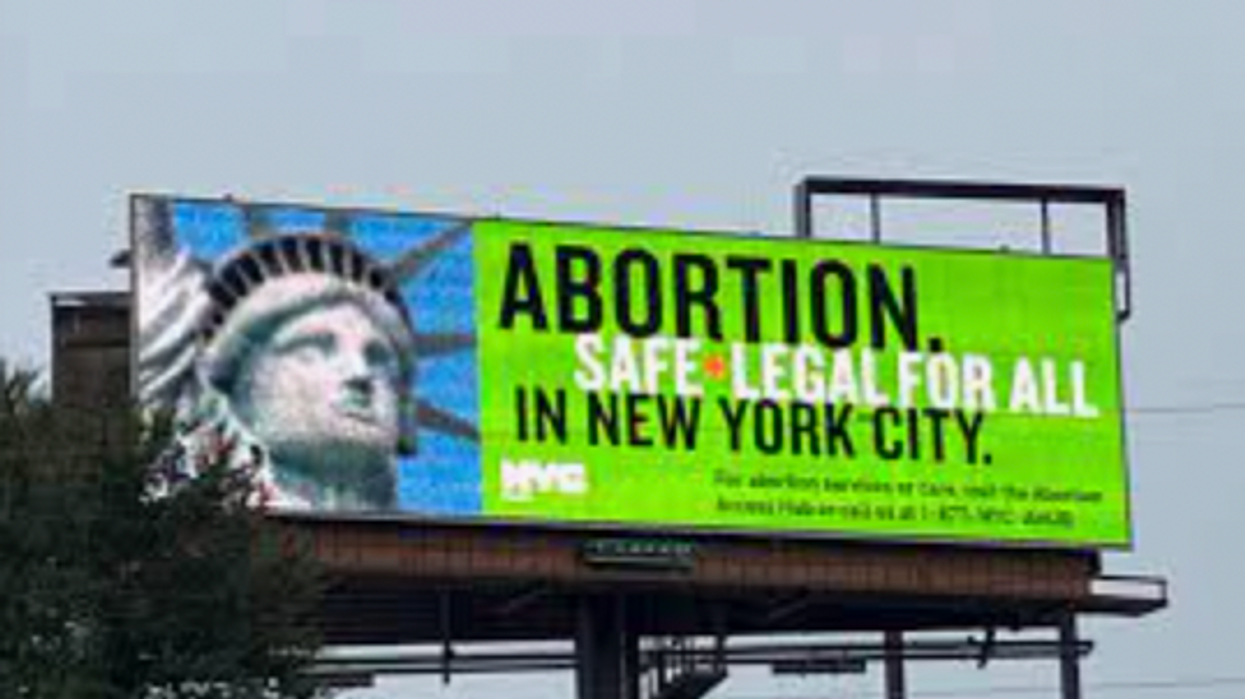 If you happened to be driving around the Atlanta, Georgia, area recently, you may have caught a glimpse of a huge, looming billboard stating, "Abortion. Safe + Legal for All in New York City." That billboard is just one of the 36 that began appearing in January in cities such as Atlanta and Augusta, Georgia, as well as in Miami, Fort Lauderdale, Orlando, Dallas, Houston, and San Antonio, the Augusta Chronicle reports.

The signs are a campaign of the New York City Department of Health and Mental Hygiene's Abortion Access Hub, a confidential phone line connecting callers to abortion providers in the city's five boroughs. Its effort, which was rolled out in November, has allotted about $500,000 in total for the out-of-state signs in addition to online ads via Facebook, Google, and Snapchat, according to the Chronicle.
The health department paid outdoor advertising company Lamar $138,370 for the billboards and contracted OpAD Media Solutions in August for nearly $240,000 to provide what the city's OpenData website describes as "strategic media planning, buying, and placement" in digital, print, video, and social media and more.
In an email to the American Independent Foundation, a spokesperson from the health department said: "In New York City, access to abortion care is legal, protected, and a critical component of public health. … We want anyone who might be in need of reproductive healthcare to know that we're here to provide it."
Two pro-choice activists who spoke with the American Independent Foundation have mixed reactions about the billboards.
"It definitely does underline or underscore, again, the immense access problem that we have with abortion in this country that we've always had, but that clearly has been made exponentially worse by the Dobbs decision," Angela Vasquez-Giroux, vice president of communications and research at NARAL Pro-Choice America, said.
She added that this is an "all-hands-on-deck, new reality" and that the billboards "highlight a desperate need"; but, she said, "There's also a ton of people, the Atlanta mayor included, who are working really hard on the ground in Georgia to get pro-choice champions elected to do whatever they can to turn around those bad laws."
Roula AbiSamra, the state campaign director of Amplify Georgia, a nonprofit made up of seven reproductive health and justice organizations in the state, explained, "The same people most impacted by barriers to health care generally, and abortion access specifically, are the same people who can't easily hop on a flight to New York."
AbiSamra views the billboards as a "Band-Aid that we're putting on a huge problem, which is that people don't have access in their communities."
According to the Chronicle, the ads were placed by the health department specifically in Georgia, Florida, and Texas because abortion is severely restricted in those states.
In November, the Georgia Supreme Court reinstated the state's six-week abortion ban after a brief one-week block. Six weeks is a time before most people know they're pregnant. Florida law bans abortion after 15 weeks' gestation, and patients are required to make at least two appointments — including one for in-person counseling — before terminating a pregnancy, the Guttmacher Institute reports.
Texas has some of the most restrictive abortion laws in the nation, with policies that include restrictions on medications necessary for an abortion, bans on the use of telehealth appointments in abortion care, and prohibitions against the use of Medicaid and private health insurance for abortion care except in extremely limited circumstances.
The budget of New York City includes $1 million for abortion care and "supports anyone who is unable to fully pay for an abortion and is living in or traveling to New York," the New York City Council announced last September.
Amplify and its collaborators work to make sure that Georgia residents have access to funds to cover expenses associated with abortions, including travel, for those who need it. But AbiSamra says for many residents, traveling out of town for their reproductive health needs just isn't feasible.
"Who does medical tourism really work for? Even with abortion funds, the difficulties to leave your state and go somewhere else to get care are not solved simply by knowing that you can do it," she said.
To date, no state in the nation has passed a law outlawing people from traveling out of state for an abortion, but as Politico reported last year, Missouri lawmakers are trying.
Missouri Republican state Rep. Mary Elizabeth Coleman added an amendment to a bill in March 2022 that was intended, Coleman said, to prevent a Planned Parenthood clinic in Illinois from offering abortion services to patients traveling from her home state.
The Washington Post reported that the measure would have allowed private citizens to sue anyone involved in a Missourian receiving abortion care, both inside the state and outside it, from the hotline staffer scheduling a visit to the clinic to doctors performing the procedure to anyone who transports abortion medication into the state.
To date, it remains legal for Missourians to leave the state for abortion services.
In an email to the American Independent Foundation, Drexel University law professor David Cohen referred to "The New Abortion Battleground," an article he co-authored, published in January by the Columbia Law Review, that discusses the legalities of patients traveling out of state to receive abortion services. Cohen and his co-authors write: "After Roe, state prosecutors and legislators will likely try to impose civil or criminal liability on their citizens who travel out of state to obtain an abortion, those who help them, and the providers who care for them. … Though targeting cross-border abortion provision has been almost nonexistent until this point, antiabortion states are likely to attempt it in the post-Roe future."
Reprinted with permission from American Independent.