Coulter Warns Republicans: 'Stop Pushing Strict Limits On Abortion'
@alexvhenderson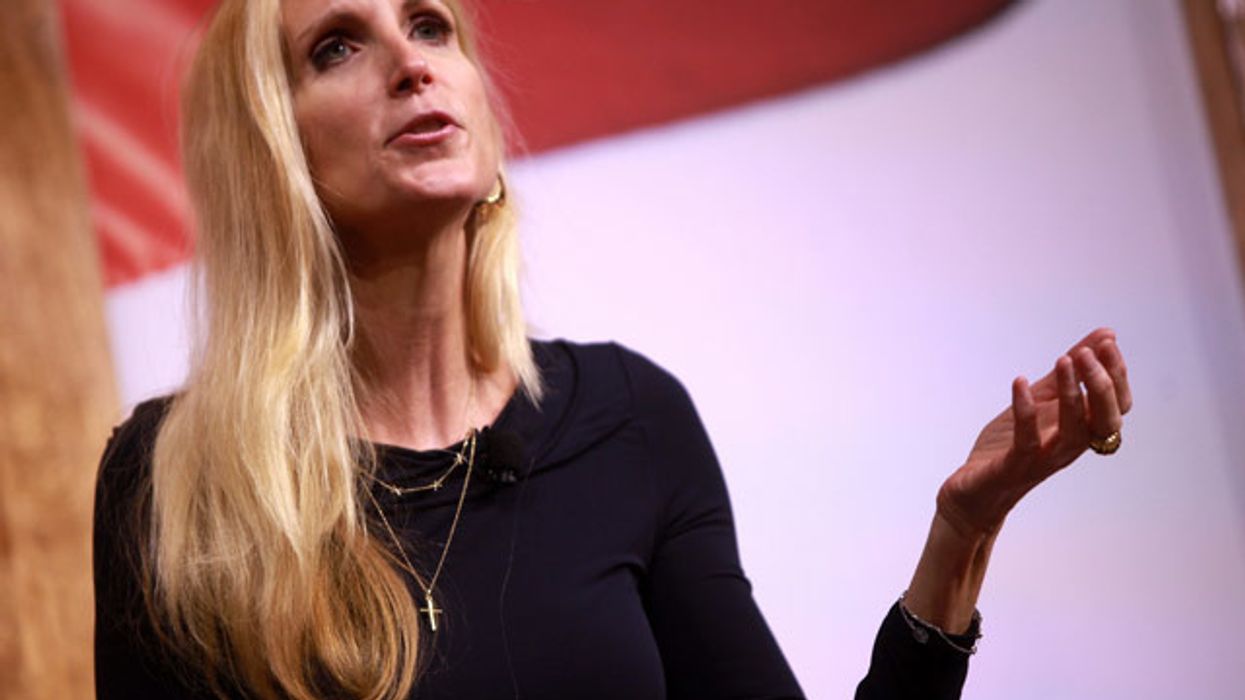 The anti-abortion movement suffered a major disappointment on Tuesday, April 4, when liberal Milwaukee County Circuit Court Judge Janet Protasiewicz defeated far-right MAGA Republican Dan Kelly by 11 percent in a race for a seat on the Wisconsin Supreme Court. Protasiewicz campaigned aggressively on abortion rights, hammering Kelly nonstop as an anti-choice "extremist."
Right-wing author/pundit Ann Coulter, who identifies as "pro-life," was quick to weigh in on Protasiewicz's double-digit win. And she acknowledged that abortion has become a major liability for her party, tweeting, "The demand for anti-abortion legislation just cost Republicans another crucial race. Pro-lifers: WE WON. Abortion is not a 'constitutional right' anymore! Please stop pushing strict limits on abortion, or there will be no Republicans left."
Technically, the Wisconsin Supreme Court race was nonpartisan. But Protasiewicz enjoyed considerable Democratic Party support, while MAGA Republicans and the religious right got behind Kelly.
Protasiewicz was hardly the first post-Roe v. Wade candidate to prioritize abortion rights and enjoy a double-digit victory. In the 2022 midterms, pro-choice Democratic Gov. Gretchen Whitmer defeated far-right Republican challenger by 11 percent. And in Pennsylvania, Democratic now-Gov. Josh Shapiro won by around 15 percent after attacking the GOP nominee, State Sen. Doug Mastriano, relentlessly on his abortion record.
In an article published by Politico on April 8, journalist Steven Shepard emphasizes that abortion is becoming more and more of a liability for the Republican Party. And he cites polls showing that Americans on the whole are even more pro-choice that they were in the past.
"Conservatives are finding out the hard way that abortion isn't a 50-50 issue anymore," Shepard explains. "Janet Protasiewicz's 11-point blowout victory this week for a state Supreme Court seat in Wisconsin was just the latest example of voters who support abortion rights outnumbering — and outvoting — their opponents. There was little polling in Tuesday's race, but in a 2022 midterm exit poll of the state, a combined 63 percent of Wisconsin voters said abortion should be legal in all or most cases, while only 34 percent thought it should be illegal in all or most cases."
The reporter adds, "Moreover, for the 31 percent of 2022 voters who said abortion was their most important issue — second only to inflation at 34 percent — they overwhelmingly backed Democratic Gov. Tony Evers (83 percent) and Democratic Senate candidate Mandela Barnes (81 percent), who lost narrowly to GOP Sen. Ron Johnson."
During the 1990s and 2000s, Shepard observes, Gallup found that Americans were "divided roughly evenly between those who called themselves 'pro-life' and 'pro-choice.'" But now, the reporter adds, polls show "roughly six in 10 voters supporting legal abortion in most cases."
In February, Gallup found that 69 percent of "U.S. adults" were "dissatisfied with abortion laws."
Pew Research Group, in 2022, found that "a 61 percent majority of U.S. adults say abortion should be legal in all or most cases, while 37 percent think abortion should be illegal in all or most cases."
In January, a National Public Radio/Ipsos poll found that three in five Americans believe that abortion should be legal in all or most cases.
In an article published by CNN on April 9, reporter Harry Enten cited the abortion issue and former President Donald Trump's legal problems as two major liabilities for the GOP in 2024.
"Neither abortion nor Trump seem to be going away as an issue in 2023," Enten observes. "Abortion was at the forefront of the Wisconsin Supreme Court race, with liberals hoping that a win by Protasiewicz would provide them with a majority to legalize the procedure statewide. And Trump remains the clear favorite for the GOP nomination for president, despite his indictment and continuing unpopularity among the general electorate. If those things don't change going into 2024, Republicans may be in big trouble."
Reprinted with permission from Alternet.