NY Jets Owner Defies NFL On National Anthem Fines
@EricBoehlert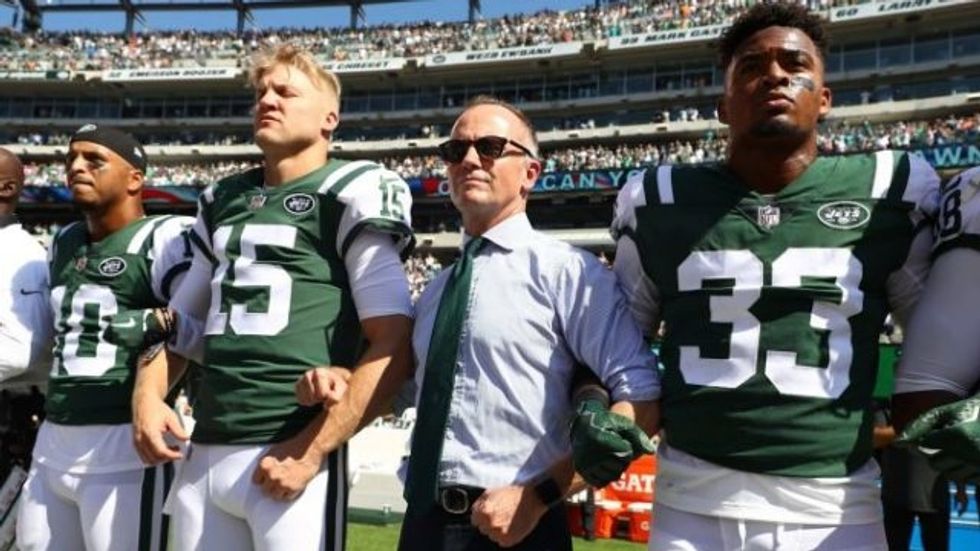 Reprinted with permission from Shareblue.com
In a stunning move, without any input from player representatives, the NFL announced on Wednesday that it would impose sweeping penalties on any players who silently take a knee during the playing of the pre-game national anthem.
According to the new rules, players who appear on the field for the anthem must stand. If they do not, their respective club faces a league-issued fine, and teams can levy additional fines.
The anti-free speech move represents a clear NFL capitulation to Trump, who has often treated the silent protests as among the gravest threats facing the country. He's even tried to use the U.S. military in his crusade against the players, who are trying to raise consciousness about systemic racism and police brutality.
But one NFL owner made clear than any player on his team who continues to kneel during the anthem will not have to pay any fines — because the owner himself will cover that cost.
"If somebody [on the Jets] takes a knee, that fine will be borne by the organization, by me, not the players. I never want to put restrictions on the speech of our players," said New York Jets chairman Christopher Johnson. "There are some big, complicated issues that we're all struggling with, and our players are on the front lines. I don't want to come down on them like a ton of bricks, and I won't."
Trump's involvement has made the issue unavoidably political. And it's notable that Johnson is standing up to the league for a team that plays in the New York City metropolitan area, which is among the most Democratic-leaning areas in the country. Out in San Francisco, another Democratic stronghold, the 49ers were the only team to abstain from the final vote on the new national anthem rules.
Polls last year showed sports fans wanted Trump to stop attacking the league and its players.
Meanwhile, there's zero evidence that a handful of NFL players kneeling during the national anthem has caused damage to the league, or that they are responsible for any decline in television ratings, as Trump has claimed.
On Monday, Trump welcomed NASCAR to the White House, where he boasted that everybody at the Southern-friendly events stands for the anthem.
That may be true, but NASCAR's television ratings have plummeted in recent years. By Trump's hollow logic, TV ratings should be soaring because NASCAR fans salute the flag.
Or something.
As for the Jets, "I have a really good relationship with the players, and I hope we can keep that going and I trust that we will," says Johnson. "I'm so proud of our players and their efforts to date. I think that is the most important thing to get across. I could not be more proud of the guys."
Header image: New York Jets (Photo by Al Bello/Getty Images)