Will New BBC Film On Predatory Trump Sway Evangelicals?
@alexvhenderson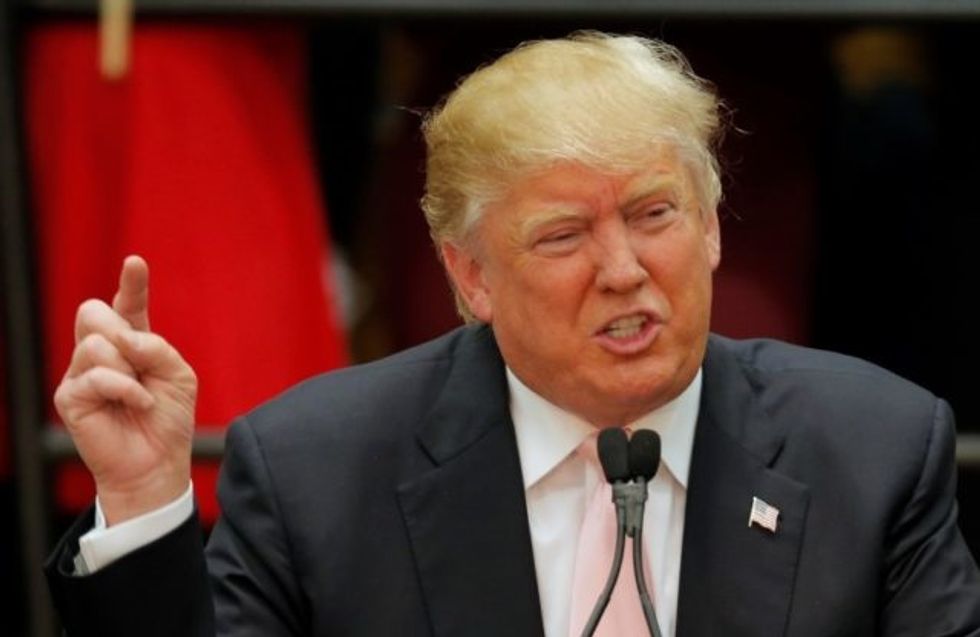 Reprinted with permission from AlterNet.
It's no secret that President Trump is wildly unpopular in Europe, and a 30-minute BBC report that aired earlier this week as part of the "BBC Panorama" series is unlikely to improve his image overseas.
 Titled "Trump: Is the President a Sex Pest?" the report contains anecdotes describing Trump's creepy behavior around women in the 1980s and 1990s. One of the women interviewed, Barbara Pilling, alleged that when she met Trump at a party in New York City in the late 1980s and told him she was only 17, he responded, "Oh, great. So, you're not too old and not too young. That's just great."
Pilling recalled, "I felt I was in the presence of a shark."
Another interviewee, Heather Braden, alleged that when she met Trump at a party in Miami in the 1990s that was attended by 50 female models and only four men, she "felt like a piece of meat in a market."
The BBC report is hardly the first time Trump has been described as disrespectful of women. Allegations of sexism and misogyny dogged him throughout his presidential campaign of 2016. But those allegations didn't scare away far-right Christian fundamentalists two years ago when they came out in droves to vote for him, and the BBC report is most unlikely to bother them either. In the minds of the Christian Right, the prosperity gospel gives Trump a sort of diplomatic immunity regardless of allegations that he sexually harassed women in the past or had sex with adult film star Stormy Daniels.
Christianity is diverse and complex in the United States, which has its share of Christians who lean to the left economically—for example, African Methodist Episcopal (AME) church members who are civil rights activists or Sister Mary Scullion (a Catholic nun famous for her liberal/progressive activism and efforts on behalf of the poor and the homeless). Scullion is most certainly not a proponent of the right-wing prosperity gospel, which teaches that the rich are rich because God has blessed them and the poor are poor because God is punishing their immorality.
Prosperity theology is common among white Pentecostal fundamentalists; Pastor Joel Osteen, for example, is a strong proponent. Although the Houston, Texas-based evangelical never officially endorsed his presidential campaign in 2016, Osteen described Trump as a "friend of our ministry" and "a good man." And Osteen is hardly the only white evangelical who admires the president. Among the far-right white Christians he has courted, Trump hasn't lost any popularity.
In a May 2017 lecture, Kate Bowler—religious scholar and author of the 2013 book "Blessed: A History of the American Prosperity Gospel"—described Trump as the "first American president whose only religious impulses arise from the American prosperity gospel" and explained that "Trump is, in short, the prosperity gospel's religious trifecta."
Right-wing libertarians and right-wing evangelicals have very different views in some respects. While many libertarians combine extreme fiscal conservatism with socially liberal views on abortion, porn, marijuana and same-sex marriage (for example, 2016 Libertarian Party presidential candidate Gary Johnson), the prosperity gospel combines extreme fiscal conservatism with a disdain for those things—although the ultra-rich are so adored in prosperity theology that Trump's evangelical supporters are quite happy to overlook his sexual history. To prosperity theologists, Trump wouldn't be so rich if he didn't enjoy God's stamp of approval.
As liberal sex columnist Dan Savage—a blistering critic of Trump—has pointed out, the president is merely portraying a social issue and has hardly lived his life like one. But Trump, Savage noted, gets a pass from far-right white evangelicals because he's willing to help them abuse the poor and people of color.
While Trump's overall approval ratings in the U.S. are lower than President Barack Obama's were—Trump enjoyed a 43% approval among the overall U.S. population in a Gallup poll in May—they are high among white Protestant evangelicals. A March survey by the Public Religion Research Institute found that among that demographic, Trump enjoys an approval rating of 75%. And that's the same crowd that detested Obama when he was president despite the fact that he has a much longer history of attending church and obviously knows a lot more about the Bible. Obama has obviously led a much more clean-cut life than Trump, but to the Christian Right and proponents of prosperity theology, that doesn't matter. Right-wing white evangelicals equate Donald "Grab 'Em by the Pussy" Trump with money and power—and therefore, Christian morality—while equating Obama with socialism and giveaways for poor Americans they consider freeloaders, although truth be told, Obama was a decidedly centrist president even though his rhetorical style could sound very populist at times.
The chances that the BBC's "Trump: Is the President a Sex Pest?" will harm the president's relationship with his far-right white evangelical supporters are slim and none. And with Trump appointing wingnuts like Neil Gorsuch and Brett Kavanaugh—severe fiscal conservatives who are also severe social conservatives—to the U.S. Supreme Court, his popularity among the Christian Right is likely to grow even stronger.
Trump, as Savage asserted, is merely portraying a social conservative. But it's a portrayal that is working extremely well for him among far-right white evangelicals who hate the poor as much as they hate abortion, porn and same-sex marriage.
Alex Henderson is a news writer at AlterNet and veteran political journalist. His work has also appeared in Salon, Raw Story, Truthdig, National Memo, Philadelphia Weekly, Democratic Underground, L.A. Weekly, MintPress News and many other publications. Follow him on Twitter @alexvhenderson.