'I Don't Think You'll Be Shocked': Georgia Grand Juror Teases Trump Indictment
@LauraClawson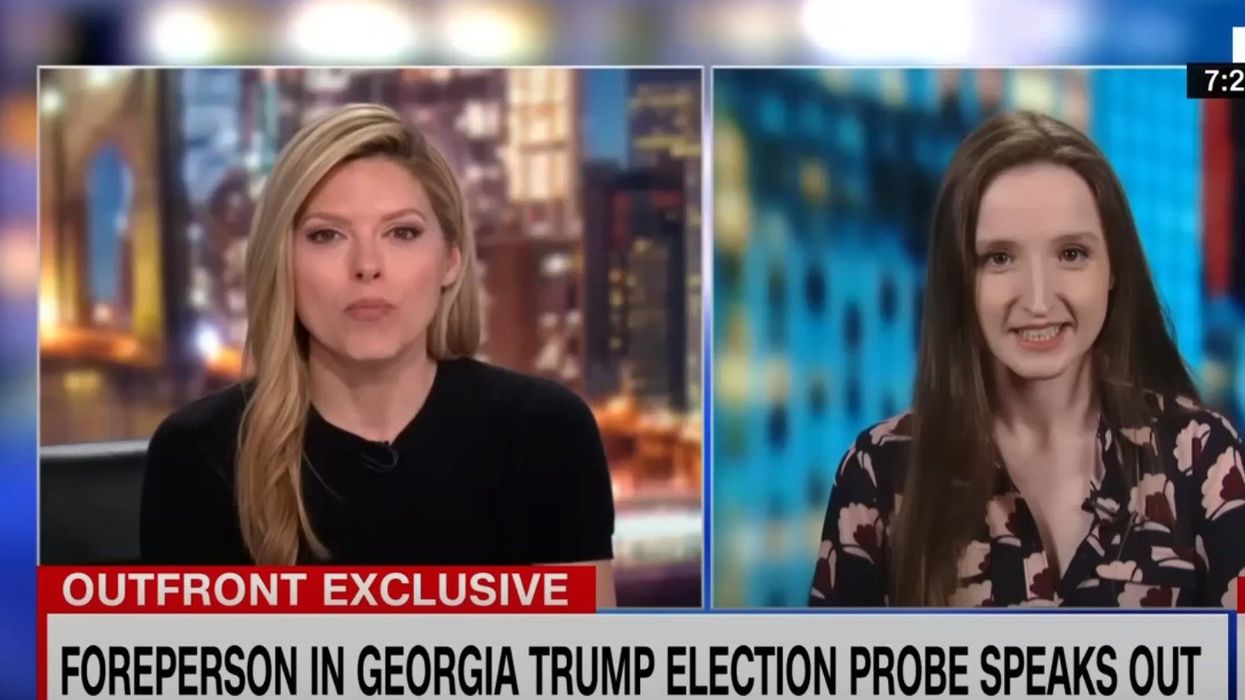 There's a lot more to come in the Georgia investigation into efforts to overturn the 2020 election in that state, based on what the foreperson of the recent special grand jury told CNN on Tuesday. While the only recommended indictment that made it through the redacted version of the grand jury's report that was released to the public was perjury, more indictments were recommended in the unredacted report. "It's not a short list. It's not," Emily Kohrs told CNN. She added, "There may be some names on that list that you wouldn't expect. But the big name that everyone keeps asking me about—I don't think you will be shocked."
So, yes, it sounds like the special grand jury recommended indicting Donald Trump. That's a long way from it happening, or from a guilty verdict, or from Trump actually being sentenced, but it's a step in the right direction.
The special grand jury was not able to issue indictments itself. Rather, it made recommendations for Fulton County District Attorney Fani Willis, who could then take them to a regular grand jury. In late January, Willis cited "imminent" charging decisions, so it seems that well before the public saw scraps of the special grand jury report, Willis was taking action.
Asked by Kate Bolduan if the "not short" list of recommended indictments was more than 12, Kohrs called it "probably a good assumption." She also described hearing "a lot of very compelling evidence, a lot of very interesting things, things that we didn't expect. We discovered a lot as we went."
As for Trump's insistence that the special grand jury report exonerated him, Kohrs called it "Fascinating," adding, "I'm not positive he read the right document."
Trump was always going to claim he was exonerated, though. In fact, his attorneys had said that the special grand jury exonerated him even before its report was released. Because he was never called in or subpoenaed by this grand jury, they claimed, "we can assume that the grand jury did their job and looked at the facts and the law, as we have, and concluded there were no violations of the law by President Trump."
Trump's absence from in-person testimony doesn't mean the grand jury didn't hear from him. Willis kicked off this investigation in response to Trump's call to Georgia Secretary of State Brad Raffensperger in which he demanded that Raffensperger "find 11,780 votes," the number Trump needed to win. It was always safe to say that the grand jurors would hear from Trump in recorded form, and Kohrs told CNN that wasn't the only Trump call they heard. "Yes. I'm positive I have heard the president on the phone more than once," she said.
In the CNN interview, referring to the report's recommendation of perjury charges for some, Kohrs drew a distinction between "crimes we were called to investigate and crimes that were committed in the room." Sen. Lindsey Graham, who fought hard to avoid testifying, said on ABC's This Weekthat he had "no concerns about [his] testimony," and Kohrs told the Associated Press that he did answer questions. Former White House Chief of Staff Mark Meadows, on the other hand, repeatedly invoked the Fifth Amendment (which probably means he didn't commit perjury).
While the investigation began with that Trump call to Raffensperger, it expanded beyond that to consider evidence on the slate of false electors attempting to throw the state to Trump; state legislators' false allegations of election fraud; the resignation of Byung Pak as U.S. attorney in Atlanta, a resignation he told congressional investigators was because he had heard Trump was planning to fire him; the computer forensics team hired by Trump allies that copied voting system software in one Georgia county; and the harassment campaign directed against Fulton County elections worker Ruby Freeman.
Trump seems in jeopardy of indictment here, which would definitely draw the biggest headlines, but there is also plenty of room there for indictments of people most of us have never heard of but who were eager members of the effort to overturn an election and commit a coup. And those people are also important—not just in Trump's 2020 attempt but in 2024 and beyond. If there are no consequences now, those people will just keep going.
Reprinted with permission from Daily Kos.