After Six Weeks, Republicans Have Done Nothing About Inflation But Tweet
@jeisrael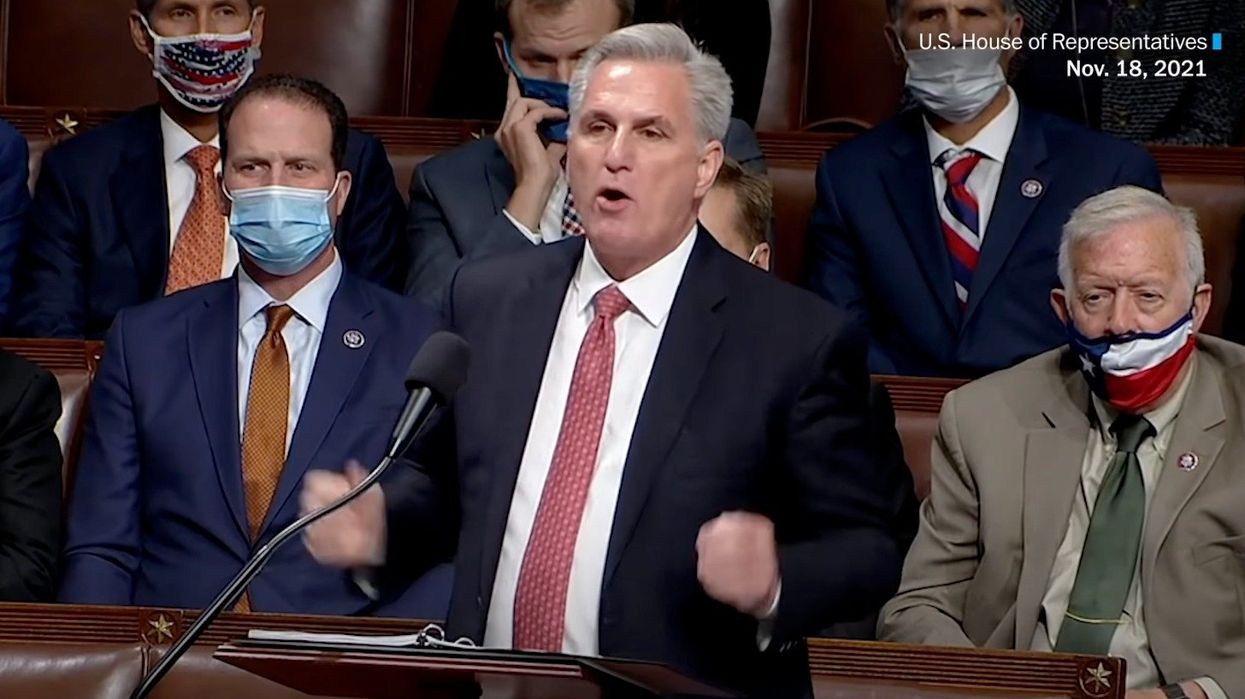 The Bureau of Labor Statistics released January data on Tuesday, indicating that inflation has slowed compared to a year ago and to December, but prices paid by consumers are still going up. House Republicans, who have yet to take any action to make goods more affordable, marked the day by tweeting about inflation and blaming President Joe Biden and Democratic policies.

Some of them blasted the high price of eggs, a phenomenon being fueled by global bird flu outbreaks, not government spending.
House Speaker Kevin McCarthy called Tuesday "The most expensive Valentine's Day ever," and shared a meme of Biden next to the words "Roses are up, Violets are up… chocolate is up, dinner is up, flowers are up, eggs are up."
Avery Whitehead, deputy platforms director for the White House, responded, "Bummed my partner and I can't sit down to our annual Valentine's Day egg dinner this year."
"President Biden is in denial and has no plan to stop the inflation he started," House Ways and Means Chair Jason Smith said in a press release on Tuesday. "At the Ways & Means Committee, we will look to advance policies which will help workers, families, small business owners, and farmers trying to find relief from the economic hardships created by one party rule in Washington."
But six weeks into Republican control of the House, GOP lawmakers have brought no legislation to curb inflation -- a global phenomenon -- or reduce prices to the floor. The very few economic policy bills they have brought to the floor could actually make the problem worse.
The recent spike in inflation began under then-President Donald Trump in 2020 as the nation dealt with supply chain disruptions caused by the coronavirus pandemic.
House Republicans opposed Democratic legislation to curb inflation in 2022. Not a single one voted for a May 2022 bill that would have cracked down on price gouging, as fossil fuel companies reported record profits in 2022 as prices increased.
Despite united GOP opposition, Democrats enacted the Inflation Reduction Act last summer, investing in energy and climate change infrastructure and reducing the federal budget deficit by hundreds of billions of dollars.
Since its passage, inflation has ebbed significantly, down to 6.4 percent in January from 9.1 percent last June.
While Republicans made inflation a key issue in the 2022 midterm elections and after winning a narrow majority in the House vowed to take action to address it, internal divisions in the Republican Party have led to the stalling of much of their agenda.
Six weeks into the new Congress, Republicans have held 119 roll call votes. Fifteen of those were to decide who would be House speaker. Others have been votes on proposals to overrule the District of Columbia's local elected government, to prevent teleworking by federal government employees, to denounce "the horrors of socialism," and to eliminate COVID-19 safety rules.
They also voted along party lines for a bill to undo provisions in the Inflation Reduction Act that allow the Internal Revenue Service to crack down on wealthy tax cheats. The nonpartisan Congressional Budget Office estimates that if the bill becomes law, it will cost the federal government more than $185 billion in lost revenue over the next decade, significantly increasing the deficit.
And they approved legislation to make it harder for Biden and future presidents to address energy costs spikes by restricting use of the Strategic Petroleum Reserve. Biden successfully used fuel releases in 2022 to drive down gas prices and brought in billions of dollars in revenue to the federal government in the process.
House Republicans have said they will insist on significant cuts to "wasteful government spending," which they say is part of their "commitment" to "fight inflation and lower the cost of living." Thus far, they have offered no specifics about what those cuts will be.
With a Democratic Senate, their bills are unlikely to make it to Biden's desk or past his veto pen.
Reprinted with permission from American Independent.