GOP Rep. Cory Mills Delivers Dummy Grenades To Fellow House Members
@next2godwin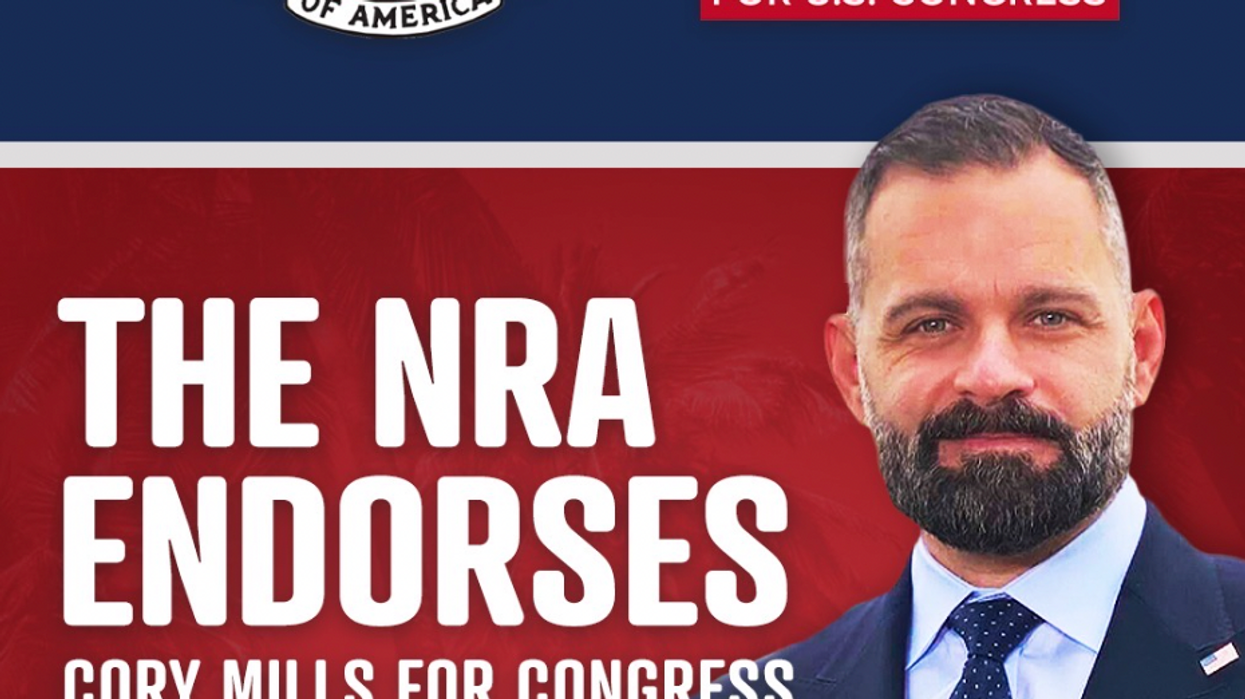 Freshman Rep. Cory Mills (R-FL) on Thursday celebrated his appointment to two House committees by handing his colleagues inert, Florida-made 40mm grenades emblazoned with the logo of the Republican Party.
Mills sent the explosives with a letter that welcomed lawmakers to a "mission-oriented 118th Congress" and noted that he was "honored to be a part of the [House] Armed Services and Foreign Affairs committees."
The grenades, Mills noted in his letter, were ammunition for an MK19 grenade launcher, "manufactured in the Sunshine State[,] and first developed in the Vietnam War." A line at the bottom of the letter reminded lawmakers that the explosives were inert.
A spokesperson for Mills, Juan Ayala, told the Washington Examiner that the dummy explosives were "a gift to all House Republicans in celebration of a new majority" and that "It's very customary for new members of Congress to bring products from their home state."
"Per the letter, the grenades are inert, and were cleared through all security metrics," Ayala said in a statement to the Washington Post .
"I just wish they [referring to Daily Mail reporter Morgan Phillips, who posted a photo of Mills' gift on Twitter on Thursday] tagged out official account," Ayala added.
Mills' weird gift care arrived weeks after House Republicans, stoking fresh fears for the safety of lawmakers, removed metal detectors installed outside the House chambers, days before even electing the ringmaster of their circus, Speaker Kevin McCarthy (R-CA).

Democratic lawmakers installed the magnetometers outside the House nearly a week after defeated ex-president Donald Trump incited a mob of his supporters into storming Capitol Hill on January 6, 2021, in an alarming bid to retain power after losing the 2020 election, no matter the cost.
Mills, an ex-defense adviser to the Trump Administration, was one of many political figures who falsely alleged that Trump, not then-Democratic presidential candidate Joe Biden, had won the 2020 presidential election.
According to Orlando Sentinel , Mills considered the 2020 election "tainted" and refused to acknowledge that Biden's ascension to the presidency was legitimate, citing what he called "a multitude of fraud that has been found throughout multiple states."
The Republican party listed Mills as a keynote speaker for a 'Stop the Steal" rally nearly two months before Trump sicced his supporters on U.S. lawmakers during their certification of Biden's victory.
Not only was Mills obstinately defensive of his participation in what the now-defunct bipartisan House January 6 committee labeled a "coup," but the Winter Haven Republican stoked culture war debates in the lead-up to the 2022 midterms, earning Trump's endorsement.

During his campaign, Mills attacked transgender people, railed against US aid to Ukraine, called for a complete border closure and birthright citizenship overhaul, and falsely claimed the Biden Administration "weaponize[d] the IRS and the FBI against the American people" and violated Trump's Fourth Amendment rights, according to the Orlando Sentinel .
Politico reported in April that a company Mills co-founded, PACEM Solutions, sold teargas that was used on Black Lives Matter demonstrators during the 2020 racial justice protests. Hong Kong police used rubber bullets sold by PACEM Solutions on protestors in 2019, the paper also noted.
Americans were not impressed with Mills' grenade stunt and dragged the newbie lawmaker on Twitter for playing politics with ordnance they said aptly symbolized the Republican House.