'Unfounded': Scientists Debunk RFK Jr. Claim That Chemicals Make Kids Gay
@alexvhenderson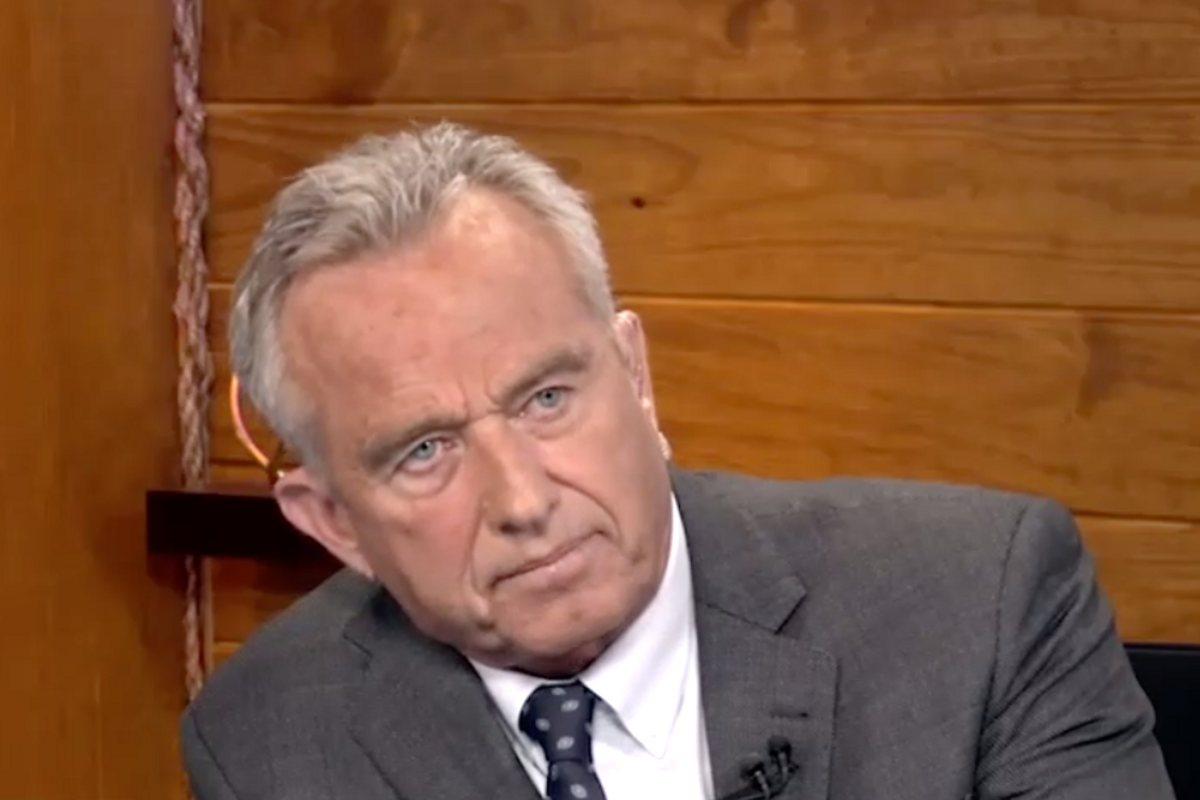 The saying that "politics make strange bedfellows" has never been more accurate than it is in 2023.
On one hand, former Rep. Liz Cheney — an arch-conservative neocon — gets a lot of respect from Democrats these days for aggressively calling out former President Donald Trump's efforts to overturn the 2020 election. At the same time, Democratic presidential candidate and conspiracy theorist Robert F. Kennedy, Jr. — nephew of President John F. Kennedy and son of the late Sen. Robert F. Kennedy, Sr. — is being praised by former Fox News host Tucker Carlson for his anti-vaxxer views.
RFK Jr. has drawn a great deal of criticism from medical experts for claiming that vaccines, including COVID-19 vaccines, are dangerous and that childhood vaccines can lead to autism. Now, according to CNN, medical experts are calling him out for promoting "unfounded conspiracies that man-made chemicals in the environment could be making children gay or transgender and causing the feminization of boys and masculinization of girls."
CNN reporters Abby Turner and Andrew Kaczynski, in an article published on July 13, explain, "Experts dispute the claims from Kennedy, an environmental lawyer and anti-vaccine activist, and told CNN's KFile his theories that 'sexual identification' and 'gender confusion' among children could be from their exposure to 'endocrine disruptors' found in the environment are completely unfounded."
Turner and Kaczynski report that CNN "spoke to multiple experts who said there is no link between endocrine disruptors and children's gender and sexuality." The journalists stress that although there are legitimate environmental concerns about the quality of drinking water in the United States, nothing in the water will turn a person gay.
"While sex in in frogs is determined by environmental factors such as temperature and chemicals, Dr. Andrea Gore, professor of pharmacology and toxicology at University of Texas at Austin, said the sex of humans is determined at the moment of conception, and cannot later be altered by endocrine-disrupting chemicals," the CNN journalists report. "The baseless claim that chemicals — particularly in tap water — could turn people gay has gained popularity with conspiracy theorists over the years, most memorably with conservative radio host Alex Jones, who said chemicals in the water were 'turning the friggin' frogs gay.'"
Reprinted with permission from Alternet.