As DeSantis Feuds With Black Republicans, His Campaign 'Reboot' Sputters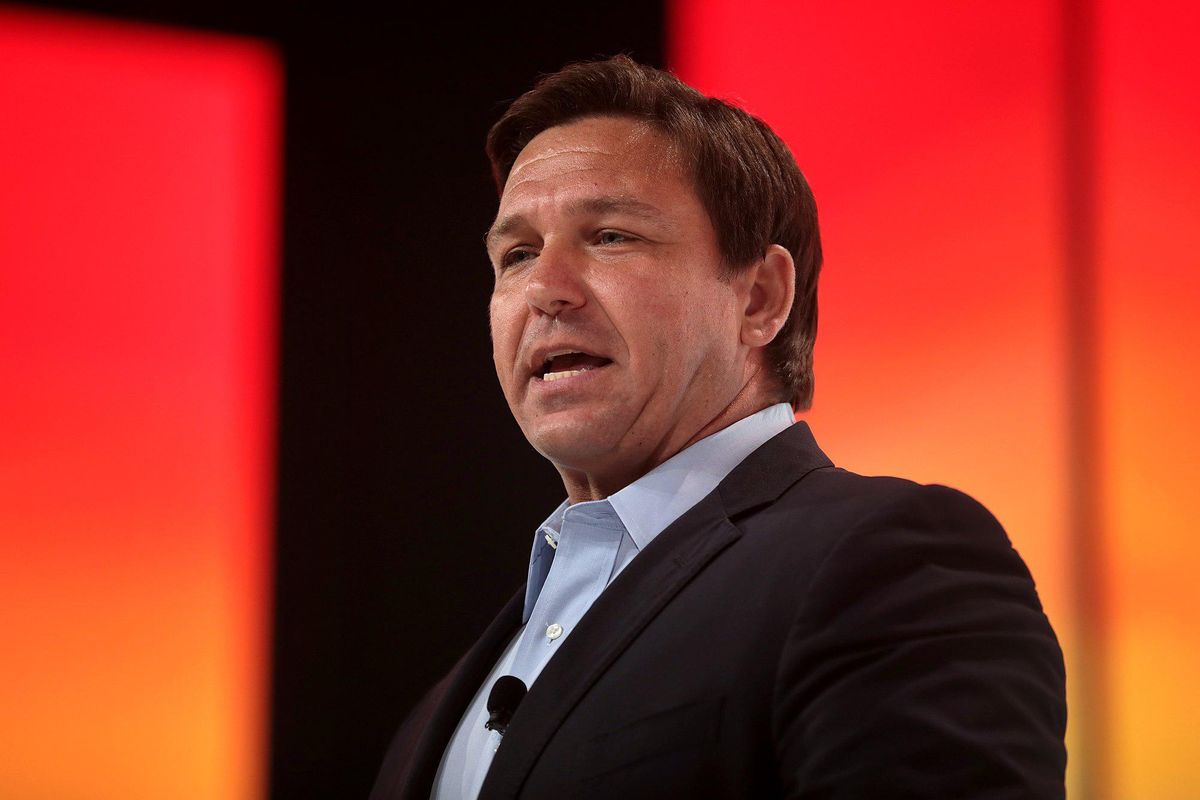 Finding its candidate dropping in the polls and burning through money at a fast clip, Florida Gov. Ron DeSantis' campaign announced this week that it was going to undergo a reboot in the 2024 Republican presidential primary.
"Following a top-to-bottom review of our organization, we have taken additional, aggressive steps to streamline operations and put Ron DeSantis in the strongest position to win this primary and defeat Joe Biden," Generra Peck, DeSantis' campaign manager, said in a statement to the Associated Press on July 25. "DeSantis is going to lead the Great American Comeback and we're ready to hit the ground running as we head into an important month of the campaign."
Yet just a few days later, DeSantis' attempted reboot is floundering as DeSantis and his team continue to earn negative press.
On Tuesday, the campaign announced that it laid off more than three dozen staffers in an effort to stop hemorrhaging the cash it needs to make it through the long slog of the GOP primary.
Among the staffers that were let go was Nate Hochman, a DeSantis speechwriter who made a pro-DeSantis video that included a symbol often used by Nazis and white supremacists.
That same day, four vehicles in DeSantis' motorcade were involved in a car accident while traveling to a fundraiser in Tennessee. DeSantis was not injured and made it to the planned event, the Associated Press reported.
DeSantis' troubles this week didn't end there.
On Wednesday, a group of DeSantis staffers got into a feud with Rep. Byron Donalds, the lone Black Republican in the Florida congressional delegation.
Donalds tepidly criticized the new Black history curriculum in the state, which will instruct students about "how slaves developed skills which, in some instances, could be applied for their personal benefit."
"The new African-American standards in FL are good, robust, & accurate," Donalds tweeted on July 26. "That being said, the attempt to feature the personal benefits of slavery is wrong & needs to be adjusted. That obviously wasn't the goal & I have faith that FLDOE will correct this."
Christina Pushaw, DeSantis' rapid response director, responded to Donalds by tweeting, "Did Kamala Harris write this tweet?"
DeSantis press secretary Jeremy Redfern accused Donalds of "laundering a lie for the White House."
Donalds wasn't the only Black Republican to criticize Florida's Black history curriculum.
Sen. Tim Scott (R-SC), who is also running for the Republican presidential nomination, said at a campaign event in Iowa "there is no silver lining" in slavery.
"What slavery was really about was separating families, about mutilating humans and even raping their wives. It was just devastating," Scott said, according to NBC News. "So I would hope that every person in our country — and certainly running for president — would appreciate that. People have bad days. Sometimes they regret what they say. And we should ask them again to clarify their positions."
Vice President Kamala Harris had made a similar criticism to Donalds, saying at the annual national convention of the historically Black sorority Delta Sigma Theta, "In the state of Florida, they decided middle school students will be taught that enslaved people benefited from slavery. They insult us in an attempt to gaslight us, and we will not stand for it."
DeSantis, for his part, has struggled in the polls since officially launching his campaign in May.
When his candidacy was only rumored in the beginning of 2023, polls showed him neck and neck with former President Donald Trump. DeSantis had reached 40.3 percent in the FiveThirtyEightpolling average in early January, just two points behind Trump.
Yet now, even after Trump has been indicted multiple times, DeSantis has plummeted to just 15.5 percent in FiveThirtyEight's national polling average, while Trump stands at 52.4 percent as of July 27.
"DeSantis' path was always 'Trump, but more electable and with the ability to get things done,'" Sean Trende, an elections analyst with RealClearPolitics, tweeted. "But for some reason DeSantis has opted for 'Trump, but somehow crazier.'"
Reprinted with permission from American Independent.