At Least 10 People Injured In Ohio State University Attack
@reuters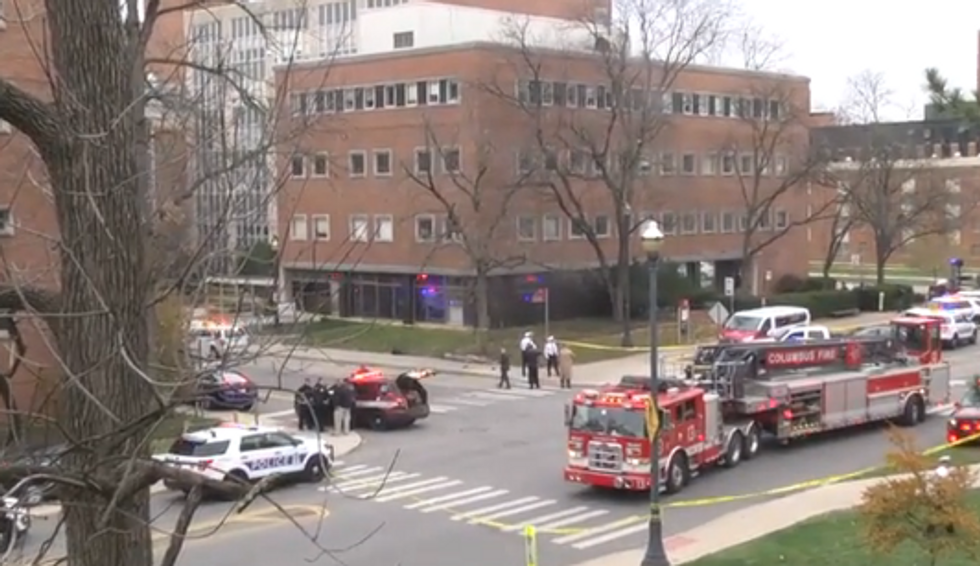 (Reuters) – At least 10 people were injured, one critically, at Ohio State University, in an attack that was carried out by an assailant who used a knife and a vehicle to attack people , local officials said.
The assailant was shot and killed by police but not before he had struck his victims with the vehicle and stabbed them, the university said in a statement.
Ohio State University said it had lifted a shelter-in-place order shortly before noon local time, adding that the campus was secure.
Ohio State University police and local law enforcement continued their investigation at the campus, the college said.
The university campus remained open, although classes were canceled for the rest of the day.
Rebecca Diehm, a spokeswoman for the Columbus Fire Department, said 10 people were injured and transported to local hospitals, with one person in critical condition.
Ohio State University Wexner Medical Center treated five people with non-life threatening injuries and all were in stable condition, spokeswoman Amanda Harper said.
Two people were treated at Grant Medical Center and two others at Riverside Medical Center, said Mark Hopkins, a spokesman for Ohio Health, which runs a state hospital network. All four were in stable condition with non-life threatening injuries, according to Hopkins, who could not confirm the nature of the injuries.
"The Columbus City Council stands united with Ohio State University," said Council President Zach Klein. "We are continually thinking about and praying for all those involved and affected by this senseless act of violence."
"Ohio's thoughts and prayers go out to the Ohio State community," Ohio Governor John Kasich said in a statement. "Be safe, listen to first responders."
(Reporting by Kim Palmer in Cleveland and Laila Kearney and Franklin Paul in New York, Writing by Alex Dobuzinskis; Editing by Jeffrey Benkoe)