10 Lebanese Soldiers Killed In Battle With Syrian Islamist Fighters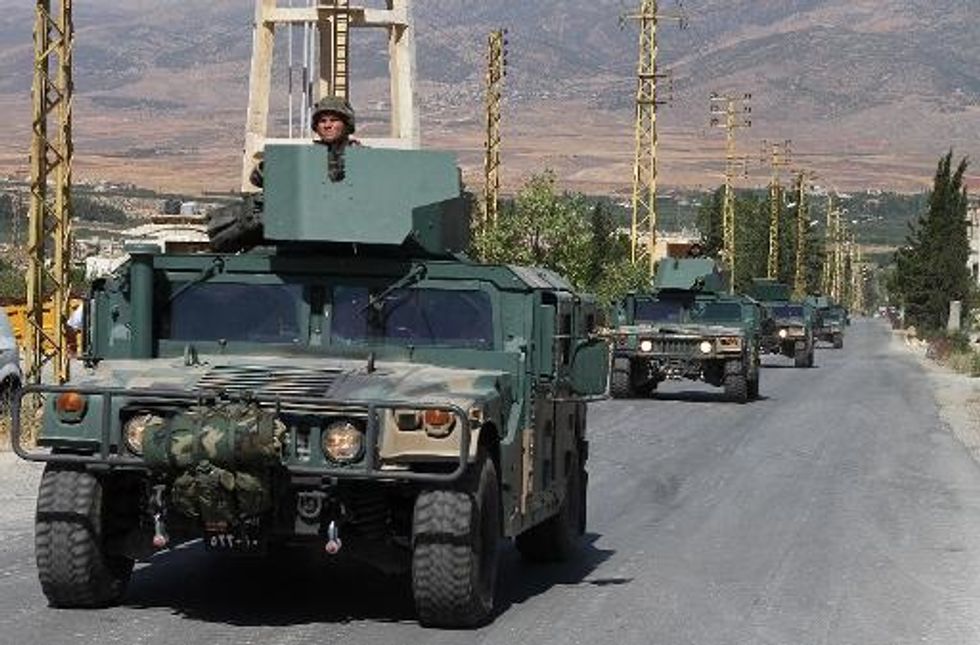 By Patrick J. McDonnell and Nabih Bulos, Los Angeles Times
BEIRUT — Clashes raging between Syrian Islamist rebels and Lebanese security forces in a town close to the Syrian border killed 10 soldiers, the Lebanese army said Sunday.
An additional 25 were wounded in one of the most serious cross-border incidents since the Syrian civil war erupted more than three years ago. The army had also lost contact with 13 soldiers who may be "held captive," the official Lebanese news service said, quoting Gen. Jean Kahwagi, who heads the Lebanese armed forces.
Fighting began Saturday in the town of Arsal after Lebanese authorities detained a member of Al Nusra Front, the al-Qaida affiliate fighting in Syria. Rebels were demanding his release.
The Syrian conflict has severely aggravated sectarian and political tensions in Lebanon, where a fragile democracy has taken hold since the end of Lebanon's 15-year civil war in 1990.
Militants attempted to storm an army post in Arsal on Sunday, the Lebanese news agency reported, as many civilians tried to flee the town amid heavy gunfire and plumes of smoke rising from the battles.
There were no precise figures on the number of civilian and Syrian rebel casualties in the fighting in and around Arsal, situated in the Bekaa Valley, about 60 miles northeast of Beirut, the capital.
Witnesses said parts of Arsal came under shelling as government forces fought to evict Islamist guerrillas.
"The situation is going from bad to worse," the mayor of Arsal, Ali Hujeiri, said in a brief telephone interview Sunday. "We have shells here that are falling right in front of the civilians, and the people are totally surrounded."
In an unverified video posted on the Internet, Nusra fighters alleged that a number of Lebanese security officers had defected to their cause.
The Arsal area is home to tens of thousands of Syrian refugees and has long been a transit point for rebels and arms headed for Syria. Many residents in the largely Sunni Muslim town sympathize with the Sunni-led rebellion against the government of Syrian President Bashar Assad, a member of the minority Alawite sect, an offshoot of Shiite Islam.
But Arsal is also adjacent to areas of Lebanon where the population supports Hezbollah, the Shiite movement that is a major military and political force in Lebanon. Hezbollah has dispatched thousands of militiamen into Syria to fight on behalf of Assad's government. Hezbollah leaders view Al Nusra Front and all al-Qaida-style Sunni militants as mortal enemies.
The U.S. government regards both Hezbollah and Al Nusra Front as terrorist groups.
In a statement Saturday, the State Department said it "strongly condemns the Nusra Front's attack today on the Lebanese armed forces."
Lebanon is officially neutral in the conflict that has devastated Syria. But many Lebanese back one side or the other, often based on sectarian allegiances. Sunni and Shiite volunteers from Lebanon have fought and died in Syria.
Since the Syrian war began in 2011, more than 1 million refugees have poured into Lebanon, straining social and political cohesion in the nation of 5 million. Lebanon has experienced car bombings, assassinations, gunbattles, kidnappings, and other violence linked to the Syrian conflict.
Bulos is a special correspondent.
AFP Photo
Interested in world news? Sign up for our daily email newsletter!