100-Year-Old Chicago Vet Receives French Legion Of Honor For WWII Bravery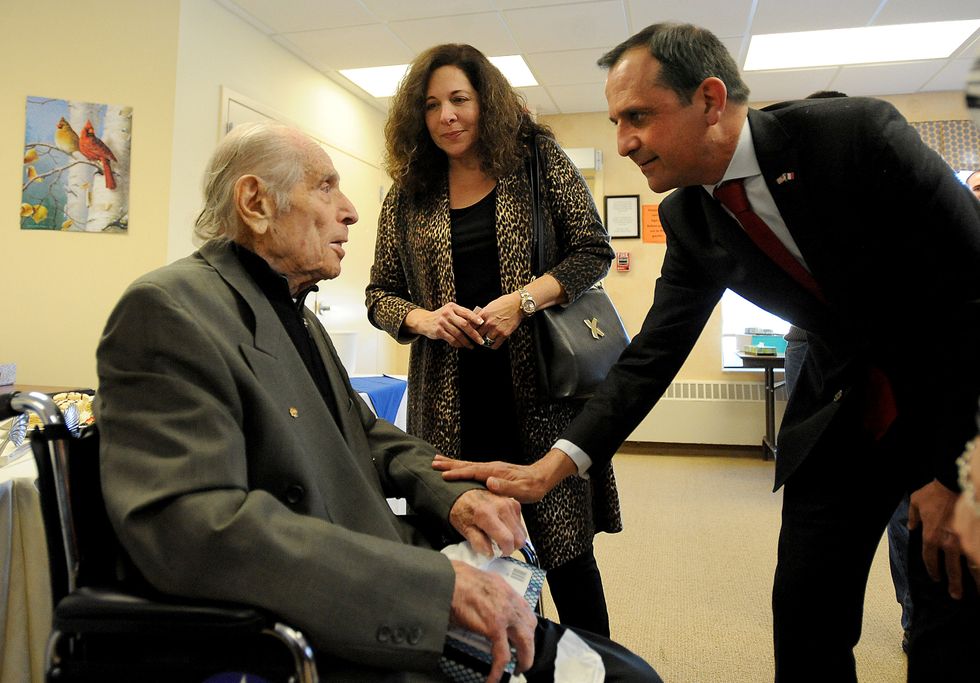 By Gregory Pratt, Chicago Tribune (TNS)
CHICAGO — Almost 71 years ago, Leonard Goldstein stormed a Normandy beach during the D-Day invasion. On a recent Saturday, the 100-year-old veteran received the Legion of Honor from the French government for his bravery.
Goldstein, who was born in Chicago and raised his family in north suburban Skokie, was one of many soldiers who fought to liberate France during that battle that changed the course of history.
Vincent Floreani, the French consul general in Chicago, pinned the medal to Goldstein's chest after a ceremony at Alden Estates in Barrington, Ill., where he thanked Goldstein and all the American soldiers "who were ready to sacrifice their lives for France and Western Europe" during World War II.
"Many did not return, but they are in our hearts and fortunately, Mr. Goldstein, you are among us to help us remember," Floreani said.
The Legion of Honor was established by Napoleon Bonaparte in 1802 and is the "highest honor" the French can bestow.
Goldstein thanked his fellow veterans, the audience, and the people of France.
"Our country and your country will be friends forever," Goldstein said. "That's my wish."
Goldstein served as a rifleman in the 4th Infantry Division, also known as the Ivy Division or the Iron Horse, Floreani said. While landing at Normandy on June 6, 1944, Goldstein provided cover for disembarking troops. He was injured a few days later, on June 14, during an attack in the middle of the night, and he was sent to a hospital in England to recover, Floreani said. Goldstein received a Purple Heart.
In England, Goldstein ended his service as a driver, Floreani said.
Goldstein's daughter, Janet Noble, said the honor carried deep meaning for him and his family.
"This has been his reason for being here, staying alive, waiting for this," she said. "I know that sounds odd to say that, but he was holding on to receive this. This is the best I've seen him look in weeks. It's great."
Over the years, Goldstein would talk about the war sparingly, mostly to people from the local Veterans of Foreign Wars, she said. He wasn't one to regale others with his war stories, Noble said.
"It wasn't (until) he got older that, with my son, he would sit and talk with him about what took place in the war," Noble said.
When Frank Merkendorfer, the 81-year old Post Commander of VFW #3579, congratulated him on his honor, Goldstein returned the kind words.
"I couldn't think of anything nicer than having you gentlemen represent me," Goldstein said.
Earlier in the day, one veteran asked Goldstein his age and expressed awe when told the answer.
"Wow," he said, with a chuckle. "You're 100 years old. I'm only 92. I'm a youngster!"
Longtime neighbors Jeanne Pepper, 79, and her husband, Dean, came to show their support. The Peppers were friends of Goldstein's and his wife of more than 60 years, Sylvia, who has passed.
Jeanne Peppers said the Goldsteins were "fun neighbors" who would often go dancing together. Goldstein remained agile into his advanced years, she said, climbing on the roof to get leaves out of the gutter.
As the medal ceremony drew to a close, Goldstein said he was overwhelmed by the honor and couldn't describe his feelings.
"This is my life," Goldstein said. "I waited a long time for this honor to be bestowed upon me."
(c)2015 Chicago Tribune, Distributed by Tribune Content Agency, LLC
Photo: Vincent Floreani, the French consulate general of Chicago, right, meets WWII veteran Leonard Goldstein, 100, for the first time as Goldstein's daughter Janet Noble stands nearby on Saturday, March 7, 2015, at the Alden Estates of Barrington. (Michael Smart/Chicago Tribune/TNS)