10,000 Troops To Be Deployed In France Following Terrorist Attacks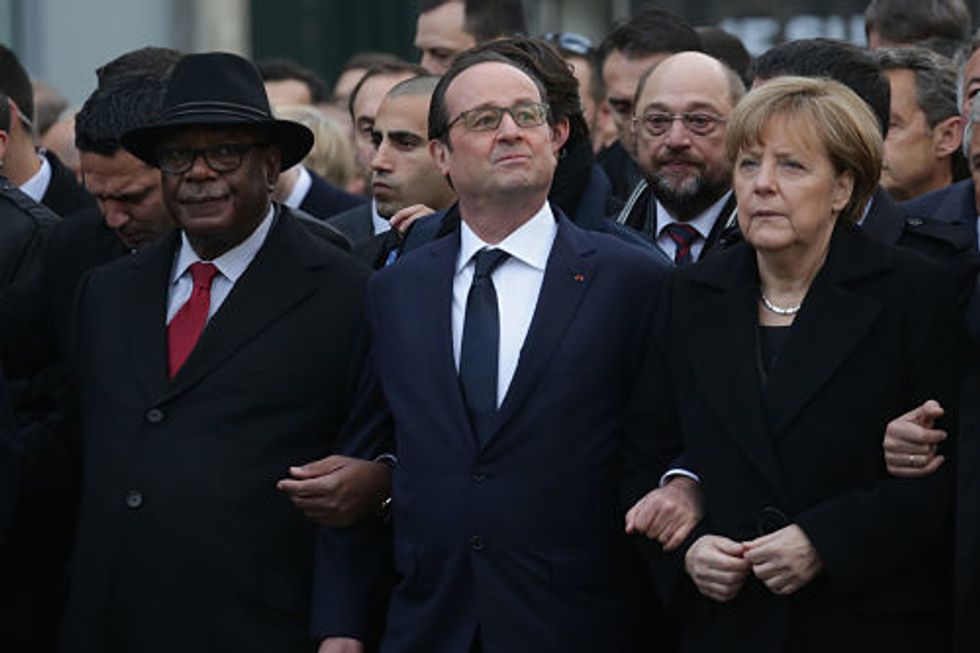 By Jessica Camille Aguirre, dpa (TNS)
PARIS — Some 10,000 military troops will be deployed to "sensitive points" across France following a three-day killing spree last week that left 17 dead in Paris and shocked the nation, Defence Minister Jean-Yves Le Drian said.
"The president asked the armed forces to participate in securing sensitive points in the country," Le Drian said after a cabinet-level national security meeting at the Elysee Palace, adding that it was the largest military deployment to ever take place on French territory.
Interior Minister Bernar Cazeneuve told French media that 4,700 police forces would be deployed to 717 Jewish schools and places of worship, after one of the attacks targeted a kosher supermarket.
Israeli Prime Minister Benjamin Netanyahu visited the supermarket, Hyper Cacher, to pay tribute to the four victims of the attack: Joav Hattab, 21, Johan Cohen, 22, Philippe Braham, 45, and Francois-Michel Saada, 60.
Netanyahu was in Paris to take part in massive demonstrations Sunday that drew nearly 4 million people across France to commemorate the victims and display solidarity against religious extremism.
Three men were killed by police Friday in two separate raids that ended days of terror in France. One operation targeted two brothers believed to be responsible for the shooting at Charlie Hebdo satirical magazine that killed 12 people.
In the other raid, police stormed Jewish market Hyper Cacher, which was under siege by a man believed to have earlier shot dead a policewoman.
A woman named Sophie, who said she was one of those taken hostage in the store on Friday, told broadcaster Europe 1 that gunman Amedy Coulibaly shot one of the victims in the back when he tried to leave, and killed another after he took one of Coulibaly's guns.
Coulibaly's alleged accomplice, 26-year-old Hayat Boumeddiene, was not in France when the attacks occurred, Turkish Foreign Minister Mevluet Cavusoglu told the Anadolu news agency Monday.
Cavusoglu said she flew from Madrid to Istanbul on Jan. 2, and said phone data indicated that she left for Syria one day after the attack on Charlie Hebdo.
Prime Minister Manuel Valls told French broadcaster BFMTV that there would likely be a parliamentary inquiry into how the attacks occurred.
In a televised interview, Valls said that investigators are continuing to untangle how the attacks were planned and whether they were supported by a broader network.
Advocating for the isolation of radical Islamists in prison, Valls also said it was important to avoid legislative overeach. "Beware of all exceptional procedures, even after violence that is exceptional in its barbarism and requires an exceptional response," he said.
U.S. Secretary of State John Kerry said Monday he would travel to Paris on Thursday for talks on combating violent extremists.
Photo: Mali President Ibrahim Boubacar Keita, French President Francois Hollande and German Chancellor Angela Merkel participate in the march against terrorism in Paris on Sunday, Jan. 11, 2015. (Panoramic/Zuma Press/TNS)