'12 Years A Slave' Puts Spotlight On Hollywood's Approach To Race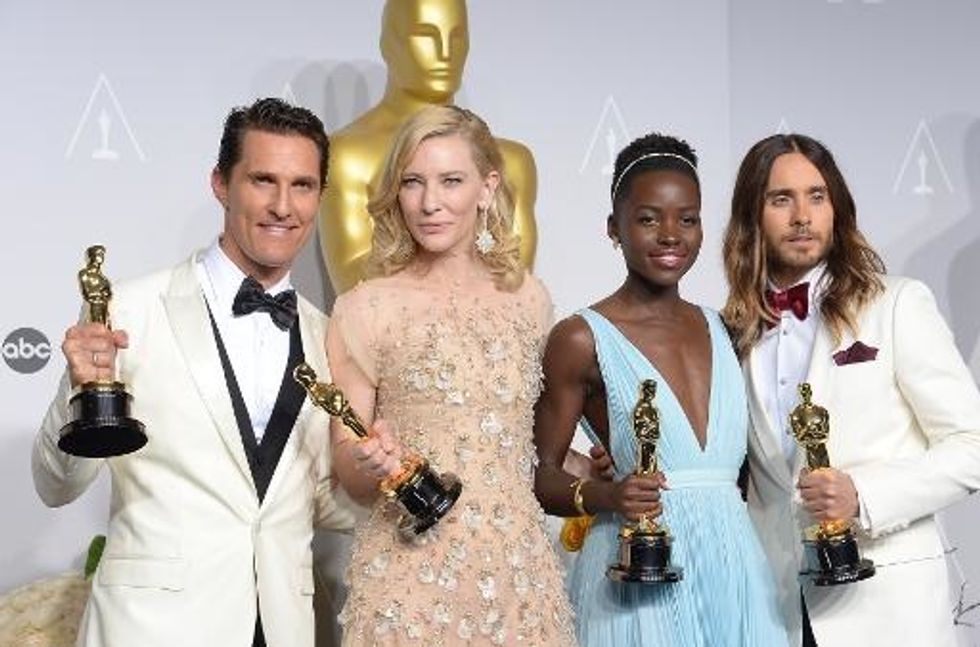 By John Horn, Los Angeles Times
LOS ANGELES — Was it ultimately a race about race?
The best picture Oscar is meant to honor the year's greatest achievement in film, and 12 Years a Slave had no shortage of supporters before winning the top honor Sunday. But for all the film's artistry, the undercurrent of many 12 Years a Slave conversations hinged on race and how Hollywood has for decades given short shrift to one of the most inglorious chapters in the nation's history.
The film's distributor anchored its awards campaign around the line "It's time," easily interpreted as an attempt to exhort members of the Academy of Motion Picture Arts and Sciences into voting for the movie because it was the right thing to do.
The film's director, British filmmaker Steve McQueen, said repeatedly during the long awards season that Hollywood appeared more comfortable making Holocaust movies than slavery stories. And in her opening monologue, Oscar host Ellen DeGeneres even joked that if McQueen's telling of the enslavement of Solomon Northup didn't take the top Academy Award, voters could be branded as "racists."
Whether or not Oscar voters were motivated by fear of looking racially insensitive, or to correct a perceived historical wrong, can never be known. But one top Oscar strategist said that Academy Awards voters have a long history of honoring movies that take on the subject of race relations.
"Look at 'A Soldiers Story,' 'In the Heat of the Night,' 'Ray,' 'Guess Who's Coming to Dinner' and 'Sounder,'" said Tony Angellotti, reeling off the names of films that collectively garnered 30 Oscar nominations with nine wins. "This kind of socially aware vote for a movie that spotlights racism is rooted in the academy's DNA."
All the same, two Oscar voters privately admitted that they didn't see 12 Years a Slave, thinking it would be upsetting. But they said they voted for it anyway because, given the film's social relevance, they felt obligated to do so.

In winning the best picture honor, 12 Years a Slave became the first feature directed by a black man to collect the definitive Academy Award, capping a remarkable year for people of color in Hollywood. The Kenyan actress Lupita Nyong'o from 12 Years a Slave won for supporting actress, Gravity filmmaker Alfonso Cuaron became the first Latino to win the directing Oscar and 20 Feet From Stardom, a look at African-American back-up singers, was named top documentary feature.
Even if they didn't win any Oscars, 2013's most acclaimed films included the civil rights tale Lee Daniels' The Butler, the Jackie Robinson story 42 and the South African biography "Mandela: Long Walk to Freedom."
Though most Oscar ceremonies carry a bit of suspense, the tension inside the Dolby Theatre on Sunday night was palpably different.
Would Gravity, an apolitical thriller about a space accident, return to earth with the best picture? Or would Oscar voters endorse 12 Years a Slave, a film that many feared was so unsettling they put off viewing it until the last moment, if they watched it at all? Or as DeGeneres said in her opening monologue, "Possibility No. 1, '12 Years a Slave' wins best picture. Possibility No. 2, you're all racists."
When Will Smith opened the envelope and announced the winner, there was almost an air of relief inside the cavernous theater before the A-listers and others rose as one in applause.
"I think the African-American community is glad the film was chosen as best picture because that is a validation of African-American history and the pain and suffering within that history, and the survival of that history," said Brenda Stevenson, who teaches African-American history a UCLA. "In that way, it does help to heal."
Stevenson, who teaches parts of Northup's memoir in undergraduate and graduate courses, said that 12 Years a Slave's win is a milestone in part because the award proves that a story illuminating the horrors of antebellum slavery can "resonate with a large audience."
Made for $22 million (with rebates reducing its final cost to close to $18 million), the film has grossed more than $50 million in domestic release, and its Oscar glory will undoubtedly boost its box office prospects, even though it's set to be released on DVD this week. Executives at distributor Fox Searchlight believe the Oscar victories could bring several million dollars more in ticket sales.
AFP Photo/Joe Klamar