150 Arrested As Berkeley Protesters Halt Freeway Traffic, Stop Amtrak Train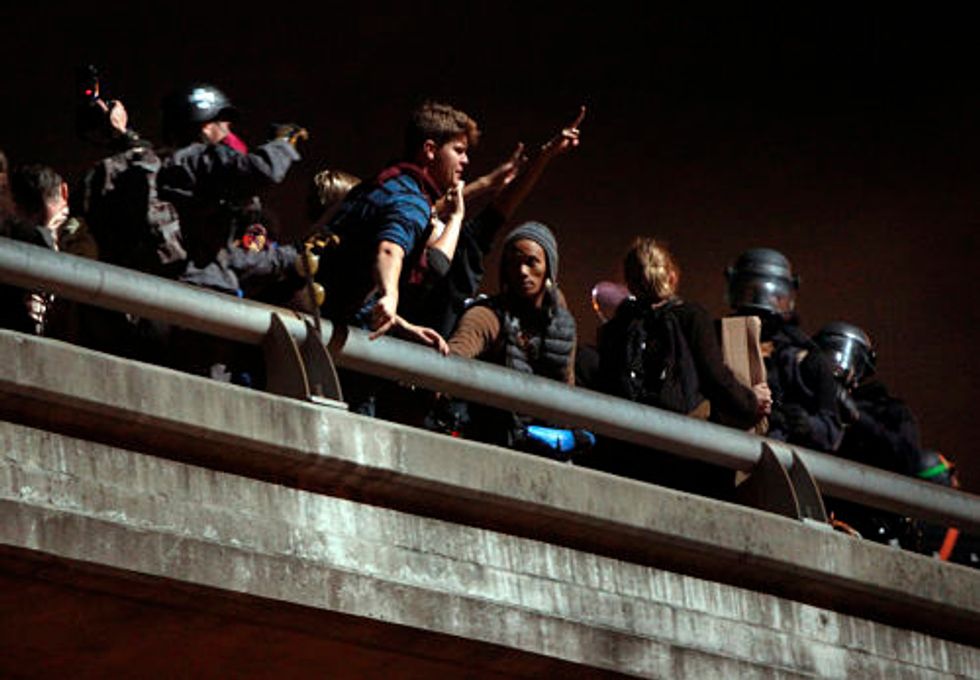 By Nicole Charky, Los Angeles Times (TNS)
More than 150 people were arrested in Berkeley, Calif., late Monday as hundreds of demonstrators brought traffic on Interstate 80 to a standstill and another group forced an Amtrak train to stop in a protest against two grand jury decisions not to indict white police officers in the deaths of two unarmed black men.
Officials said the incidents began when about 1,000 to 1,500 people began peacefully marching through downtown Berkeley at about 5 p.m. They stopped at the Berkeley Police Department, where officers in riot gear blocked them from nearing the building.
The protesters then moved on to a Bay Area Rapid Transit train station, where demonstrators stood outside. BART officials closed the station for about two hours as a preventive measure, according to Lt. Gil Lopez of the BART police.
"We just had reports that a large group was coming toward our station. It was preemptive," Lopez said.
Authorities said protesters then divided into smaller groups. In one incident, demonstrators were marching west on University Avenue toward Interstate 80 shortly after 8 p.m. when a small group entered the freeway through an opening in a fence, California Highway Patrol Officer Daniel Hill said.
By 8:30 p.m., he said, protesters had destroyed the fencing along the south side of the freeway at Aquatic Park and were flooding all the traffic lanes after the CHP shut down the University Avenue exit ramps.
"As officers attempted to stop the crowd and clear the freeway, the protesters became violent, and on several occasions assaulted CHP personnel with rocks and other objects," Hill said.
Demonstrators were moved off the freeway and the roadway reopened about 10 p.m., he said
Another splinter group of protesters marched to nearby railroad tracks and temporarily blocked an Amtrak train, officials said. One demonstrator held up a sign "Black lives matter" in front of the stopped train, according to the Associated Press.
Those arrested were transported to Santa Rita Jail in Dublin, where they were booked without incident, Hill said.
It was the third consecutive night that crowds gathered in the city, protesting the killings of unarmed black men by law enforcement officers in Missouri and New York.
___
(Staff writer Matt Hamilton contributed to this report.)
Police move protesters off Highway 24 in Oakland, Calif., Sunday evening, Dec. 7, 2014, during a second consecutive night of local unrest over the killings of two unarmed black men by police in Ferguson, Mo., and New York. (Karl Mondon/Bay Area News Group/TNS)