2016 Is Proof We Needed The Voting Rights Act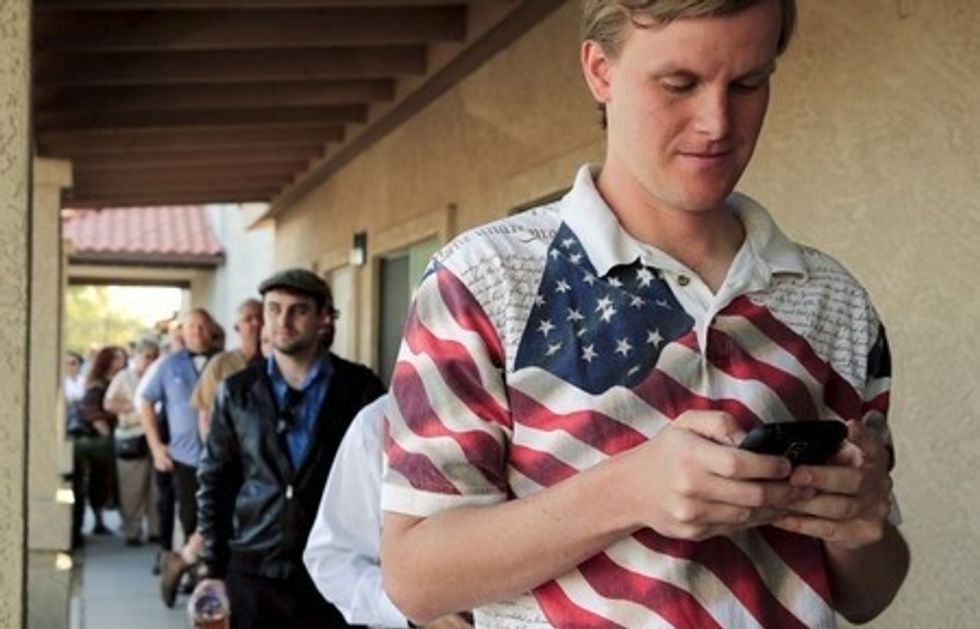 Most political watchers awoke yesterday morning to the news that Eric and Ivanka Trump would be unable to vote for their father in the upcoming New York state primary because they didn't file as members of the Republican Party by October. This little-known New York rule could have a huge impact on the candidacies of Donald Trump and Bernie Sanders, both of whom are drawing voters from outside the traditional party structure, since 27 percent of the state's voters are registered outside the Republican and Democratic parties. If they didn't declare a party affiliation by October 9, they won't be voting in the state's primary.
Much of the reaction to the plight of Trump's children was reflections on the Trump campaign's disastrous ground game, but that misses the point: vast numbers of voters will be forced to navigate purposefully arcane rules this election season, everything from restrictive voter ID laws to altered voting schedules to decreased numbers of polling places.
Why? The 2016 presidential elections will be the first since the 2013 decision by the Supreme Court to weaken Section 5 of the Voting Rights Act.
Section 5 mandated that states and localities with a history of racial discrimination receive permission from the federal government before enacting any changes to their voting laws; states like Alabama, Alaska, Arizona, Georgia, Louisiana, Mississippi, South Carolina, Texas and Virginia, and a variety of other townships and counties around the country.
While Section 5 initially applied to states that imposed restrictive measures such as literacy tests, Congress later expanded the law to jurisdictions with sizable minority populations that used English-only election materials. States were only removed from the pre-approval list after 10 years of by-the-book elections.
Today, the ghost of Section 5 haunts our elections.
In North Carolina, which has been under fire for a variety of issues over the past few years, Republican-backed legislation has "included a reduction in early-voting days and ended same-day registration and preregistration that added teenagers to voting rolls on their 18th birthday."
Recently in North Carolina, an attempt to gerrymander black voters into large congressional districts (to minimize their overall influence) backfired when it was found in federal court to be discriminatory — five weeks before primary elections for the illegal districts took place. While a separate congressional primary will be held June 7, the mix-up will have a tangible impact on voter turnout, given that people sometimes have to take time off, wait in long lines, and meet registration deadlines to vote.
Another recent example can be found in Arizona, whose presidential primary was a complete disaster, with some voters waiting in line for over five hours. Some didn't wait around long, leaving without casting a vote at all. In a measure to allegedly cut costs, "election officials in Phoenix's Maricopa County, the largest in the state, reduced the number of polling places by 70 percent from 2012 to 2016, from 200 to just 60—one polling place per every 21,000 voters," according to The Nation.
The situation was so dire in other parts of Arizona that people passed out out from sunstroke, had their party affiliation allegedly changed from Democrat to Independent, and never received mail-in ballots. Maricopa County was previously one of the counties identified under Section 5 as requiring pre-approval, due to a history of discrimination. Minorities make up 40 percent of the county's population. Before 2013, Arizona would have had to submit the closing of polling places for review, and likely would have been denied, given Section 5 had previously blocked 22 voting changes from taking effect in Arizona.
Finally, we can also look at the state of Texas, where the state legislaturepassed a stringent voter ID law following the invalidation of Section 5 that the federal government had previously blocked using the same law. As a result, over 600,000 voters in the state will likely have to go through a more onerous voting registration procedure because they lack one of the forms of ID eligible under that law, if they are able to vote at all. While a federal appeals court ruled in August that the voter ID law had a discriminatory impact, Texas is currently appealing its case to a full appeals court, in the hopes it will not need to change the implementation of the law, which will remain in place as-is while the appeals process continues.
It's clear that we are missing key protections from Section 5 that would have ensured more reasonable and less discriminatory voting processes at the state and local level. Now that states and localities with a history of discriminatory voting practices don't need pre-approval to enact changes in their laws, many of them have simply passed the very same laws they were prevented from enacting for decades, and more still have enacted new laws meant to suppress the vote. In 2016, we need the full force of the Voting Rights Act more than ever. In its absence, the integrity the democratic process is in question.