4 Things To Watch For In Tuesday's GOP Debate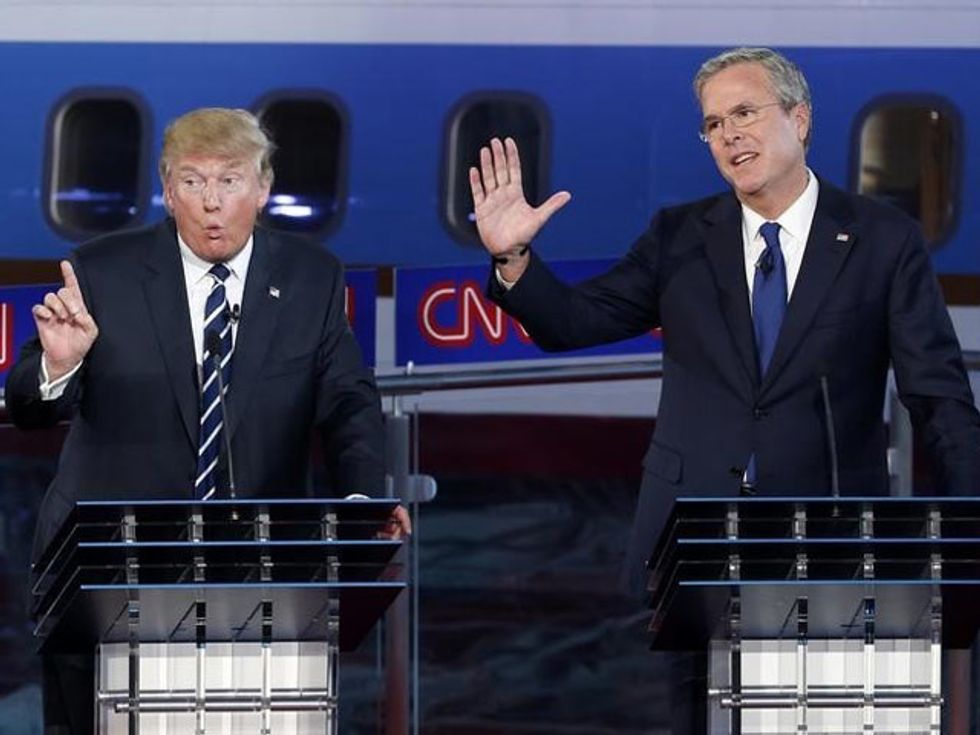 By David Lightman, McClatchy Washington Bureau (TNS)
MILWAUKEE — Ben Carson and Marco Rubio, trying mightily to survive and thrive in the unrelenting spotlight surging presidential candidates must endure, face a huge new test at Tuesday's Republican debate.
Donald Trump and Ted Cruz also are in for a crucial night, while the rest of the field is fading fast.
The latest McClatchy-Marist Poll finds Carson slightly ahead nationally, Trump close, Rubio climbing and Cruz not too far behind. The stakes are high for national newcomers Carson, Rubio and Cruz, because the more people heard about them the more they liked, giving each enormous upside — as well as potential to disappoint and plunge.
This debate will have a different look. The main stage's eight contenders in the year's fourth GOP debate is the smallest yet, as Chris Christie, the governor of New Jersey, and Mike Huckabee, the former governor of Arkansas, failed to qualify. They'll join Rick Santorum, a former U.S. senator from Pennsylvania, and Bobby Jindal, governor of Louisiana, in an earlier debate.
The debate's focus is supposed to be the economy. That was also billed as the topic of the last one, which at times became a free-for-all as candidates were asked about regulating fantasy football or their biggest weaknesses. The furor over the debate's tone prompted campaign officials to seek changes in the format. They couldn't agree and the format's not changing.
The two-hour debate at the Milwaukee Theatre will start at 9 p.m. EST. Moderators will include Fox Business Network's Neil Cavuto and Maria Bartiromo and Wall Street Journal editor-in-chief Gerard Baker. The undercard will run for an hour starting at 7 p.m. EST.
Here are four questions for the main debate:
Can Rubio take more hits?
His surge to prominence last month began with his passionate, pointed debate defense of his Senate voting record. Jeb Bush, the former Florida governor, kept tumbling after his wan challenge to Rubio, a U.S. senator from Florida. Since then, Rubio's faced questions about using a Republican Party credit card for personal expenses while in the Florida legislature. Saturday, his campaign released an accounting of the expenses, and chances are Rubio will be armed with pointed responses to any critic. Can he stay cool when defending himself? And will the public buy his explanations?
Can Carson keep cool?
The retired neurosurgeon has been tackling questions about his personal background and views. He could be grilled Tuesday on his history with Mannatech, a nutritional supplements firm, as well as dealings with the U.S. Military Academy, assertions that Egypt's pyramids were built to store grain, and just how violent he may have been as a teenager.
Will Trump be bombastic or reasonable?
The real estate mogul toned down his rhetoric at the last debate. But in recent media and campaign appearances he's berated his rivals. Rubio, Trump said, is "a disaster with his credit cards." After a new national poll last week showed Carson ahead, Trump told Fox News, "Ben can't do the job." Trump has to be more statesmanlike, but there's a risk for Rubio and Carson, too. They need to show they have what it takes to stand up to world leaders, but first they have to show they can stand up to Trump.
Can anyone new break out of the pack?
Cruz is the best bet. The poll found the more a majority of Republicans see of the senator from Texas, the more they like him. For the rest, it's getting late, and many remain stuck below 5 percent. Earlier bids to be distinctive haven't worked. Former executive Carly Fiorina was the star of the September debate, but her momentum fizzled. John Kasich, the governor of Ohio, went on the attack at last month's debate but it didn't help.
___
(c)2015 McClatchy Washington Bureau. Distributed by Tribune Content Agency, LLC. Graphics: Tribune News Service (c)2015
Photo: Republican U.S. presidential candidate businessman Donald Trump (L) speaks as former Florida Governor and fellow candidate Jeb Bush reacts during the second official Republican presidential candidates debate of the 2016 U.S. presidential campaign at the Ronald Reagan Presidential Library in Simi Valley, California, United States, September 16, 2015. REUTERS/Lucy Nicholson