5 Facts About Brett Kavanaugh, Trump SCOTUS Pick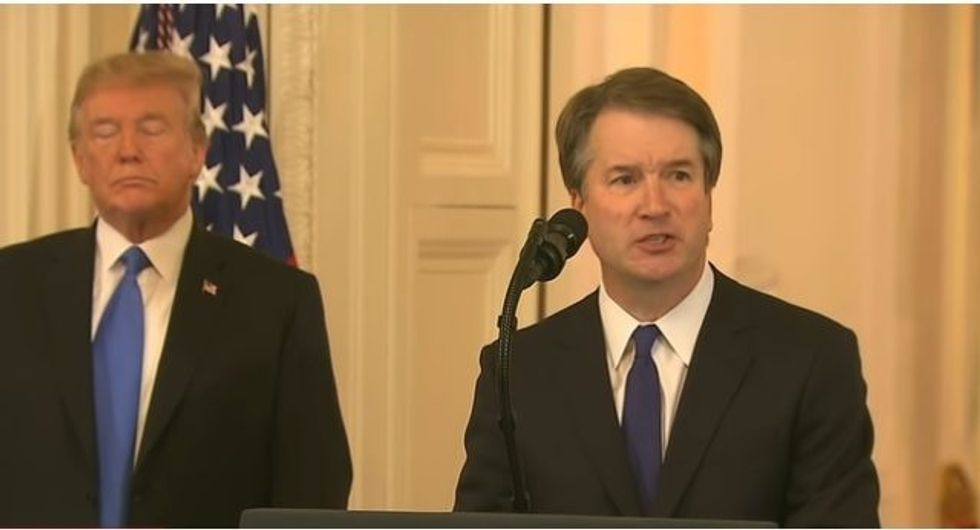 Reprinted with permission from AlterNet.
In a choice that could have sweeping implications for the entire United States for generations to come, President Donald Trump announced Monday that he is nominating Judge Brett Kavanaugh to replace Justice Anthony Kennedy on the U.S. Supreme Court.
Here are five things to know about the nominee:
1. He played a significant role in Kenn Starr's investigation of President Bill Clinton
Kavanaugh has been a major player in several significant partisan battles in his career, including his role as a member of independent counsel Kenn Starr's team investigating Clinton. Kavanaugh was one of the authors of the report delivered to Congress, which offered broad justifications for impeachment, though he has since seemed to back away from those views.
2. He favors expansive powers for the NSA.
Some civil libertarians fear Kavanaugh because he has been permissive of the NSA's expansive spying powers. He wrote a concurrence which declined to hear a case challenging the agency's power to obtain years of metadata about domestic phone calls.
"As someone who sued the NSA over their metadata gathering as a violation of the Fourth Amendment, he and I disagree on that point, and I think a lot of liberty-minded folks are going to have that as a major concern," Ken Cuccinelli, president of the Senate Conservatives Fund, told the Washington Examiner.
3. Some Republicans see him as too friendly to Obamacare.
In a dissent Kavanaugh wrote in response to a challenge to Obamacare, he ruled that the law's coverage mandate — one of it's most controversial provisions — was a tax. Though he was not explicitly defending the law, the finding that the mandate was a tax allowed Justice John Roberts to conclude that the law was constitutional, a decision that continues to infuriate some conservatives.
4. He would still pose a threat to health coverage. 
At the same time, as Vox's Dylan Matthews points out, Kavanaugh could be a threat to Obamacare or similar laws.
Kavanaugh once wrote that a president could nullify laws such as Obamacare if he or she deemed it unconstitutional. This view of presidential power would give someone like Trump the ability to completely undermine his predecessor's achievements, even without going through Congress.
5. He would likely protect Trump from criminal and civil legal actions.
One of Kavanaugh's views likely to draw the most attention in the coming weeks and months is his view of presidential immunity. After serving on Starr's team, which took an aggressive stance toward the president, Kavanaugh has come around to the view that the president should be largely free from criminal and civil legal action.
This view would certainly appeal to Trump, who faces a wide range of legal challenges on both criminal and civil fronts. If a key issue in the Russia investigation or another legal challenge against the president finds its way to the Supreme Court, Kavanaugh is likely to side with Trump.
Cody Fenwick is a reporter and editor. Follow him on Twitter @codytfenwick.