5-Hour Humanitarian Cease-Fire Between Israel, Hamas Ends With Rockets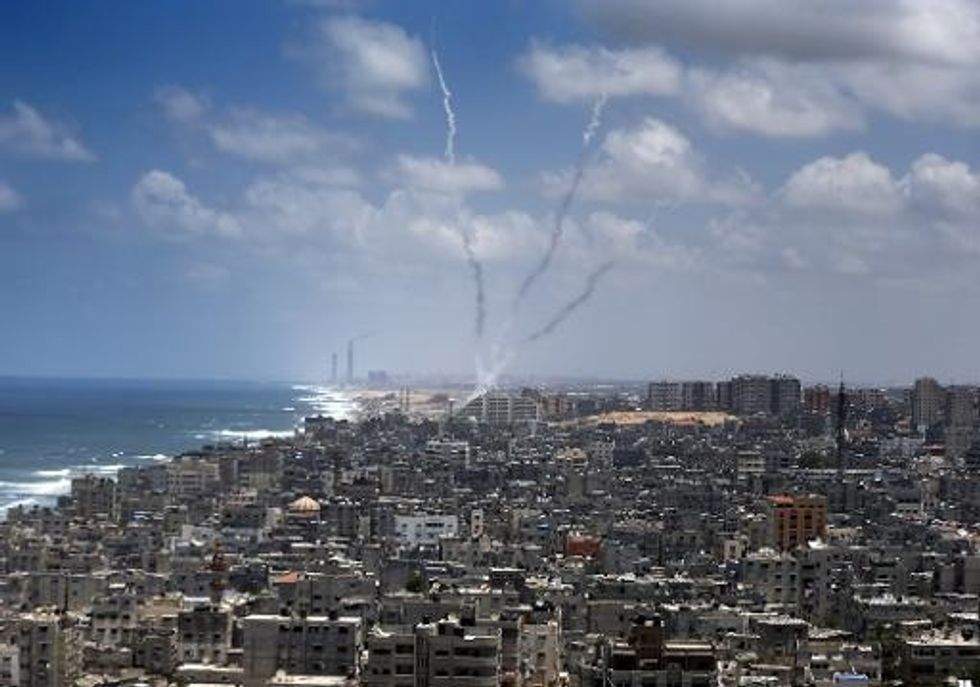 By Batsheva Sobelman, Los Angeles Times
JERUSALEM — A short humanitarian cease-fire between Israel and Hamas that began Thursday morning as both sides accepted a United Nations request to hold their fire for a five-hour window has ended.
The cessation in firing ended after less than three hours when Hamas fired three mortars into Israel, hitting the town of Eshkol, Israel Defense Forces said via Twitter. Israel also responded with mortar fire to an explosion that injured a soldier near the southern Gaza strip.
As the originally scheduled five-hour cease-fire elapsed at 3 p.m. local time, air sirens sounded in the southern Israel town of Ashkalon to warn residents of incoming rockets or mortars from Gaza.
The initial pause in fighting that began at 10 a.m., aimed at allowing Gazans to stock up on provisions and reach hospitals for treatment, offered a brief break in the military offensive that has killed at least 220 Palestinians and one Israeli in 10 days.
In Gaza, massive lines formed at banks and ATMs, which opened for the first time in two weeks, and crowds swarmed markets to buy food. Authorities also scrambled to perform repairs on water and other infrastructure devastated by Israeli bombing.
The agreement was reached following the deaths of four children killed while playing on a Gaza beach Wednesday in an airstrike Israel's military said was intended for a Hamas target.
Efforts to reach an extended ceasefire were underway in Egypt, where mediators were set to shuttle positions back and forth between delegations from Israel and Hamas in separate sections of a Cairo hotel, local media reported.
Hamas, which controls the isolated coastal enclave, was said to consider a lasting cease-fire if Egypt opens the Rafah border crossing permanently and Israel opens access to Gaza by sea, among other conditions.
Highlighting the fragility of the temporary cease-fire, Israel's military said it thwarted what would have been a major attack inside Israel early Thursday. According to army officials, 13 militants were intercepted coming out of a tunnel about 275 yards into Israeli territory and just over a mile away from a kibbutz, armed with rocket-propelled grenades and an arsenal of others weapons.
Israel attacked the group from the air, killing several militants and apparently sending others on retreat back into Gaza through the extensive tunnel. Residents of three Israeli communities nearby were called to stay indoors while the army combed the area for possible infiltrators.
Hamas' military wing, the al-Qassam brigades, claimed responsibility for the attempted infiltration and said "special forces penetrated past enemy lines." The group claimed, however, that the "mission was completed" and their forces retreated unharmed.
The attack could have had "devastating and deadly consequences for Israel," said Israel Defense Forces spokesman Lt. Col. Peter Lerner, who added that the incident would not immediately impact the humanitarian cease-fire.
Rocket fire continued right up to the planned break in fire, with several volleys launched at Israel sounding air-raid sirens throughout a wide range of cities. Israel's military cautioned late Wednesday that it would respond "firmly and decisively" to fire from Gaza during the cease-fire window.
Israels claim to have prevented a ground attack by militants underscores Israel's concern about the multiple tunnels believed to reach into Israeli territory from the Gaza Strip.
In a similar cross-border attack in 2006, militants emerged from a tunnel near an Israeli military post at Kerem Shalom, killed one soldier and abducted another one, Gilad Shalit, who was held captive in Gaza for five years before being released in exchange for more than 1,000 Hamas prisoners freed from Israeli prisons.
Among Hamas reported demands for a permanent end to the current fighting, is the release of more than 50 of those prisoners, arrested again by Israel in the West Bank during a crackdown on Hamas following the abduction and killing of three Israeli teenagers last month. Israeli authorities say the suspects violated the terms of their release by returning to hostile activity.
The exchange of Israeli airstrikes and rockets from Gaza is the third round of sustained fighting between Israel and Hamas in five years.
In related news, indictments were served Thursday against three Israelis for the killing of Muhammad Abu Khdeir, a Palestinian teenager from Jerusalem, that was part of the catalyst for the current round of fighting between Israel and militants in the Gaza Strip. A 29-year-old and two minors, whose names were not made public, were charged in a Jerusalem court with abduction, murder and attempted kidnapping.
Abu Khdeir was abducted, beaten, and burned to death in revenge for the killing of three Israelis killed in the West Bank last month. Israel's attorney general denounced the crime as a shocking case of racism and cruelty, according to local media reports.
Sobelman is a special correspondent.
AFP Photo / Thomas Coex
Interested in world news? Sign up for our daily email newsletter!