5 Reasons Republicans May Blow Their Third Chance To Take The Senate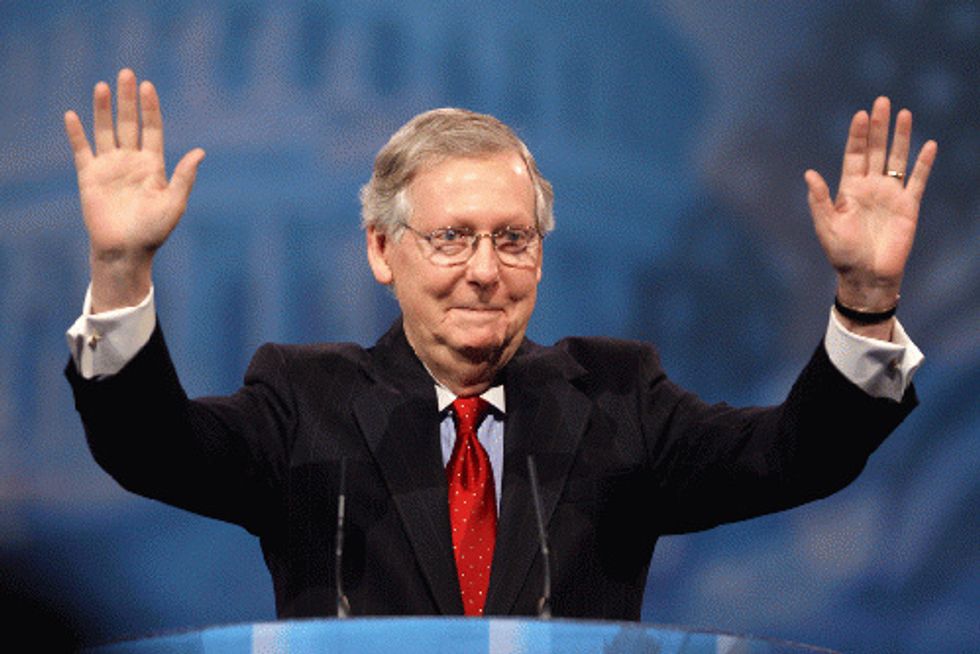 Republicans want you to think they're ready to kick some butt in 2014.
They're giddily sharing a new article from Politico that says Democrats have given up on the House in hopes of saving their Senate majority. They love hearing that almost as much as a new memo from former Clinton advisor William Galston predicting the public will reject President Obama's "go-it-alone" approach.
These analyses swell Republican confidence on the premise that it will always be October and November of 2013 for President Obama, with HealthCare.gov floundering and Obamacare death-spiraling. And with their billionaire donors reinvigorated and involved in the primary process, the GOP expects 2014 to look a lot more like 2010 than 2012.
The truth is the president's approval ratings have begun to improve, slightly, and he remains leagues more popular than Republicans and Congress as a whole. And while Democrats are probably correct that their chances of winning the House are minute, the likelihood of a GOP landslide has diminished greatly since the dark days of December.
Here's why Republicans may still blow their third straight chance of winning the Senate.
1. The worst of the Obamacare crisis is over.
The popularity of the president's health care law has not recovered but data from the insurers suggests that the law is nowhere near the peril its critics imagine. Just over 3 million people have picked a private plan from an exchange and for the first time a majority of the uninsured say they plan to get covered before the March 31 open enrollment deadline.
And Republicans have accepted that repeal isn't an option, with a majority consistently saying they want to keep and fix the law.
Now that Republicans are being forced to offer their own alternatives, they're going to have to defend some uncomfortable things — like tax increases on the middle class paired with tax breaks for the rich. And eventually someone is going to point out that these alternatives require lots and lots of cancelations of insurance plans, which makes it hard to run against cancelations.

2. Georgia and Kentucky may be in play.
Republicans brag that they will expand the map to create competitive U.S. Senate races in Iowa, Michigan and Virginia to add to their potential pickup opportunities in Alaska, Arkansas, Louisiana and North Carolina. Democrats would have to lose six seats to give up control of the Senate, which would require Republicans to win six out of seven likely competitive races. But they could win all seven and still not take over the upper house of Congress if they cannot hold their seats in Georgia and Kentucky.
Likely Democratic candidate Michelle Nunn leads all possible Republican challengers in Georgia. Kentucky Secretary of State Alison Lundergan Grimes is running neck-and-neck with the very unpopular yet ruthless Senate Minority Leader Mitch McConnell (R-KY) and would probably have a harder time defeating McConnell's primary challenger, Matt Bevin.
3. Medicaid expansion and the minimum wage could hurt the GOP — even in red states.
The Week's Bill Scher says that Republicans will cave and raise the minimum wage to $10.10.  And new polling shows that would be a wise thing to do.
Majorities of voters in Kentucky and Georgia not only support raising the wage, but a plurality says a candidate who is against it is less likely to get their votes, according to Public Policy Polling.
And even if Congress manages to raise the minimum wage, Medicaid expansion could present a problem. By the time of the election, Arkansas, Iowa, Kentucky, Michigan and Virginia will all have likely expanded the public program that covers those below or just above the poverty level. GOP candidates will have to run on kicking at least 100,000 people off their insurance or risk alienating their base, which still favors repeal. And in states that haven't expanded, we'll find out if voters in the so-called "Medicaid gap" show up to demonstrate their displeasure with their state's leaders.

4. The GOP brand is a drag.
If there's one competency the Republican Party has demonstrated in the last two election cycles, it's the ability to lose Senate seats they had a good shot at. The GOP is bragging that its advantage on economic issues is higher now than in 2010, when they won the House. But coming off the government shutdown the party's unfavorable ratings are near record highs. And Ted Cruz is promising another crisis!
Democrats plan to pin the unpopularity of the party and the House GOP in particular on their Senate candidates.
"You can't overstate the brand problem with the Republican House," said Matt Canter, a spokesman for the Democratic Senatorial Campaign Committee.
And with the GOP struggling with what to do about immigration reform, dissension within the party could lead it to new depths of unpopularity.
5. The economy could be heating up.
Though 8 million jobs have been created since the recovery began, most Americans still feel that we're in a recession, as 95 percent of the new wealth gained went to the richest 1 percent. However, we could be on the verge of a breakthrough in the economy in 2014, with consumer spending finally rebounding.
GDP expands at 3.2% in fourth quarter, matching expectations, and at a 3.7% pace in the second half of 2013, the strongest in a deacade

— Sarah Portlock (@sarahportlock) January 30, 2014
One of the understated factors that led to President Obama's re-election was the positive economic growth in 2012. An even better economy would likely help incumbents in the House but it would also raise the president's approval ratings, which will help Democrats in states he has won or come close to winning — Iowa, Georgia, Michigan, North Carolina and Virginia.
Photo: Gage Skidmore via Flickr