5 Reasons The Clinton/Trump Debate May Be The Most Important Night Of Our Lifetimes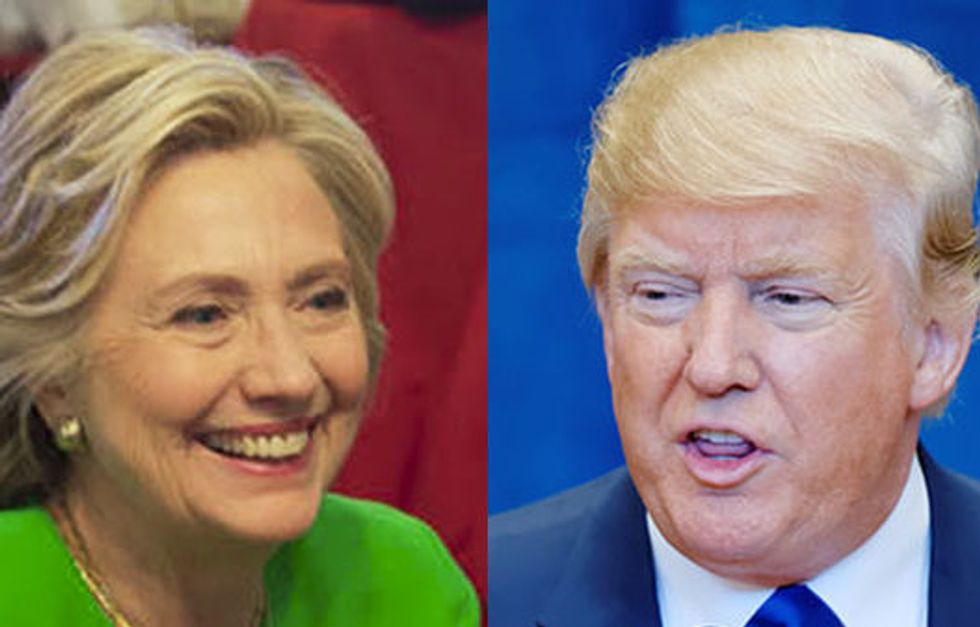 When the John F. Kennedy and Richard Nixon sat down for what would be the first televised presidential debate in 1960, you could argue that the differences between America's two major parties had never been slighter.
While African-Americans had been migrating from the party of Lincoln since the early days of the New Deal and Kennedy did seek Martin Luther King Jr.'s release from jail in Georgia during the campaign, the new president didn't even mention civil rights in his inaugural address. Nixon was an avid Cold Warrior, but was attacked by the Democratic nominee for leaving us vulnerable to the Soviets with a "missile gap." There was a general consensus in America, born of remarkable economic growth and the largest expansion of the middle class in human history.
So little differences mattered—a lot.
Some argue Nixon's face cost him the debate. He was sweaty, sick, and disconcerting, having refused the makeup he was advised to wear.
Under the guidance of Roger Ailes—the TV producer now known as "the force behind many of the worst things of the last 50 years"—Nixon never debated again. But he did find ways to seem comfortable on television, thanks to plenty of face powder and less confrontational settings like town halls and Laugh-In. Ailes advised Nixon on his successful 1968 bid, coached Ronald Reagan how to decimate Walter Mondale in 1984, and then launched Fox News, the official channel of the Iraq War.
Fresh off his dismissal from Fox News after allegations of serial sexual harassment, Ailes is now reportedly coaching Donald Trump to face Hillary Clinton in a series of three debates, the first taking place at Hofstra University on Monday.
It will likely be the most highly viewed debate in the history of the world — and here's why it could be the most consequential.
The electorate feels remarkably unstable.
Clinton's lead in national polls is similar to the lead President Obama carried into the first debate of 2012. But Obama was outperforming those numbers in swing states and the electorate never really wavered much throughout the electoral cycle. There are more undecided voters this year and we have to add into this nebulous math the shifting variable of third-party candidates, Libertarian Gary Johnson and the Green Party's Jill Stein, who continue to pull numbers that could be much larger than the eventual margin of victory for either Clinton or Trump. Both major party candidates have high negatives, with Trump seeing approval ratings that make him the most unpopular candidate of modern times. Even more vexing for prognosticators is Trump's historic boost from the media, combined with his hollow shell of a campaign, which pales next to Clinton's in terms of ad buys and organization. All of this ads up to a public that seems far more open to persuasion in recent elections and possibly uniquely open to the unique sort of persuasion that a huge television spectacle could provide.
Trump's only superpowers are being good at TV and lying.
Trump's mastery of television helped him overcome his failures as a developer, transforming him into a larger-than-life boss who was willing to embrace the racist undertones and overtones of birtherism. Even more unprecedented than his power to be "good on camera" is his willingness to lie without abandon while he maintains a reputation of "telling it like it is." These are formidable superpowers in a forum where he can lash out and do serious damage in the first fifteen minutes of a debate, when most of these contests are decided. It's true that Trump has never been in a one-on-one setting like this before, but he has clearly spent his entire life preparing to spend 90 minutes yelling at a woman.
We have no idea how America will react to a woman candidate debating for the presidency.
Clinton's strengths are nearly the opposite of Trump's. She's devoted her life to public service, nurturing a depth of knowledge on issues while maintaining the cautious pose we demand of most trailblazers in American politics. How will America react to a woman who is overqualified for the job facing the most unqualified candidate imaginable? This will be a war of substance versus affect — and we all know which television favors. This debate is historic for both the mismatch of the candidates and the fact of a woman standing on stage making her case to be the president of the United States. No one has any idea of how the public will react to something it has never seen before.
The differences between the two candidates are pronounced and profound.
Donald Trump is promising to uninsure almost 20 million newly insured Americans and Hillary Clinton is promising to add 9 million more to the record number of Americans with heath coverage. And the differences only grow more stark from there. Trump wants to cut taxes for the rich, while raising taxes on many middle-class families. Clinton wants to raise taxes on the rich, while leaving them untouched for the rest of America. Trump wants to ban abortion and strip women of birth control access. Clinton wants to expand reproductive rights to the poorest Americans. Clinton wants to give undocumented immigrants a path to citizenship. Trump wants to round them up. Clinton wants to escalate the fight against climate change to avoid catastrophe. Trump wants to unleash carbon polluters to continue wrecking the climate and making the rest of us — and the planet — pay for it.
The fate of the America and the world is on the line.
Almost half of all voters in a new poll — 46 percent — think Donald Trump would detonate a nuclear bomb as president. And 22 percent of those people are Trump supporters, meaning they're hoping for a nuclear war. Around a third of his supporters also see him creating a Muslim database, creating internment camps for undocumented immigrants, and defaulting on our debt. These are things they're voting for, apparently. If Donald Trump gets into office, he will be a uniquely unprepared candidate with unprecedented political power and something like a mandate, built on a campaign that has elevated some of the vilest and most dangerous voices in America. Once in office, he'd face an economy overdue for a recession and a world vulnerable to acts of terror. Knowing he takes every wave of a pocket Constitution as a vicious personal attack, how will he react to mounting pressures and failures — especially knowing that his personal business interests, which he will still be personally entangled in, have over a half billion dollars in loans extended around the world? No one can predict his response, but it will likely be like nothing we've ever seen in America before.