5 Republican Campaign Promises (That President Obama Fulfilled)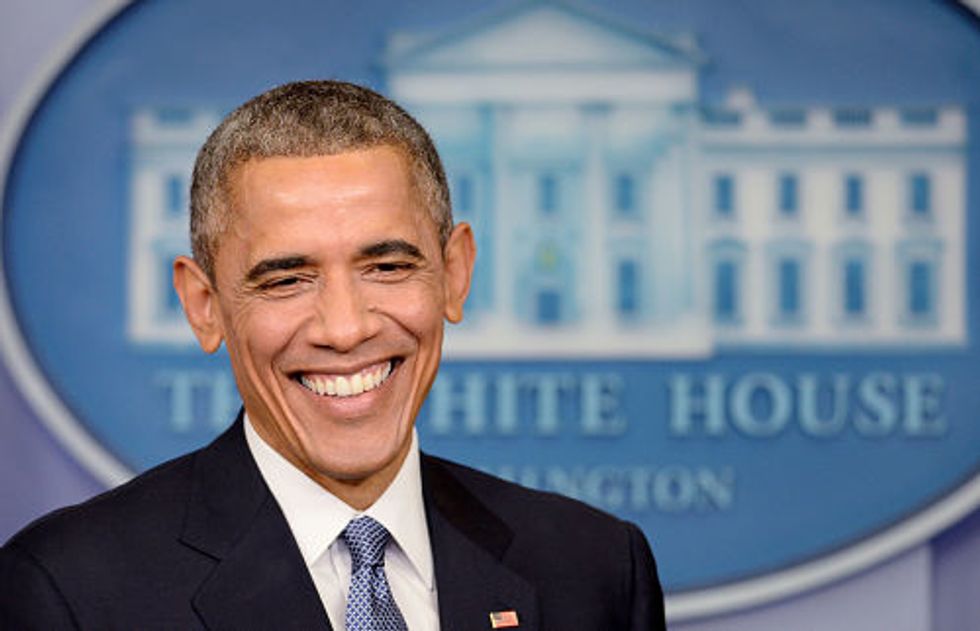 Republicans may be divided over many issues, but they almost universally agree on one point: President Barack Obama's domestic policy has been a disaster, and America would be far better off under GOP leadership.
But as MSNBC's Steve Benen has pointed out, there's a big problem with this declaration: On issue after issue, the president has done exactly what Republicans promised that they would do if elected. In several cases, he's done it better.
Here are five issues on which the president Obama kept Republicans' campaign promises for them:
Unemployment
"I can tell you that over a period of four years, by virtue of the policies that we'd put in place, we'd get the unemployment rate down to 6 percent, and perhaps a little lower."—Mitt Romney, May 23, 2012.
Mitt Romney's vow to reduce unemployment to 6 percent by the end of his first term in office was almost universally hailed as bold and ambitious. But under President Obama's stewardship, the economy improved much quicker than Romney promised: The unemployment rate has dropped steadily since the 2012 election, and dipped to 5.9 percent in September.
President Obama has also blown Rick Perry's vague promise to create 1.25 million jobs out of the water.
Medicare
"Mitt Romney and I will protect and strengthen Medicare so that the promises that were made that people organize their retirements around, like my mom, will be promises that are kept."—Paul Ryan, August 19, 2012
There's some reason to doubt that Rep. Paul Ryan (R-WI) was sincere when he promised to protect Medicare, given that he has repeatedly proposed plans to end the program as we know it. But if the 2012 vice-presidential nominee does genuinely want to ensure that Medicare remains strong, then he'll surely be glad to learn that President Obama's Affordable Care Act has significantly improved the program's financial outlook. Since Obamacare became law, Medicare's Hospital Insurance trust fund's solvency has been extended by 13 years.
Gas Prices
"I've developed a program for American energy so no future president will ever bow to a Saudi king again and so every American can look forward to $2.50-a-gallon gasoline."—Newt Gingrich, February 22, 2012.
By Gingrich's standards, President Obama has been stunningly successful: The national average gas price is now $2.32 per gallon, marking the lowest level since May 2009. Of course, gas prices have tumbled due to a wide range of factors, few of which involve Obama — but none of which involved bowing to a Saudi king.
Economic Growth
"Well, if China can have 5 percent growth, and India can have 5 percent growth, and Brazil can have 5 percent growth, the United States of America can have 5 percent growth"—Tim Pawlenty, June 18, 2011
As Politico reported at the time, forgettable 2012 candidate Tim Pawlenty's pledge to spur 5 percent GDP growth was "mocked by some economists and Republican critics as unachievable in a country this large." But in the third quarter of 2014, the Obama economy hit Pawlenty's benchmark (for their part, Republicans greeted the news with as much enthusiasm as they showed toward Pawlenty's campaign).
Deficit Reduction
"We will curb Washington's spending habits and promote job creation, bring down the deficit, and build long-term fiscal stability."—2010 GOP Pledge to America.
When Republicans took control of the House in 2010, they repeatedly stressed that reducing the federal budget deficit was a matter of peak national importance. Which makes their repeated proposals to blow up the deficit by billions rather odd.
But thankfully for the GOP, with President Obama and Democrats blocking budget-busting proposals like Paul Ryan's tax plan, the deficit has steadily dropped throughout Obama's presidency.
President Obama at a news conference in the Brady Press Briefing Room on Friday, Dec. 19, 2014, in Washington, DC. (Olivier Douliery/Abaca Press/TNS)