5 Republicans Who Can't Resist Strutting Their Stuff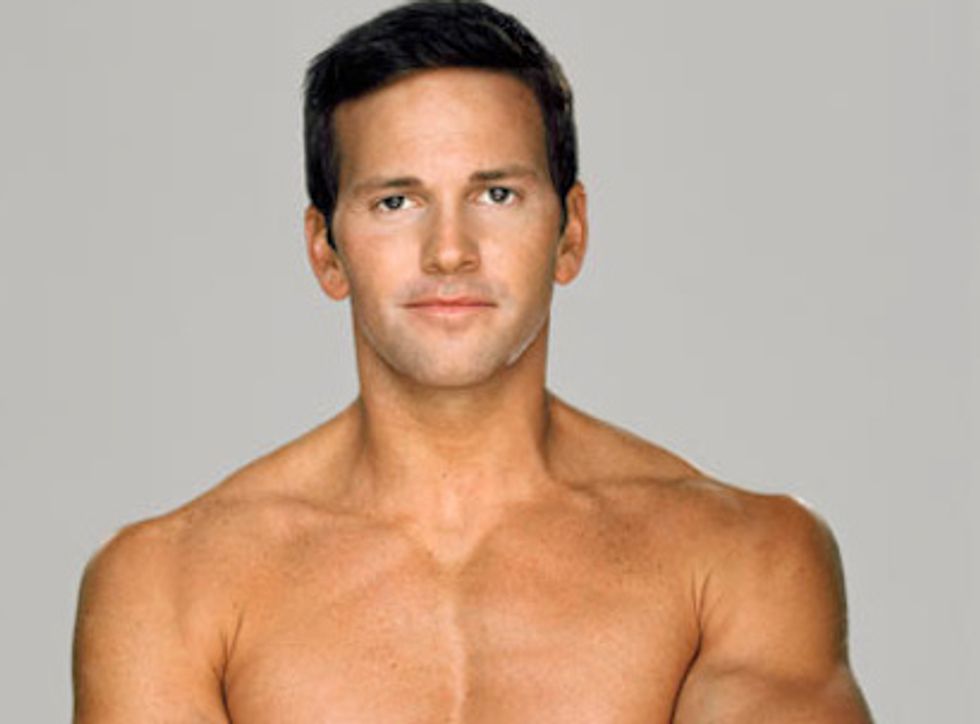 Ah, Republican politicians. Moral arbiters. Upholders of family values. Pure, straight-laced Church Ladies and Gentlemen who go all a-flutter at the mere suggestion of anything racy. Not for them the vagaries of sexuality or half-naked frolicking. No, that's for filthy, disgusting liberals.
Except… these selfsame Republican politicians just can't seem to keep their clothes on. Everywhere you look, there's a babelicious GOP pol wantonly shakin' what his or her mama gave 'em in front of the camera. Here are five of our personal faves.
Photo of Aaron Schock: Men's Health/Rodale
Scott Brown
We're not quite sure — nor is he, for that matter — which state to attribute to short-lived senator and now senatorial candidate Scott Brown: Massachusetts or New Hampshire, pick one. But one thing we are sure of is… YOWZAH! The supposedly conservative Brown took it all off for Cosmopolitan magazine, showing off both his upper and lower chambers. Lie back and think of (New) England… just watch those staples.
Photo: Cosmopolitan
Paul Ryan
Vice-presidential candidate, self-proclaimed fiscal wonk and perennial "Great White Hope" (is there any other kind?) of the Republican Party, Wisconsin Rep. Paul Ryan, sure does love him some working out. In fact, he posed for some mighty hilarious pics for Time magazine in 2012 that left us all in no doubt as to… what a total dork this guy really is. The Mansplaining Paul Ryan Tumblr was also good for a giggle. Or three.
Photo: Gregg Segal/Time
Frank Riggs
An Arizona gubernatorial candidate and Army veteran, Frank Riggs sure knows how to give the people what they want… guns and more guns! Riggs displays his marginally muscular upper arms — among other body parts — in his meathead campaign commercial, in which he also promises to "end Obamanization of Arizona." Whatever that means.
Screenshot: Riggs for Arizona Governor YouTube

Aaron Schock
Oh, Aaron Schock, esteemed congressman from the great state of Illinois. We've so enjoyed your fabulous outfits and beach-bod candids over the years. But those, dear boy, were spontaneous, casual shots. Posing for the cover of Men's Health, hands on hips, seductively clad in not much of anything? Well, that was no accident. You wanted us to feast our eyes, you saucy little minx. And feast we all did. On both sides of the boy-girl aisle.
Photo: Men's Health/Rodale
Sarah Palin
Hard to believe there's only one female on this list, isn't it? But which female will come as a surprise to no one. The winkin', wolf-shootin', pageant-walkin' Alaskan temptress was shocked, shocked!!!that Newsweek would put a "sexist" picture of her that she willingly posed for on their cover in 2009. Of course nothing says "presidential" quite like posing coquettishly in short-shorts, Spanx and shimmery support hose, but it's always been pretty clear what Mrs. Palin's true endgame was… maximum attention, minimum effort, megabucks. And boy, did she ever succeed.
Photo: Newsweek