5 Signs FIFA Was Always Corrupt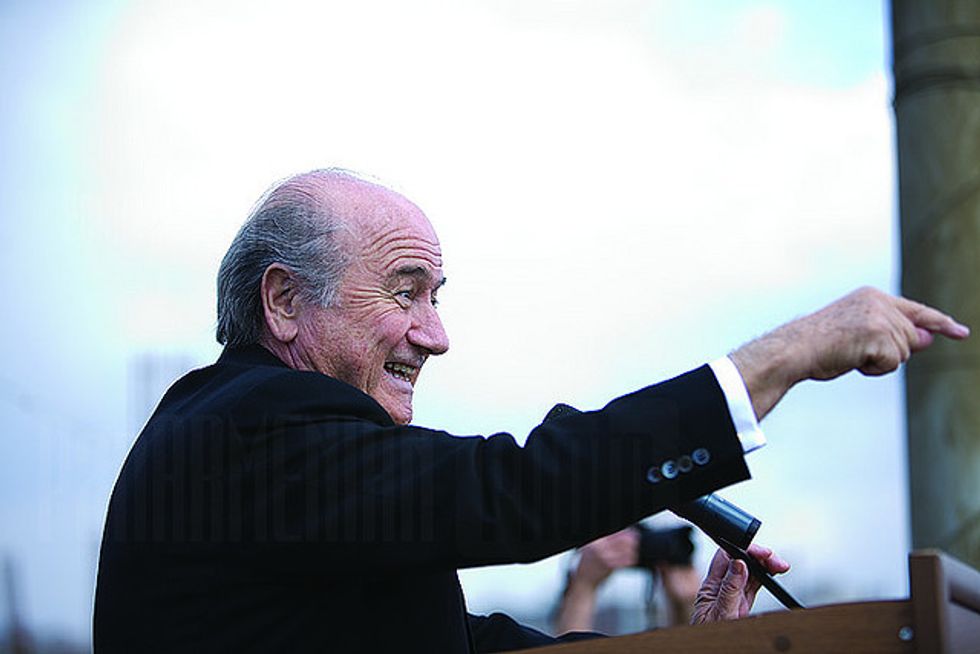 Is this the end of FIFA?
Probably not. The game is too popular and has too much money in reserves.
Besides, this isn't really FIFA's fault — as FIFA's president Sepp Blatter said, he "cannot monitor everyone all of the time." But he did promise to address these issues when he said, "It has to stop here and now."
In total, 14 FIFA officials and sports marketing executives have been arrested and face extradition to the U.S. to stand trial. Meanwhile, Blatter is up for re-election Friday and is still the odds-on favorite to win.
Here are five reminders that we already knew FIFA, the largest sports organization governing the world's most popular sport, was corrupt.
1. Loretta Lynch was on the case back in Brooklyn.
Before she was attorney general, Loretta Lynch was the U.S. Attorney for the Eastern District. Seven years ago, alongside the FBI, Lynch and her team began to peel back the layers of the corrupt practices of the global sports organization. The 47-count indictment she nailed to FIFA's door included racketeering, wire fraud, and money-laundering conspiracies—all of which occurred over two decades and "used the banking and the wire facilities of the U.S. to distribute their bribe payments," she said in a recent press conference.
2. Grantland called it.
In 2011, Grantland published a thorough review of FIFA's history, focusing on the organization's ability to blindside the masses with its irresistible product: soccer.
"Should it matter to soccer fans if FIFA is corrupt? By almost any measure the game is thriving, with more fans in more corners of the world, every day. If the combined audience for just the final two rounds of the 2010 World Cup were a country, it would be, by far, the most populous nation on Earth. Most of these fans seem to be enjoying themselves, so if a cabal of scheming old men in Zurich happens to be pulling strings behind the scenes, why should the rest of us worry?"
3. John Oliver already gave FIFA a red card.
"Just think about it. Its leader is infallible. It compels South American countries to spend money they don't have building opulent cathedrals, and it may ultimately be responsible for shocking numbers of deaths of people in the Middle East."
4. There's an Italian movie about this. And it's hilariously accurate.
A hotshot referee is relegated to a low-tier league in Sardinia after caught taking bribes on a high-stakes game. He finds himself among the soccer-obsessed world of these small-town footballers, where daily life seems to depend on the outcome of the game. L'arbitro is a parable about the beautiful game. The lesson: Money corrupts.
5. The Simpsons foreshadowed these arrests last season.
Of course, with almost preternatural social awareness, the hit television series The Simpsons had already ribbed FIFA for its history of corrupt practices. This clip is from a March 2014 episode entitled, "You Don't Have To Live Like A Referee."
https://www.youtube.com/watch?v=UIj4c7dJsQ8
Photo: PAN photo via Flickr