5 Examples Of Megyn Kelly's 'Fair And Balanced' Coverage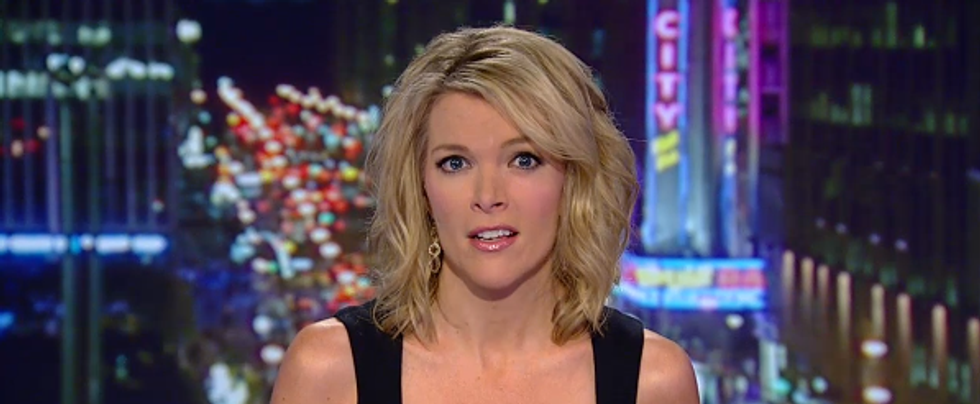 In a weekend interview with The Hollywood Reporter, Fox News Executive VP of Programming Bill Shine questioned those who accuse his network of skewing to the right. According to Shine, Megyn Kelly — host of The Kelly File — is someone who can "chip away at that reputation." Shine attributes Megyn Kelly's "newsier" reporting as part of the reason why Fox just reached its 50th consecutive quarter as cable news' most-watched network.
But Megyn Kelly isn't exactly a straight news journalist. Here are some of her not so "fair and balanced' moments.
Kelly's Obsession With The Black Panthers
In 2010, Kelly led Fox News' deluge of racially charged coverage of a voter intimidation case in Philadelphia. In a two-week period, she spent 45 segments — more than 3.5 hours — discussing the "scandal."
The case involved two members of the Black Panthers who stood outside a Philadelphia polling place in 2008. The Department of Justice, led by Bush appointee Michael Mukasey, declined to pursue criminal charges. Then after the start of the Obama administration, it served an injunction to King Samir Shabazz, who was filmed carrying a nightstick outside of a polling center. There wasn't any other evidence of voter intimidation.
But Kelly used the incident to claim that President Obama and Attorney General Eric Holder were somehow protecting the Black Panthers, and that the DOJ had a policy to not prosecute black defendants.
She spent her time playing videos of Shabazz yelling about "crackers" and as Dave Weigel wrote at the time, convincing her viewers that "the New Black Panthers are a powerful group that hate white people and operate under the protection of Eric Holder's DOJ."
Kelly was even criticized by her own colleague, Kirsten Powers, in the video above, for taking advantage of racial tension and "doing the scary black man thing."
Santa Claus Is A Real White Guy
Kelly intensified her network's hysteria over a liberal "War on Christmas" by taking personal offense to a Slate article that suggested that there should be a new image of Santa, which children of all races can relate to.
Kelly scoffed at the idea. "I just laughed and said this is ridiculous," she said on her show. "Yet another person claiming it's racist to have a white Santa."
She went on to reassure any kids who might be watching Fox News that, "Santa just is white."
Later on in the segment, she also states that Jesus was white too, which is not exactly historically accurate.
Her Passionate Defense Of Hobby Lobby
After the Supreme Court sided with Hobby Lobby in its lawsuit against the federal government, Kelly went on The O'Reilly Factor to defend religious liberty — and push several factual inaccuracies along the way.
Kelly, like many other conservatives, conflated emergency contraception with abortion, saying that "it's drugs that terminate an already fertilized egg."
Actually, emergency contraception works before a woman is actually pregnant.
Kelly went on to insult Sandra Fluke and all other women who think they should have access to health care, saying that they should just pay for it on their own.
"Kathleen Sebelius had some of her HHS minions go down in the basement and write a regulation that said as part of Obamacare, you have to cover 20 out of 20 birth-control drugs — 20 out of 20," she said. "And then women like Sandra Fluke started saying, 'I'm entitled. Oh my God, I didn't realize how victimized I was all those years when I was paying for it on my own."
That Time She Called The Gender Pay Gap A 'Meme'
In a discussion about how the Democratic Party excludes women who don't want equal pay, Kelly dismissed and mocked the very real gender pay gap.
"They think you're anti-woman if you question that meme about equal pay."
Kelly's segment was just one piece of conservative resistance to equal pay, even though women still make an average of 77 cents for every dollar a man earns.
When She Called Pepper Spray 'A Food Product'
After UC Davis campus police sprayed students with pepper spray at an Occupy protest in 2011, Kelly went on The O'Reilly factor to discuss the incident.
Kelly started off the discussion by dismissing the gravity of the situation. O'Reilly asked her, "Pepper spray, that just burns your eyes, right?"
She responded, "Right. I mean, it's like a derivative of actual pepper. It's a food product, essentially."
Kelly and O'Reilly went on to defend the actions of the police, stating that they were only acting on university orders. O'Reilly even felt it was necessary to point out that UC Davis is a "fairly liberal campus."
Want more political news and analysis? Sign up for our daily email newsletter!