Here Are 5 Of Trump's Most Buffoonish GOP Defenders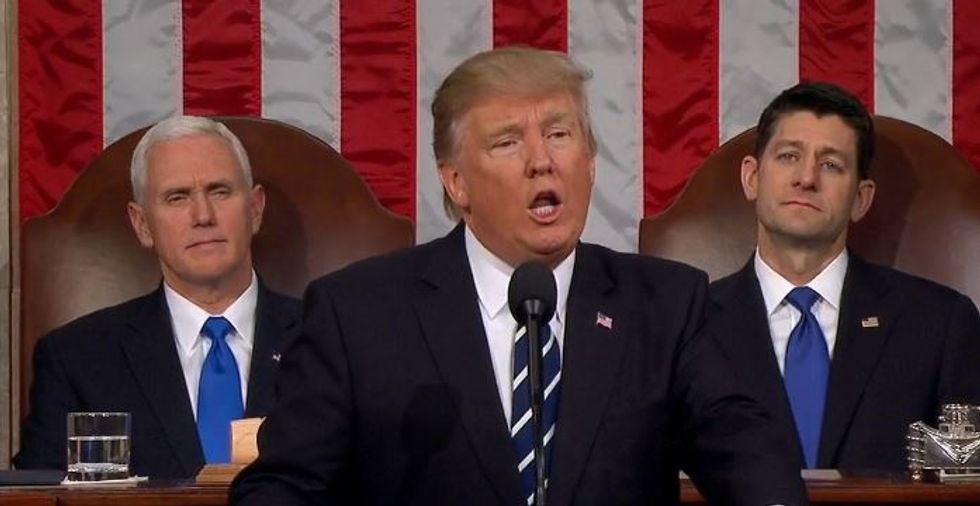 Reprinted with permission from AlterNet.
Shortly after arriving at his Sterling, Virginia golf club on Sunday, President Trump lashed out at his own party via Twitter.
"It's very sad that Republicans, even some that were carried over the line on my back, do very little to protect their President," Trump tweeted.
It's very sad that Republicans, even some that were carried over the line on my back, do very little to protect their President.

— Donald J. Trump (@realDonaldTrump) July 23, 2017
To recap, Trump's approval rating six months into his presidency slipped to 36%. Even worse, a majority of Americans (63%) reportedly disapprove of his son Donald Trump Jr.'s meeting with Russian lawyer Natalia Veselnitskaya in June 2016 at Trump Tower.
But contrary to Trump's tweet, Republicans on the Hill are far from jumping ship. Here are five who have recently leapt to the president's defense.
1. Rep Francis Rooney
On July 17, the Florida Republican congressman weighed in on Trump's defense of his son's controversial meeting via Twitter.
"Most politicians would have gone to a meeting like the one Don jr attended in order to get info on an opponent. That's politics!" Trump had tweeted that morning.
Rooney largely agreed.
"It's politics in terms of the general idea of getting opposition research," he told CNN's Poppy Harlow. "All's fair, it's a rough game."
"Is meeting with a hostile foreign government entity fair?" Poppy pressed the congressman.
"Absolutely," he answered. As far as he was concerned, the media coverage was largely a distraction.
2. Rep. Dana Rohrabacher
As more details of the Trump Tower meeting surfaced, it was revealed on July 14 that California Rep. Dana Rohrabacher had met with Russian-American lobbyist Rinat Akhmetshin in Moscow three months prior to Akhmetshin sitting in on the Trump Tower meeting.
In response, Rohrabacher delivered a fiery speech on the House floor.
"If someone says to you that they want to give you information, there is nothing wrong with that," Rohrabacher said. "It is not illegal to receive information from someone, especially if you are engaged in an activity that's aimed at trying to secure understanding for policies that you plan to implement as a leader in the United States. Absolutely, there is nothing wrong."
3. Rep. Kevin Cramer 
"There's an unhealthy obsession with all things Russia and all things [that happened in] the last election by plenty of people," the North Dakota congressman said Friday in an interview on MSNBC.
"Do you believe that Russia interfered in the 2016 election?" MSNBC's Ali Velshi asked.
"I think Russia has attempted to interfere in several elections in the last several decades in many countries," he answered. But he also estimated "90 percent of a newscast" (presumably MSNBC's) was focused on Russian interference.
"I'm going to ask our producers, congressman, to send you links to all of the stuff that [host] Stephanie [Ruhle] and I have done on health care, on infrastructure on American-made [products], on minimum wage, on economic growth," Velshi told Cramer. "So that you don't go on anybody else's TV [show] and spout this nonsense."
4. Sen. Chuck Grassley
On July 11, Iowa senator Chuck Grassley, chair of the Senate Judiciary Committee, penned a letter to Homeland Security Secretary John Kelly and Secretary of State Rex Tillerson regarding Natalia Veselnitskaya's residency in the U.S. on the date of her Trump Tower meeting.
"It is unclear how she was still in the country for that meeting despite being denied a visa beforehand and her parole purportedly expiring on January 7, 2016. This raises serious questions about whether the Obama administration authorized her to remain in the country, and if so, why?" Grassley wrote.
This "Alternative Trump-Russia Investigation" has since become the dominant narrative for Fox News in covering the fallout from the bombshell report.
5. Sen. Luther Strange
President Trump's frustration with his own attorney general, Jeff Sessions (and the first senator to have endorsed him), has been baffling, if not "disturbing" to Republicans. Not to Alabama congressman Luther Strange.
"My sense is it's probably more related to the frustration not only to the president, but all of us at least on the Republican side about the obsession with Russia and the inability to get on to the issues that are affecting our agenda," he said during a joint appearance with U.S. Secretary of Agriculture Sonny Perdue in Point Clear, Alabama. "Which is what we want to do in repealing and replacing Obamacare, deal with tax reform, infrastructure spending and some key issues like that."
Alexandra Rosenmann is an AlterNet associate editor. Follow her @alexpreditor.