5 Ways Donald Trump Is Still 'Birthering' Barack Obama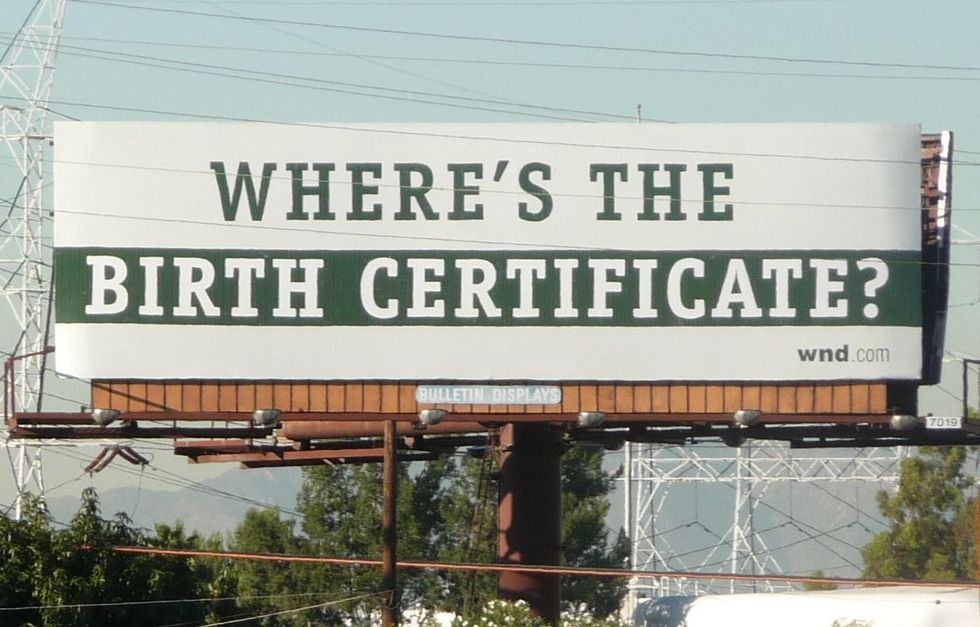 You've probably never heard it mentioned on TV, but President Obama is outdoing President Reagan in what used to be one of conservatives' favorite ways to judge the economy — private sector jobs.
At the current pace more than 10 million private sector jobs will be created in Obama's second term, well over a half million more than were created in Reagan's second term, which Republicans glorified as "Morning in America." It's true that the workforce was much smaller in the 80s, but job creation under Obama doubled that under the last two president Bushes combined years ago — with the best years coming as key Obama policies like the Affordable Care Act and tax increases on the rich took effect.
Reagan's second term saw more jobs created overall because public sector hiring was five times stronger in the eighties than it is now. Was Reagan a better socialist than Obama? Nope, starving public investment was all about one thing — denying this president any measure of effectiveness.
The defining fact of Obama's presidency is its success despite incessant Republican attempts to sabotage it.
"The recovery since 2009 has been historically slow, and the disappointing pace can be explained entirely by the fiscal austerity imposed by Republicans in Congress," The Economic Policy Institute reported early this month.
As elected Republicans undermined the president's economic plans, shut down the government rather than allow him to implement the health care plan he'd been reelected on, turned epidemics like Ebola and Zika into partisan issues, and refused to even consider his final Supreme Court appointment, the right and its powerful media machine did everything they could to delegitimize Obama.
From the first fake story about Obama being schooled in a madrassa that Fox and Friends debuted in early 2007 to today, the right looked for ways to "otherize" the president and cast suspicion on his origins and motives.
No one has nurtured or exploited these suspicions more than the current Republican nominee for president.
Before birtherism, Donald Trump was a sad guy's idea of a rich guy who ran for president when he had a book to sell. But by being the most famous person willing to attack Obama's citizenship by exploiting racist paranoia, he become an extremist macher, an important endorser in 2012, and the party's standard-bearer in 2016.
Trump's entire campaign is built on defining Obama as "un-American" and here's how he's still doing it as he seeks to win the president's job.
Completely negating the president's accomplishments.
Trump speaks about America as if it were embroiled in a mix of the financial crisis of 2008 and the racial unrest of 1968, combined with the massive influx of undocumented immigrants that mostly happened around the turn of this century. In reality, job creation is at an eight-year high, banks are better regulated and far more stable, crime is at or near historic lows (as is net immigration), while the percentage of insured Americans has never been higher. While not perfect, Obama's administration is a sterling success — especially compared with the recessions left us by our most recent Republican presidents. Trump denies Obama any credit for his accomplishments and smears him as a disaster — but he isn't convincing many people who don't despise Obama already. When Trump's 33 percent approval rating and disapproval in the 60s is contrasted with Obama's approval over 50 percent, America seems to get who is the real failure.
Pulling privilege when it comes to releasing his own documents. 
Trump claimed he was just interest in the getting the truth when he sought Obama's birth certificate and then college records — documents that other candidates had all produced. It was a whiff of nonsense, meant to cover the stench of racism rising from the birther campaign. But now the hypocrisy is just sickening, as Trump seeks to become the first major party nominee since Watergate to withhold his federal tax returns. We have proof that Trump at the very least overstates his wealth and charitable donations. His returns are the best hope of documenting those claims and more. Trump's new birtherism — attacking Hillary Clinton's health with no evidence — is as ridiculous as his own joke of a medical record, produced in five minutes while a limo was waiting.
Basing his entire campaign on hyped dangers he accuses Obama of ignoring.
Trump acts if his ideas to bomb ISIS, vet refugees, and deport criminals are novel, rather than policies that Obama has so fully engaged as to arouse outrage in many of his liberal allies. Trump's premise isn't that he'll do better than Obama. Like much of the the conservative base he believes that Obama isn't on "our" side — an argument infused with demented racial undertones that would be difficult to pin on a Republican nominee for president if Trump didn't explicitly suggest it over and over.
Conflating the president of the United States with terrorists.
When Trump spent half a week saying that Obama was literally the "founder" of ISIS, he was reheating an argument he's made for years. The most recent iteration had been to say "there's something going on," over and over as Trump did after the horrific shooting in Orlando. It's a sick accusation of treason against the president of the United States and Trump has trafficked in such associations for years.
He's literally still a birther.
Trump doesn't talk about being a birther anymore, and the supine press seems fine with that, but he never disavowed the theory that made him a conservative superstar. The Republican nominee won't say whether he thinks the current president is a citizen. And with all these questions about his fake revisions to his immigration policies, no one dares to ask him the inevitable question: "Do you plan to deport Barack Obama?"