5 Ways Trump Is A Living Parody Of Conservative Beliefs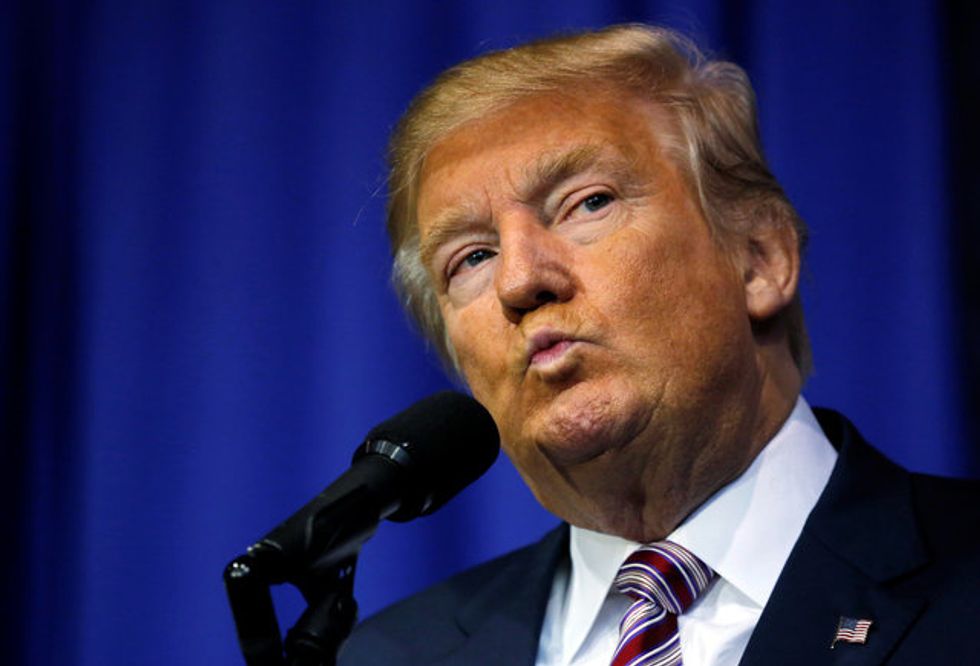 Who shows up at the opening of a nursery school opened to care for AIDS patients, demands to speak as if he were an honored guest, and then leaves without ever offering a donation?
The man who would eventually become the current Republican nominee for president.
That's the stunning opening ancedote of a new blockbuster account of Donald Trump's charitable giving by The Washington Post's David A. Fahrenthold.
Fahrenthold first got on the Trump charity beat to investigate a "veterans' charity" event Trump conjured as a diversion when he decided to skip a Republican debate to protest Fox News' Megyn Kelly, who attempted to point out that his foul treatment of women might become an issue in the campaign. The Post reporter wondered what had happened to the "millions" promised to vets, including a million pledged by Trump himself. The money finally showed up — but only four months later, after a story in the Post questioned the donation.
Since then, Fahrenthold has used Twitter as his notebook and ally in his effort to document the "tens of millions" the Trump campaign claims its candidate has given to charity. Our David Cay Johnston pointed out over a year ago that Trump hadn't given to his own charity in a decade. And in months of digging, Fahrenthold found that the largest gift the Donald J. Trump Foundation had given was $264,631 to renovate a fountain outside Trump's Plaza Hotel.
Along the way, the now-star reporter also was the first to report on the Access Hollywood tape that revealed Trump bragging about sexual assault. But Fahrenthold's look into Trump's attempts to present himself as a generous man are invaluable, because he has revealed a hollow man who has come to represent the Republican Party —  the epitome of the sort of unchecked greed and exploitation the conservative movement was built to enable.
With charity for none and malice toward all, Trump exemplifies the perfidy of Republican policies in these five special ways:
He pays no taxes.
In the first debate, Donald Trump said it was smart not to pay taxes — seeming to contradict Mitt Romney's point in the famed "47 percent" tape. In the next debate, Trump seemed to confirm a New York Times story suggesting that he hadn't paid taxes for 18 years. In those nearly two decades, he declared bankruptcy over and over and took millions out of Atlantic City while leaving his workers and the town to rot. Meanwhile, Republicans were so concerned about the plight of the rich that they donated much of the budget surplus from the late 90s to making them richer with tax breaks that helped create the worst inequality between the rich and poor in America since before the Great Depression.
He still seems to give almost nothing to charity.
Get rid of high taxes and you won't need a safety net! The rich will rush in to help the poor. Or so conservative theory tells us. Except that Donald Trump seems to have nearly erased his entire tax burden and then responded by creating a foundation that gets other people to help him pay for things —  like $7.00 for his son's Boy Scout dues.
He outsources almost anything he can and uses non-citizen labor while stoking fear of minorities.
Trump's protectionism is supposed to be a break from conservative orthodoxy, but his own business practices show him be a perfect example of why American workers are suffering. He seems to outsource anything he can put his name on; he used undocumented workers to build Trump Tower; and right now he's employing non-citizens over citizens at his Mar-a-Lago resort. His excuse? "You shouldn't let me do it." He claims he will make the best trade deals that will stop robber barons like him from robbing. Meanwhile, he wants to roll back the Wall Street reforms designed to prevent the sort of crash that cost us eight million jobs after 2008. Yes, trade can hurt workers, but nothing has cost America more than unchecked greed. And Trump is promising to uncheck it. Before his advisers warned him off, he insisted that wages are too high. And in Michigan last year he revealed his real plan: outsourcing within the United States. Shipping good union jobs to states where they workers will earn a pittance for the same work. That makes him an old-fashioned, anti-labor conservative. As does his stoking of ancient hatreds against minorities and foreigners to distract from the war on the middle class — waged by men just like him. It's classic "dog whistle" politics from a man whose businesses have been accused of racial discrimination over and over. Only now, it's so obvious that it has sparked the rise of bald-faced white racism like America hasn't seen in generations.
He claims to be the world's biggest hawk, yet avoided the draft and lies about his record of backing wars.
This is Trump's military record: He avoided the draft five times. He backed the Iraq War, the intervention in Libya, and the bombing of Syria. Now he claims to have been against all three and yet is the "most militaristic person" who "knows more than the generals." This is a man who recognizes that Republican adventurism overseas now repulses Americans, but can't help revealing his belligerence by calling for the bombing of civillians, torture, and stealing Iraq's oil — all war crimes. He proposes weakening NATO,  wants to be friendlier with Russia (which has enabled the worst massacre of this century in Syria), and threatens the nuclear deal with Iran. He's proposing a world where despotism reigns and American and Western European leadership retreats, recognizing that the American people are sick of our endless engagement in undeclared wars throughout the Middle East. But who knows what he's really proposing when he contradicts himself constantly and seems only interested in building himself up and nurturing those who flatter him? Maybe that's why prominent national security experts in his own party say they don't trust him with nuclear codes, although he has the qualified support of Dick Cheney.
The only traditional value he believes in is controlling women's bodies.
Republicans have long made a mockery of their crusade for "traditional marriage" with champions like the Newt Gingrich and Rush Limbaugh, who have been married seven times between them (but never to each other). Trump takes the GOP's disrespect for personal values and the dignity of women to another level. It isn't just that he appeared on the cover of Playboy, brags about his adultery and conquests, and made a career of marketing women for their looks. He has no history of religious conviction or moral compunction or respect for the "sanctity" of marriage. So his vows to embrace the far right agenda of ending Roe, defunding Planned Parenthood, and outlawing same-sex marriage expose a man who is willing to surrender to any position in order to gain power. But it's even worse than that. His bragging about sexual assault on that Access Hollywood tape and the subsequent accusations of assault from a dozen women reveal a man who believes he has the right to control any woman's body. Now he is united with the conservative movement in the effort to make this principle, which is at the core of the anti-choice agenda, the law of the land.