Egypt's Sisi Ditches Uniform, Quits As Defense Minister
@AFP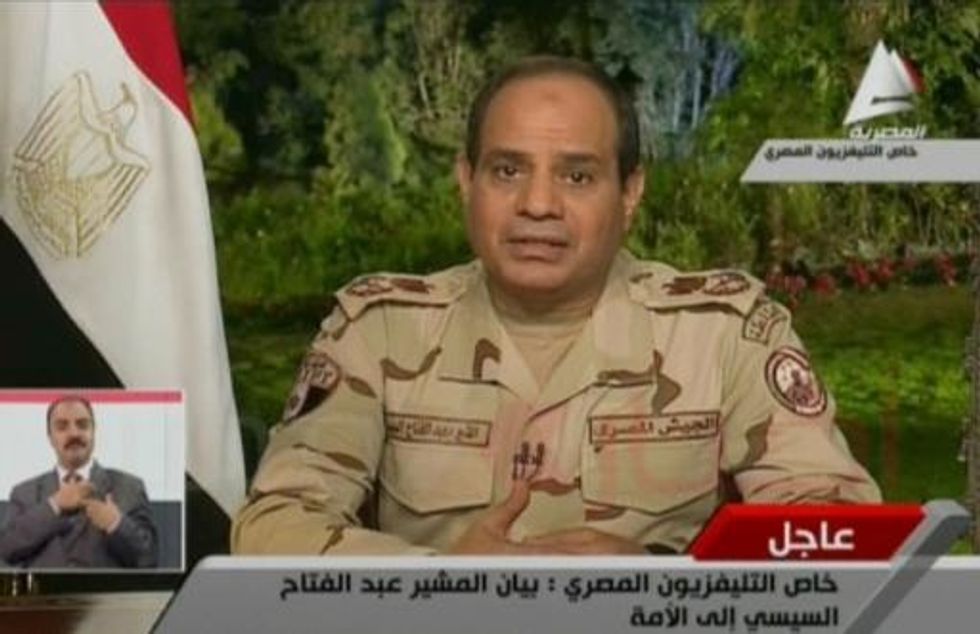 By Jay Deshmukh
Cairo (Egypt) (AFP) — Field Marshal Abdel Fattah al-Sisi ditched his military fatigues on Thursday and resigned as Egypt's defense minister, a day after announcing he would stand for president.
Sisi turned up in civilian clothes at the weekly cabinet meeting to submit his resignation after quitting as army chief the previous night, state news agency MENA reported.
Meanwhile, General Sedki Sobhi was sworn in as the new defense minister and army chief, and Lieutenant General Mahmoud Hegazy replaced Sobhi as army chief of staff, the presidency said. Hegazy is the father-in-law of Sisi's son.
Declaring his widely anticipated candidacy in a televised address on Wednesday, Sisi vowed to fight "terrorism" and work towards restoring Egypt's battered economy.
The wildly popular Sisi faces no serious competition in the election to be held before June and is widely seen as the only leader able to restore order after more than three years of turmoil since the Arab Spring overthrow of veteran strongman Hosni Mubarak.
"With all modesty, I nominate myself for the presidency of Egypt," Sisi said in Wednesday's address, wearing his field marshal's uniform.
He vowed to fight militancy, which has killed more than 200 policemen and troops since the military ousted elected president Mohamed Morsi last July.
The media hailed his speech, splashing it across their front pages.
"Finally, Sisi officially announces candidacy for president," said independent daily Al-Masry Al-Youm, while state-run Al-Akhbar said: "Sisi starts his walk to presidential palace."
The announcement was also welcomed on the street, with people saying Sisi becoming president was inevitable.
"Sisi is too powerful. If he had remained as defense minister, he would have become a headache for any president. Therefore there is no alternative to him" but to become president, said tour operator Ali Amin.
Sisi's candidacy is likely to further inflame Islamist protests and worry secular activists who fear a return to rule by the military and the strong-arm tactics of the Mubarak era.
Morsi's Muslim Brotherhood rejected Sisi's candidacy outright.
"He led a coup to become president. He is a man who has killed daily since the coup," Ibrahim Munir of the Brotherhood's political bureau told AFP by telephone from London.
Hours before Sisi's television address, clashes between Morsi's student supporters and police killed one protester at a Cairo campus.
Sisi is believed to be the real power behind interim president Adly Mansour, under whose watch police have killed hundreds of Islamist protesters and detained about 15,000 suspects since Morsi's ouster.
The crackdown has worried the international community, which was outraged after 529 Morsi supporters were sentenced to death this week over deadly riots.
Many Egyptians, deeply disillusioned by the Islamist Morsi's single year in power, have supported the crackdown in the hope of seeing stability restored.
For those Egyptians who want an end to the violence that has scared off investors and tourists, hitting the economy hard, Sisi's military background is an asset.
The army is seen as the country's most stable institution, and Sisi can count on further aid from friendly Gulf states who have pumped billions of dollars into Egypt since Morsi's ouster.
However, analysts say Sisi will face stiff challenges in tackling the economy and security issues.
"To turn the economy around, deep and painful restructuring is needed, something the military-backed government has avoided so far," said James Dorsey, Middle East Expert at Singapore-based S. Rajaratnam School of International Studies.
"He will lead a deeply divided country in which a significant minority feels disenfranchised. He would need to build bridges to prevent further polarisation and violence."
The military-installed cabinet vowed on Thursday to stick to the road map announced after Morsi's ousting, saying it aims to "build a modern state based on democratic institutions".
State news agency MENA reported that the government has decided to demolish a building near Cairo's iconic Tahrir Square which once was the headquarters of Mubarak's National Democratic Party.
The land will be given to the nearby Museum of Egyptian Antiquities, the agency said.
Demonstrators torched the building during the anti-Mubarak revolt.
©afp.com