6 Big Victories For Feminism In 2017, Despite Donald Trump And Other Toxic Men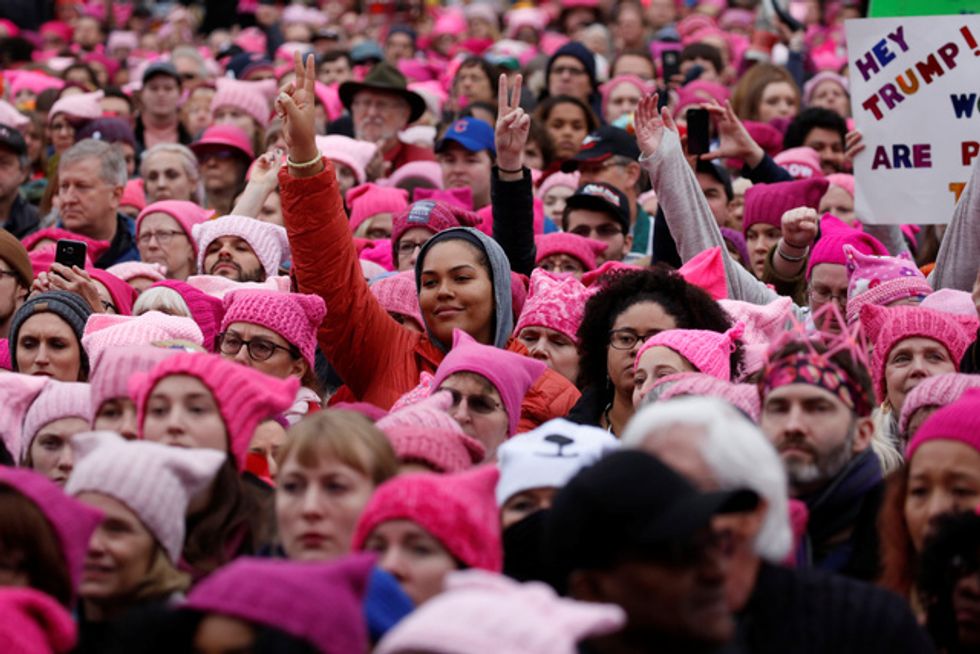 Reprinted with permission from AlterNet.
Depending on how you look at it, 2017 was either a great year for feminists or a terrible one. Galvinized by the election of Donald Trump, this year sparked a new rage in millions of women who are mad as hell and aren't going to take it anymore. There's a reason why Merriam-Webster declared "feminism" 2017's word of the year, after all. The new progressive energy in women is potent in a way it hasn't been in years, and it's worth looking back on the year's feminist victories to remember how it all erupted. Here's to an even more victorious 2018.
1. The Women's March
The feminist momentum fueling the resistance in 2017 undoubtedly began in January, the day after Trump's inauguration. In almost 1,000 separate yet unified marches, in 92 countries and all 50 states, over 5 million people took to the streets to protest regressive policies and to advocate for gender and LGBTQ equality, racial justice, equitable health care and immigration laws, economic opportunity, and climate justice. The march broke numerous records as the largest day of protest in American history. The 2018 Women's March will focus on rallying energy for the midterm elections later next year.
2. International Women's Day
International Women's Day on March 8 was the most talked about day of the year online, according to Facebook's data. In the U.S., activists marked the day with protests and the Day Without A Woman strike (which some have criticized for ostracizing poor women). 2017's eruption of feminist anger drew an unprecedented level of attention to International Women's Day, as women across the globe marched to demand equal pay and treatment and denounce inequality and violence against women.
3. Women in Congress Raised Their Voices
Some of the year's feminist battle cries were inspired by three female politicians. "Nevertheless, she persisted," Mitch McConnell's insult targeted at Elizabeth Warren backfired; Maxine Waters "reclaiming her time" in the face of Steven Mnuchin's insults; and most recently, Kirsten Gillibrand's promise that "you cannot silence me" after Trump smeared her on Twitter when she called for investigations into the sexual assault allegations against him.
4. Historic November Elections
In addition to the 2017 off-year November elections bringing in a wave of Democrat candidates, the day was marked with some history-making feminist victories. Danica Roen, a transgender woman in Virginia, beat one of the state's most conservative Republican incumbents. Vi Lyles became the first black female mayor of Charlotte, North Carolina. And Seattle elected its first lesbian mayor (and first female mayor in nearly a century), Jenny Durkin. Beyond the candidates themselves, there were major legislative wins. Nevada became the 36th state to ratify the Equal Rights Amendment, refueling the decades-long cry for a federal bill guaranteeing equal treatment for all, regardless of gender. Also, Oregon and Illinois approved state funding for abortions.
5. TheRipple Effect of #MeToo
Despite the astounding accusations against celebrated male entertainers and business leaders, perhaps the most impressive aspect of the #MeToo movement is that ordinary women have been impacted for the better. Among the "silence breakers" highlighted in Time Magazine's Person of the Year issue, were the low-wage strawberry pickers who victoriously protested their mistreatment. Recently and similarly, In These Times highlighted the stories of tomato pickers in Florida who rose up against sexual abuse in the fields. Real change is underway in universities, restaurants and offices across the country.
Another sign of #MeToo's long-term impact: national conversations around sexual harassment and assault in the workplace have even trickled down to classrooms that train future CEOs. The New York Times recently visited classrooms at the nation's most reputable business schools and found students debating gender's role in business. "Ethics and values have taken on more significance," Ed Soule, a professor at the Georgetown McDonough School of Business, told the Times. "It has to do with all of the things going on in this administration, often things that challenge our understanding of ethics and leadership."
6. The 2018 Elections Could Shift the Gender Ratio in the Country's Leadership
According to Emily's List, over 20,000 women have contacted the organization about running for office in 2018. "This is a surge of grassroots energy unlike anything we've ever seen," said Emily's List president Stephanie Schriock. "We've spent more than 30 years preparing for this kind of moment, and we're ready to channel this energy into wins for women up and down the ballot."
Liz Posner is a managing editor at AlterNet. Her work has appeared on Forbes.com, Bust, Bustle, Refinery29, and elsewhere. Follow her on Twitter at @elizpos.