<i>60 Minutes</i>' Attack On Cleantech Was Terrible — And That's A Great Sign For Renewable Energy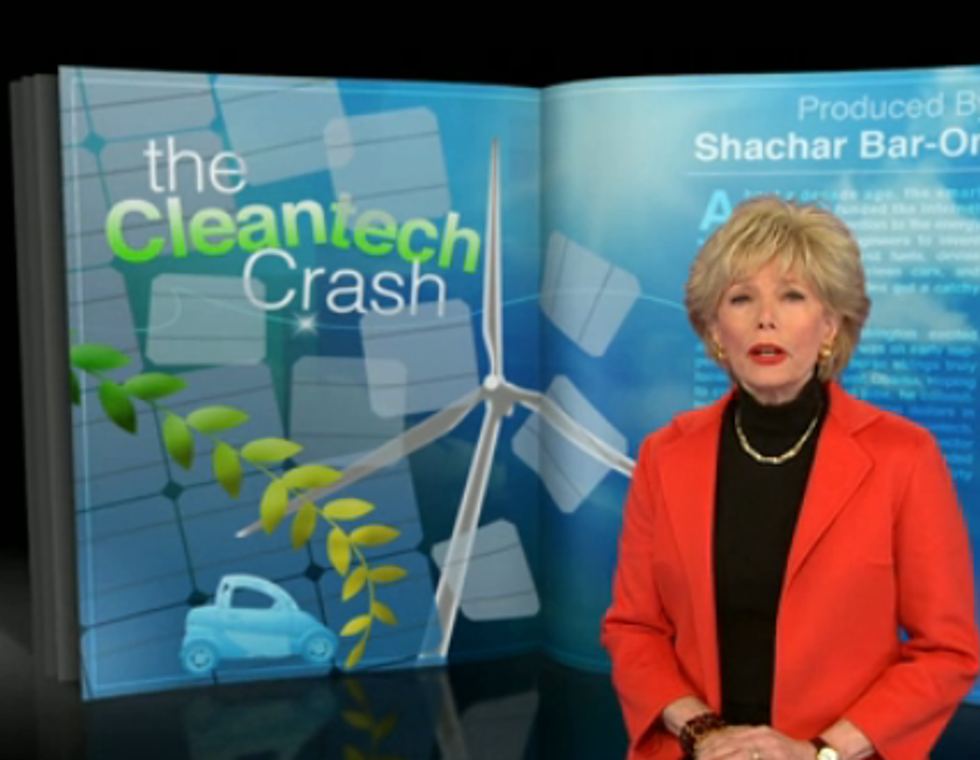 60 Minutes took on the "Cleantech Crash" on Sunday night with a piece that surmised, "Despite billions invested by the U.S. government in so-called 'Cleantech' energy, Washington and Silicon Valley have little to show for it."
SiliconBeat's Dana Hull was baffled by the story.
"First, there was absolutely no mention of climate change. None," she wrote. "That's the whole point of cleantech, after all: using the promise of technology and innovation to try to wean our economy off of fossil fuels."
Instead, the focus was on retreads of arguments against the stimulus.
Lesley Stahl confronted a Department of Energy official with one of Mitt Romney's favorite talking points: "Solyndra went through half a billion dollars before it failed. Then I'm going to give you a list of other failures. Abound Energy. Beacon Power. Fisker. VPG. Pfff…I'm exhausted."
She's not only exhausted; she's exhausted most of the failures from that list. The clean-energy loans from the stimulus had a remarkable 97 percent success rate.
But even that fact misses the larger point, says Michael Grunwald, the author of the definitive book on the American Recovery and Reinvestment Act The New New Dealand one of the first people to point out the DoE's 97 percent success rate, which quickly became a quotable meme during the 2012 campaign:
As I explain in the book, just about everything Republicans have said about Solyndra is bullshit. But I do regret that the 97 percent meme has become such a big thing. For starters, more companies are going to fail. That's what happens in a capitalist economy. And then critics are going to say, oh, look, now it's only 91 percent, or 82 percent, or 74 percent. But the point of the program wasn't cradle-to-grave assurance of success for all these companies; it was a jump-start, with the hope that some of these companies will change the world. And they are.
Grunwald offered his critique of the 60 Minutes story via Twitter. And he concluded that as bad as the segment was, it's ultimately a sign that the fossil-fuel industry is now taking the booming clean-energy sector very seriously because it's increasingly actually a viable threat to their bottom line. He also believes, of course, that Lesley Stahl should have read his book.
Sure, @60Minutes, clean tech is a bust. I mean, US #solar installations have only increased 1200% in five years!

— Michael Grunwald (@MikeGrunwald) January 5, 2014
Hey, @60Minutes, remember in 2009 when US #wind power was supposed to hit 40 GW by 2030? We're already past 50GW. — Michael Grunwald (@MikeGrunwald) January 5, 2014
OK, @60Minutes, I admit 100K electric car sales in 2013 was disappointing. I mean, in 2008 there were…zero. — Michael Grunwald (@MikeGrunwald) January 5, 2014
But…#Solyndra! (And @solarcity. And @solazyme. And @TeslaMotors. And @Sunrun. And @Opower.) cc: @60Minutes. — Michael Grunwald (@MikeGrunwald) January 6, 2014
Everything? "@DanJWeiss: #60Minutes Stahl "Everything I read says there weren't many jobs created." DOE loan program created 55,000 jobs."

— Michael Grunwald (@MikeGrunwald) January 6, 2014
Look, @60Minutes used to do silly puff pieces about solar planes and whatnot. Now clean energy is real, so bigshots want to take it down.

— Michael Grunwald (@MikeGrunwald) January 6, 2014
Some dirty-energy flack actually pitched that story to @60Minutes. A huge sign of progress.

— Michael Grunwald (@MikeGrunwald) January 6, 2014
Lesley Stahl said everything she read suggested clean-energy programs failed. Maybe she (and you!) should read this. http://t.co/67QPLpDcTh

— Michael Grunwald (@MikeGrunwald) January 6, 2014
Screenshot: 60 Minutes