Hobby Lobby Decision Is Not About Religious Freedom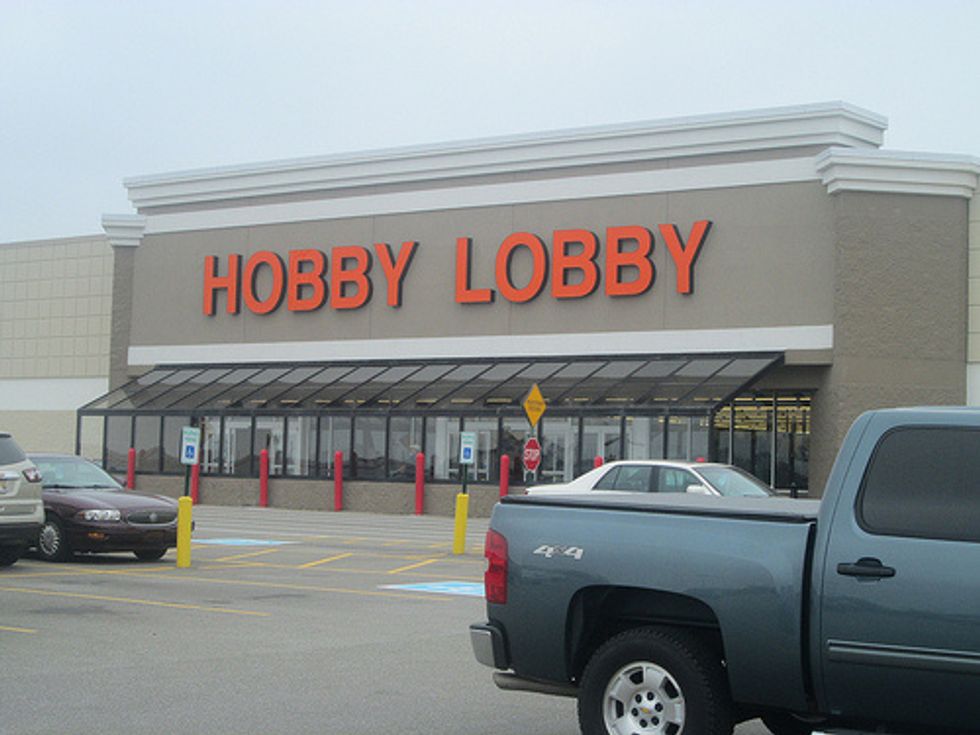 Why are we still arguing over contraception?
Of all the mind-blowing medical advances of the last 50 years — in-utero surgery, genetic testing, face transplants — why is it that the sale and use of convenient, reliable birth control pills and devices still sparks such controversy?
The Supreme Court's Hobby Lobby decision — in which the court's conservative wing gave religious rights to corporations — is just one more battleground in the never-ending culture war. The high court ruled that the Affordable Care Act violates the religious rights of two family-held corporations whose owners objected to a requirement that they provide employees with health insurance policies that pay for a variety of contraceptives. Hobby Lobby, a crafts chain owned by Southern Baptists, and Conestoga Wood, owned by Mennonites, objected to four contraceptives that they mistakenly consider abortifacients.
If abortion were the animating issue, then liberals, conservatives and moderates would have joined forces long ago to promote more effective family planning. That would be the best way to limit abortions, which are usually the result of unintended pregnancies. Instead, the religious right continues to stand in the way of birth control.
The high court's ruling, issued last week, hardly seems calamitous since it was limited to those four family planning methods. But the decision, by five male justices, still points to a curious sexism that pervades much of the political discussion around contraception. It's no wonder that conservatives are accused of waging a "war on women."
As Justice Ruth Bader Ginsburg noted in her dissent, "The ability of women to participate equally in the economic and social life of the nation has been facilitated by their ability to control their reproductive lives." In other words, the remarkable cultural transformation that has allowed women to assume leadership roles in corporations, in the military and in politics was assisted by the revolution in reliable contraception, starting with the introduction of "the pill" in 1960.
History reminds us, though, that family planning has long been political. In 1879, the state of Connecticut passed a law prohibiting the use of "any drug, medicinal article or instrument for the purpose of preventing conception." Remarkably, the Supreme Court didn't strike down that intrusive law until 1965, nearly a hundred years later.
In the decades since, women — and men — have largely taken for granted the right to convenient and reliable birth control. That's true even among Roman Catholics, although papal doctrine still forbids it. According to the Pew Research Center, only 15 percent of Catholics view contraceptive use as "morally wrong."
Yet, the backlash among ultraconservatives has become more evident in recent years, especially since the mandate on contraception coverage in Obamacare. In 2012, a young Georgetown law student named Sandra Fluke incited the ire of conservatives when she insisted that her university should offer contraceptives in its health insurance policies, despite its church affiliation. Among the more memorable comments that have been directed her way, Rush Limbaugh labeled her a "slut" and a "prostitute."
Several months ago, former Arkansas governor Mike Huckabee, a Fox News commentator still popular on the ultraconservative lecture circuit, was explicitly sexist as he blasted Democrats' support for contraceptive coverage in the ACA, claiming they want women to think "they are helpless without Uncle Sugar coming in and providing for them a prescription each month for birth control because they cannot control their libido …"
Indeed, Republican politicians and their allies have showered invective on women who believe that health insurance plans should pay for a full range of reproductive services, including birth control devices and medications. Their rhetoric is full of offensive references to women's sexuality, which tells you all you need to know about where they're coming from.
Of course, Justice Samuel Alito, writing for the majority, was much more circumspect in his language. Still, the majority's outdated ideology shines through — partly because they made clear that their reasoning applies only to contraceptives and not to other medical care. There is no religious exemption for, say, a company owned by Jehovah's Witnesses that doesn't want its health insurance policies to pay for blood transfusions.
This ruling had little to do with religious liberty and much to do with women's reproductive freedom.
(Cynthia Tucker, winner of the 2007 Pulitzer Prize for commentary, is a visiting professor at the University of Georgia. She can be reached at cynthia@cynthiatucker.com.)
Photo: Random Retail via Flickr 
Want more political news and analysis? Sign up for our daily email newsletter!