8.2 Earthquake Hits Chile; Pacific Tsunami Warning Spurs Evacuations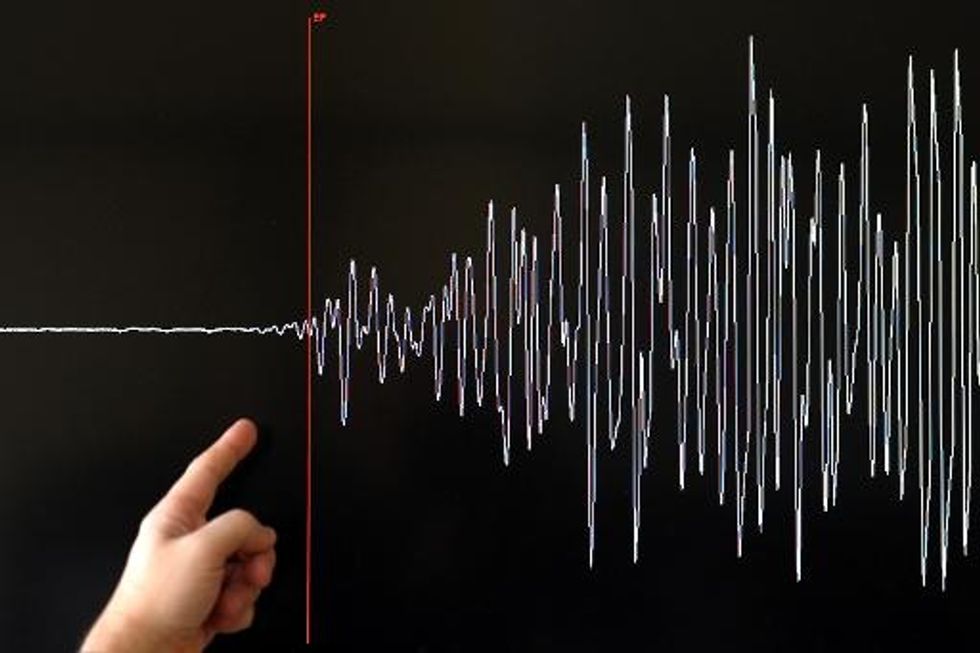 By Fabiola Gutierrez and Chris Kraul, Los Angeles Times
SANTIAGO, Chile — A shallow and powerful magnitude 8.2 earthquake rocked Chile's northern coast Tuesday, sparking fires, churning up high waves, causing landslides, and cutting power for thousands of people.
A fireman and an elderly heart attack victim were among five people reported dead from the quake, but authorities had yet to assess widespread damage.
Evacuations were ordered in expectation of waves as high as 16 feet along the Pacific coast of Chile, neighboring Peru and elsewhere. An alert was issued for Hawaii, where evacuations were under way late Tuesday, but officials cautioned they did not expect a large wave to hit the state.
The quake struck at 8:36 p.m. local time and was centered about 950 miles from the capital, Santiago, seismologists said. It was triggered from a depth of 12.5 miles, off the coast near the sparsely populated port of Pisagua.
Major damage was reported to Highway A16 between Pisagua and Iquique, a port city of about 182,000 people about 65 miles south. About 300 inmates escaped from a nearby women's prison, officials said.
With the exception of Iquique, the area closest to the epicenter of the quake is largely desert and sparsely populated. Pisagua has fewer than 300 inhabitants, and the town of Arica, about 120 miles north of Iquique, has about 10,600 residents, according to recent census data. The Arica and Parinacota regions where the quake was felt strongly have a combined population of about 215,000 and are known largely for their mining and fishing industries.
The temblor knocked some residents off their feet and frightened a country where massive earthquakes have killed thousands of people.
"I have a 14-year-old son and the quake was so strong that we couldn't stay on our feet," said Josefina Pardo, a 40-year-old attorney in Arica, near the Peruvian border. "My boyfriend passed by to look for us and we went to a secure zone. Police passed by houses to tell people to evacuate. People are very afraid. Everyone is fearful of a tsunami and because we have no electric power. We took our dog with us and the evacuation was very rapid and orderly."
Adriana Gonzalez, a 58-year old seamstress in Arica said, "Everything moved and the power went out immediately. It had been shaking all week and people immediately started running to get away."
Nervous Iquique residents gathered in a soccer stadium, where Tatiana Gonzalez, a 45-year-old secretary, told local news media that the earthquake scattered furniture and possessions at her home. She came with her father, who suffers from Parkinson's disease.
"I was able to sit with my father in his wheelchair, and when we tried to leave, the police passed by to evacuate us to a more secure sector (in the stadium) where there were many families who had just left their homes," she said. "We are not going to leave this place."
The Chilean navy's oceanographic center reported wave heights of five feet in Iquique and greater than six feet in Pisagua.
Much of the coast borders the oceanic Nazca tectonic plate, which is being pushed under the continental South American plate, creating a geologic hot spot responsible for the creation of the Andes mountains.
That pressure can produce earthquakes greater than magnitude nine, the same class of temblor that caused the 2004 Sumatra and 2011 Japan tsunamis.
Southern Chile produced the most powerful earthquake on record, a magnitude 9.5 temblor in 1960, which killed thousands around the city of Valdivia and brought tsunamis to Hawaii, Japan, the Philippines and the U.S. West Coast. A magnitude 8.8 earthquake in southern Chile killed 524 people and destroyed 220,000 homes in 2010.
Swarms of earthquakes off the northern coast, including a magnitude 6.7 shaker that struck March 16, preceded Tuesday's temblor.
But one earthquake expert who has studied the area warned Tuesday that the quake was unlikely to have relieved the enormous pressures that have built up along the massive fault, which he said had not broken in that area since 1877.
"It's probably not big enough to have released all of the energy that had been stored up along that locked plate boundary for the last 140 years or so," said Rick Allmendinger, a Cornell University professor of Earth and atmospheric sciences. "Is this the big one for that area? Or was it a foreshock to a presumably an even bigger earthquake?"
AFP Photo/Frederick Florin