9 Lies From Day 3 Of The Republican National Convention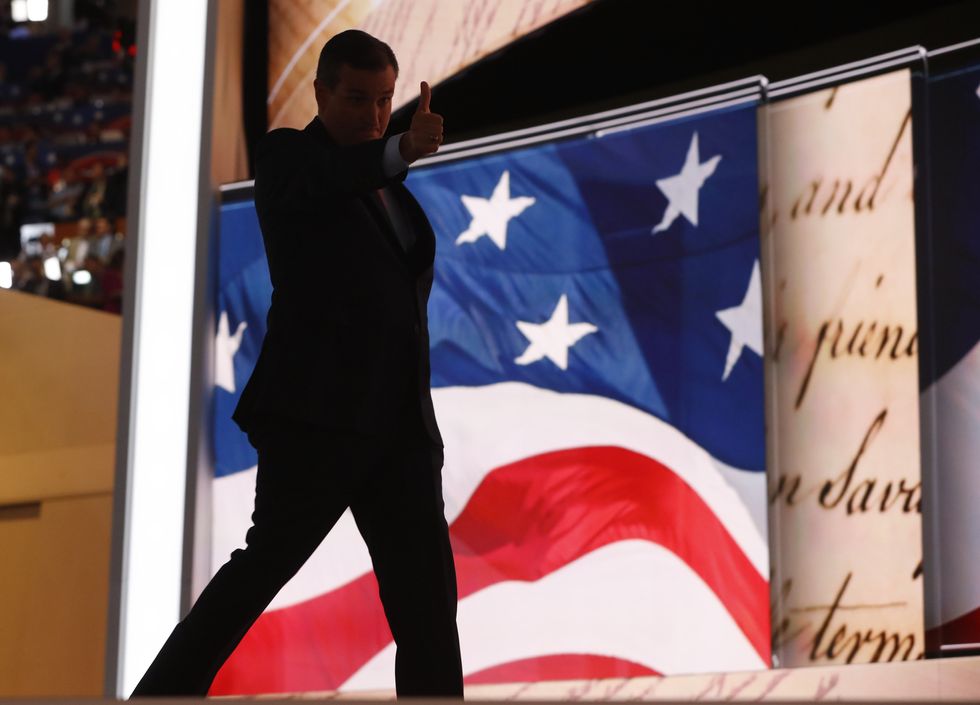 Day 3 of the Republican National Convention was filled with cowboy hats, Donald Trump's kids, and… lies. Here are just nine of many lies voiced by speakers at the RNC on Wednesday:
1.ThatHillary Clinton said, "What difference does it make?" in response to the deaths of four Americans in Benghazi
"It was Hillary Clinton who left Americans in harm's way in Benghazi and after four Americans fell said, 'What difference at this point does it make?,'"  – Indiana Gov. and vice presidential candidate Mike Pence.

"Theirs is the party that thinks ISIS is a 'JV team,' that responds to the death of Americans at Benghazi by asking, 'What difference does it make?,'" -Sen. Ted Cruz.
First of all, although Clinton has previously taken responsibility for security failings in Benghazi, the report from the House Benghazi committee could not and did not blame Clinton directly for the attacks, no matter how hard that GOP effort tried.
But the explicit lie is about the specific Clinton quote. During an exchange with Rep. Ron Johnson in a 2013 hearing on Benghazi, when asked about the motive for the attack, Clinton replied, "With all due respect, the fact is we had four dead Americans. Was it because of a protest or was it because of guys out for a walk one night who decided that they'd they go kill some Americans? What difference at this point does it make? It is our job to figure out what happened and do everything we can to prevent it from ever happening again, senator."
2. That Donald Trump always pays his bills
"He always pays his bills promptly," said casino owner and Trump's friend, Phill Ruffin. "You won't hear that. Promptly, no discounts."
That's not what one USA Today investigation found — which is probably why Ruffin brought up the topic. What it did find is at least 60 lawsuits from plaintiffs alleging that Trump did not pay them for their services. Waiters, tradesmen, lawyers, and dozens more across the nation have sought out legal action against Trump on this basis.
Additionally, hundreds of liens have been filed by Trump contractors and employees in the last 30 years, ranging from a $75,000 claim by a New York air conditioning and heating company to a $1 million claim from a New York City real estate banking firm.
3. That our economy is not growing
"Today America is in a terrible world, record-high debt," claimed Wisconsin Gov. and former presidential candidate, Scott Walker. "Our economy is not growing."
That's a claim Republicans love to make, but it isn't true. According to the Bureau of Economic Analysis, gross domestic product has grown between 1.5 and 2.5 percent every year since 2012. In addition, private sector jobs have grown and the unemployment rate has declined during the Obama administration.
4. That President Obama has issued an unparalleled number of executive orders
"We've seen relentless mandates from the executive branch. It seems no aspect of our lives is too small for the present administration to supervise, no provision of the Constitution too large for them to ignore," said Gov. Mike Pence, alluding to the Republican myth that Obama abuses his executive powers.
According to the National Archives Federal Register, Obama has issued 244 executive orders throughout his two terms. The average number of executive bills issued by Presidents G.W. Bush (291), Clinton (364), G.H.W. Bush (166), Reagan (381), Carter (320) and Ford (169), the number is 276. Obama has actually issued fewer executive orders than his predecessors' average.
5. That Trump invested $2 million of his own money to remodel New York City's Wollman Park skating rink
Eric Trump packed a few lies into his remarks about his father's refurnishing of the Central park skating rink. The younger Trump said that his father stepped in because he was "disgusted by government incompetence" after the rink's remodeling "dragged on for over six years and ballooned to over $13 million — $5 million over an already inflated budget."
While it is true that the government went over budget for the project, according to the New York Times, the city spent $12 million, not "over $13 million."
The larger lie in Eric Trump's statement is that his father invested his own money in the project. At first, Trump did offer to foot the bill on the condition that he could operate the rink as well as the adjacent restaurant in order to get his money back. As Bloomberg noted last year, "In the final deal, the city paid for the renovation, and the profits were all donated to charity."
6. That the U.S. funds terrorism by buying foreign oil
Oil and gas magnate and Trump buddy Harold Hamm claimed that "Every time we can't drill a well in America, terrorism is being funded."
Not true. Canada is the biggest supplier of oil to the United States — providing 40 percent of American oil imports, according the U.S. Department of Energy. The other main suppliers are Venezuela, Saudi Arabia, Brazil, Ecuador, Iraq, Mexico, Colombia, Kuwait and Chad — none of which are labeled as state sponsors of terrorism by the State Department.
In addition, Canada, Iraq, Kuwait and Saudi Arabia are members of the U.S.-lead counter-ISIS coalition, and Chad is a U.S. ally in fighting Boko Haram.
7. That Clinton wants to eliminate fossil fuel development in America, and that Trump would get rid of foreign oil
According to Harold Hamm, "America has two distinct choices. Our nation should embrace energy independence, not eliminate it. Hillary Clinton would eliminate fossil fuel development in America, she would kill jobs, drive up gasoline prices, and increase oil imports from our enemies. President Trump will release America's pent-up energy potential, get rid of foreign oil, trash punitive regulations, create millions of jobs and develop our most strategic geopolitical weapon: crude oil."
It's unlikely that Trump could "get rid of foreign oil," during his presidency. The Obama administration has overseen an 88 percent increase in oil production — a record — and the U.S. has been the world's top oil producer since 2014. Still, of the 19.4 million barrels the U.S. consumes per day, almost 10 million barrels are imported.
Moreover, Clinton has never said she would eliminate fossil fuel development in the country. She has proposed a switch of priorities from coal to natural gas, another fossil fuel.
8. That Obamacare hurts small businesses by requiring them to provide health insurance
Small business owner Michelle Van Etten gave a passionate speech about how Obamacare is destroying small business, saying that the country needs a president "who will repeal Obamacare and allow small businesses to be able to provide health care for their employees again."
This implies that Obamacare requires small businesses to provide their employees with health insurance, which isn't true. In 2009, before Obamacare passed, 57 percent of small businesses offered coverage. By 2015, 54 percent of small businesses provided coverage, according to the 2015 Kaiser/HRET survey of employer-sponsored health benefits. Obamacare's insurance requirements only apply to businesses with 50 or more full time employees.
9. That our military is decaying
"We've allowed our military to decay, and we project weakness on the international stage."- Fl. Gov. Rick Scott.
This is one of the most repeated Republican myths. In reality, the U.S. continues to have the most powerful military in the history of humanity. In 2015, we spent close to $600 billion on armed forces, more than the next seven nations who spent the most combined. China's defense budget, the second largest in the world, is less than one-third of the Pentagon's.
Photo: Former Republican U.S. presidential candidate Senator Ted Cruz gives a thumbs up after speaking during the third night of the Republican National Convention in Cleveland, Ohio, U.S. July 20, 2016.     REUTERS/Aaron P. Bernstein