A 10-Minute Pilates Workout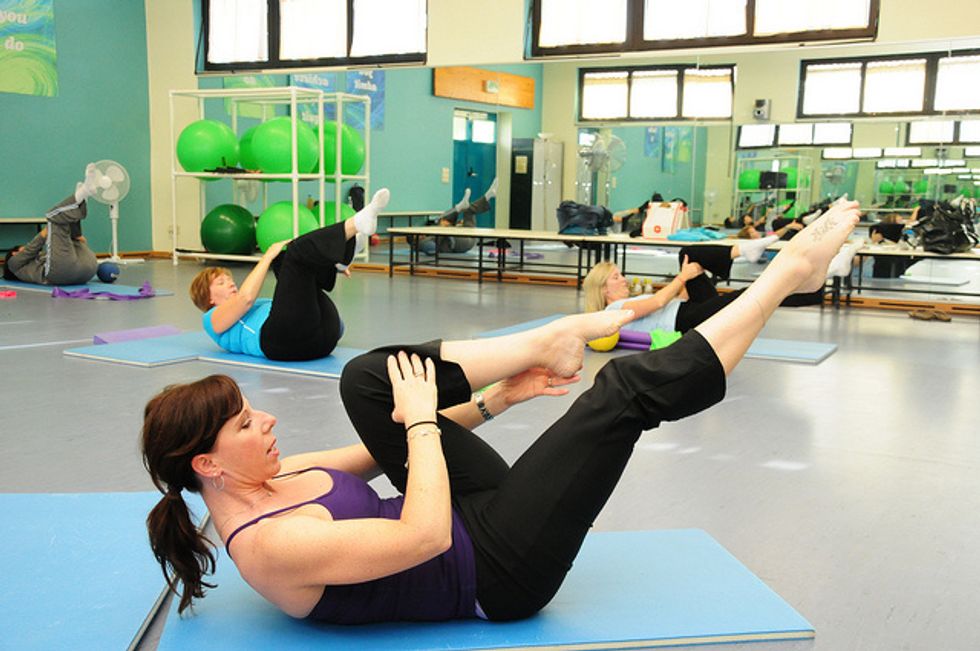 By Lindsay Ellingson, Byrdie (TNS)
Need a quick workout that mixes several styles together? Here are four sequences that will tone your whole body and elongate your muscles at the same time while incorporating Pilates, ballet and yoga. Mary Helen Bowers, founder of Ballet Beautiful, taught me the ballet sequences, which I do constantly.
Power passe
1. Start lying on your side with your legs straight and slightly out in front of you.
2. With your toes pointed, draw your top leg into passe position at your knee.
3. Keep your hips open, with your knee drawing backward as you extend your leg straight up.
4. Lower your leg into starting position, and repeat the sequence 20 times.
5. Next, circle your leg.
6. Bring both legs slightly forward to form a V shape.
7. Lift your top leg and slowly circle it forward for one minute. Then reverse the direction of your circle for one minute.
8. Repeat the whole sequence on your other leg.
Ballet beautiful hips and thighs sequence
1. Lie on your side with knees bent, legs forming a 90-degree angle.
2. Keeping your knees together and toes pointed, lift your top foot up toward the sky.
3. Extend you leg upward in the direction of your foot.
4. Bend your knee, bringing your top leg in to meet the bottom leg again, and repeat this sequence 10 times.
5. Next, come back to starting position for clamshells. This time, keep your toes together and open your knees.
6. Slowly and with control, raise and lower your top leg 10 times. (Note: If you want to make this more challenging, you can raise your feet and hover the bottom leg as well.)
7. Repeat the whole sequence three times, and switch legs.
Anti-gravity glute lift
1. Start on your hands and knees, in tabletop position, with hips over knees and shoulders over wrists.
2. Keeping your hips square and your foot flexed, press one leg up toward the sky, knee bent at a 90-degree angle.
3. Raise and lower your leg 12 times.
4. Next, maintain the same form, but open your leg to the side. Do this 12 times.
5. Repeat the whole sequence three times on each leg.
Core balance bicycles
1. Start sitting up straight with your hands and feet on the ground, knees bent, arms slightly behind you, and fingers facing inward.
2. Raise your whole body up, lifting your chest toward the sky. Keep your core engaged and your arms straight (but not locked), and hold this pose for a few breaths.
3. Lower down and raise your legs to tabletop position.
4. Lean back slightly to fire up your core, and extend your legs straight out.
5. Alternate bicycling out your legs for one minute, and repeat. (Note: For a more advanced sequence, balance without the support of your arms on the ground.)
And don't forget to grab a crease-free hair tie to keep your hair out of the way during this power Pilates workout.
Get the latest celebrity beauty news, runway trends, health and fitness tips, as well as product suggestions from the experts at Byrdie.com.
(c)2015, Clique Media Inc. All rights reserved. Distributed by Tribune Content Agency. Distributed by Tribune Content Agency, LLC.
Photo via