A Blanket Of PR To Make You Want To Hug A Drone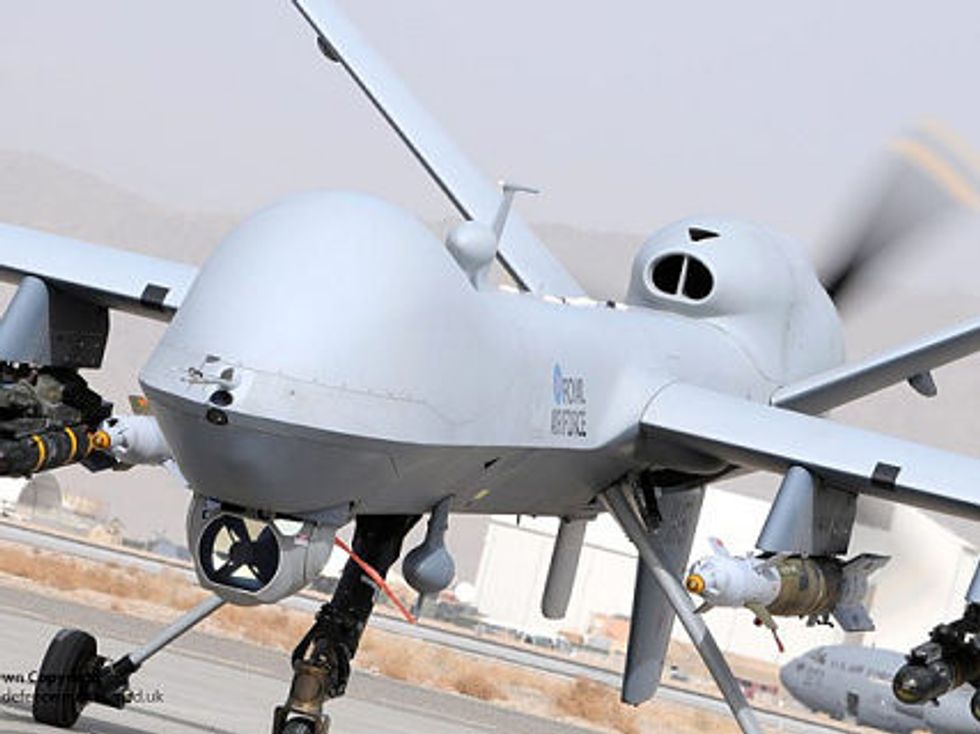 In a recent senatorial dustup, Sen. John McCain called Republican colleague Rand Paul one of "the wacko birds" of Congress.
McCain (who sometimes appears not too tightly wrapped himself) was giving Sen. Paul a tongue-lashing for having mounted a 13-hour, old-fashioned, standalone filibuster over the possibility that murderous drones could be used for targeted assassinations of Americans right here at home.
McCain said that the Kentucky senator's talkathon had veered into the "realm of the ridiculous," adding, "I don't think (it) is helpful to the American people."
I hate to interrupt when one Republican Solon is hammering another, but I'm siding with Paul. While I do think that plenty of the Tea Party senator's extreme right-wing stands are wacko, this isn't one of them. Unfortunately for America, powerful corporate interests are eager to reap billions in profit from the spread of drones across our land, and police agencies at all levels are drooling at the prospect of adding fleets of surveillance drones — including ones that will be weaponized to their arsenals. Indeed, what's really ridiculous is that so many other congresscritters have not been paying attention, speaking out and taking action.
Call it grandstanding if you want, but at least Paul took an actual stand. And, contrary to McCain's opinion, his stand was quite helpful to the American people. Thanks to Paul's attention-getting combination of principle, ego and chutzpah, the great majority of Americans heard for the first time that these inherently invasive, liberty-busting and potentially deadly drones are on the verge of being deployed domestically.
That's why the Congressional Progressive Caucus and such alert Democrats as Sen. Ron Wyden of Oregon have joined in sounding the alarm and demanding a full public debate. As Paul says, "At least we need to know what are the rules." Before we let profiteers unleash this technology on Americans, bring the discussion into the open so the people can grasp the danger that these "Orwellian gnats" pose to our democracy.
Sen. Rand Paul is not the only speed bump slowing down the push by government contractors, police authorities and politicians of both parties to litter our nation's airspace with up to 30,000 of these surreptitious unmanned aircraft by year 2020. Inevitably, many of these will be used to spy on, invade the Constitutional rights of and even fire on American citizens.
While the senator's outrage raised the drone issue to a new level of public awareness, opposition had already been percolating across the country, uniting such diverse constituencies as the ACLU and the Tea Party. Indeed, from city halls to Congress, many officials are working to ban or at least restrict drone deployment in our Land of the Free.
Clearly, the drone-industrial complex has a growing political problem. But, hey, in Corporate America, where there's a way, there's plenty of will. We're talking extremely big dollars here.
As reported by The New Republic, drone pushers at an industry confab (ominously titled "The Reapers Come Home") decided that theirs is merely an image problem, starting with the off-putting d-word itself.
"That term 'drone' kills us every time," moaned a police official who's been advocating the proliferation of the devices in police departments from coast to coast. Another pusher suggested to conferees that the menacing black color of the weapons is the problem. He noted that Seattle's police chief tried to get city officials there to OK drone use by making them appear less threatening. He had a black Dragon Flyer X6 repainted and rechristened it as "Soft Kitty 2000."
That didn't work in Seattle, but still, the droner-complex can be expected to launch a PR campaign that'll make you want to hug one of their machines. Already, the peddlers are describing a sky full of drones over your city as "a nice safety blanket." Good luck living under that.
To find out more about Jim Hightower, and read features by other Creators Syndicate writers and cartoonists, visit the Creators Syndicate webpage atwww.creators.com.
Photo: Corporal Steve Follows RAF/Flickr