A Brighter Legacy Of Selma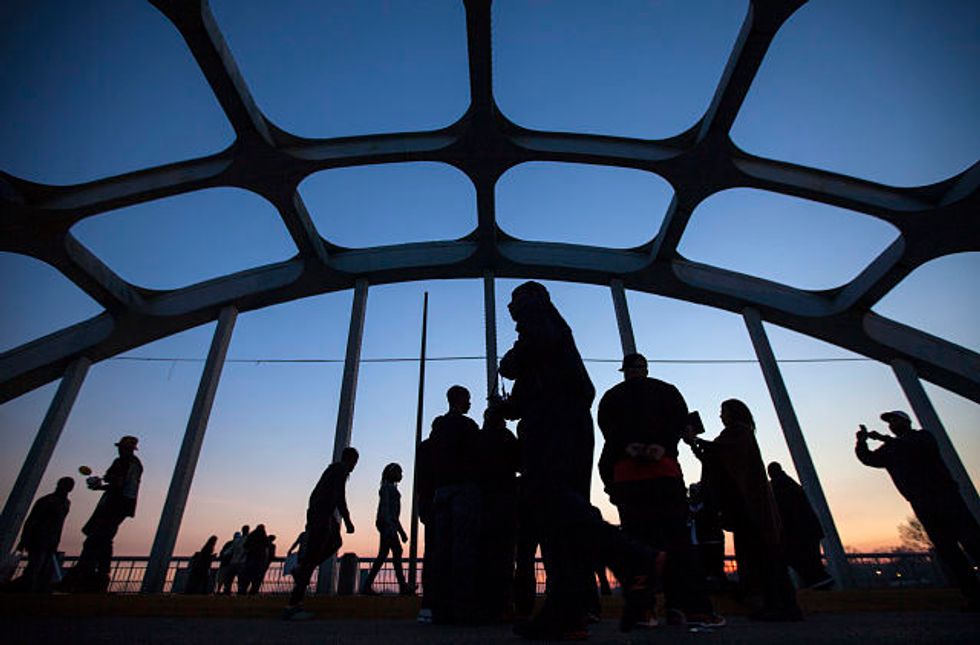 The morning after President Barack Obama delivered his soaring speech in Selma, former governor George Wallace's 65-year-old daughter stood on the steps of the Alabama Capitol and — in a soft, sometimes quivering voice — renounced the acts of hate committed there by her father.
"It was here," Peggy Wallace Kennedy said, "that I heard my father say the words 'segregation now, segregation tomorrow and segregation forever.'
"It was here that my father fought to support a culture of exclusion, riding on the wings of fear rather than seeking justice on the wings of eagles."
The crowd in Montgomery included civil rights activists and their survivors, the current governor of Alabama and members of Congress, including Freedom Rider John Lewis, who 50 years ago was nearly beaten to death by state troopers on the Edmund Pettus Bridge in Selma. "My friend," he called her. "My sister."
Twice the audience rose to its feet in applause for this gentle, petite woman, who only in recent times has found the courage to speak publicly about the truths she has imparted to her children for years.
"For so long, I've been somebody's daughter, somebody's wife," she said in a telephone interview the next day. "I stayed home and took care of the children. I was always in the crowd, never a leader; always learning, never teaching."
Her life changed, she said, after she endorsed Obama in 2008. "He inspired me. He gave me a lot of courage to find my own voice and speak out. My children were older. I wanted to leave for them a legacy different from the one my father left for me."
That legacy includes the 1963 image of her father blocking the doors at the University of Alabama in Tuscaloosa, vowing to prevent integration of the campus and then stepping aside for federal troops. Such an ugly public history was bound to catch up with her children.
When her son Burns was a little boy, Kennedy and her husband, Mark, took him to visit the Martin Luther King Jr. National Historic Site in Atlanta. The child, she said in her speech, "stood still as the truth of his family's past washed over him." He turned to her and asked, "Why did Paw Paw do those things to other people?"
George Wallace's daughter became the mother who dared to hope. She knelt down beside her son and pulled him close. "Paw Paw never told me why he did those things," she said, "but I know that he was wrong. So maybe it will just have to be up to me and you to help make things right."
One of those things was trying to make amends for the harm her father had rained down on Lewis. Her voice trembled but never broke, and she glanced at Lewis and thanked him for the gift of forgiveness in taking her hand in 2009 and walking with her across the Edmund Pettus Bridge.
"Fifty years ago," she said, "you stood here in front of your state capitol and sought an opportunity as a citizen of Alabama to be recognized and heard by your governor, and he refused.
"But today, as his daughter and as a person of my own, I want to do for you what my father should have done and recognize you for your humanity and for your dignity as a child of God, as a person of goodwill and character, and as a fellow Alabamian and say, 'Welcome home.'"
The standing ovation was long and loud. A few minutes later, Kennedy locked arms with Lewis and House Minority Leader Nancy Pelosi and led a two-block march up Dexter Avenue to the Southern Poverty Law Center, where children would lay a wreath.
The march the day before on the Edmund Pettus Bridge had been boisterous, full of chatter and laughter against a backdrop of loud music. This time, the march was virtually silent except for the whir of media cameras and shoes meeting the pavement.
The crowd walked past Dexter Avenue King Memorial Baptist Church, where the Rev. Martin Luther King Jr. used to preach. In 1979, George Wallace showed up unannounced at the church to ask for forgiveness for his racist past.
As Peggy Wallace Kennedy approached the church, John Lewis leaned in to whisper in her ear: "Your father would be very proud of you today."
"That's all he had to say," she said later. "That was all I needed to hear. I wanted to pick up where my father left off. I wanted to step out of the shadow of that schoolhouse door."
On she marched, head high and the sun at her back in Montgomery.
Connie Schultz is a Pulitzer Prize-winning columnist and an essayist for Parade magazine. She is the author of two books, including "…and His Lovely Wife," which chronicled the successful race of her husband, Sherrod Brown, for the U.S. Senate. To find out more about Connie Schultz (con.schultz@yahoo.com) and read her past columns, please visit the Creators Syndicate Web page at www.creators.com.
Photo: People along the Edmund Pettus Bridge at dusk in Selma, AL, on Saturday, March 7, 2015. (Brian van der Brug/Los Angeles Times/TNS)