A Clinton Trial Under House Fire Again
@JamieStiehm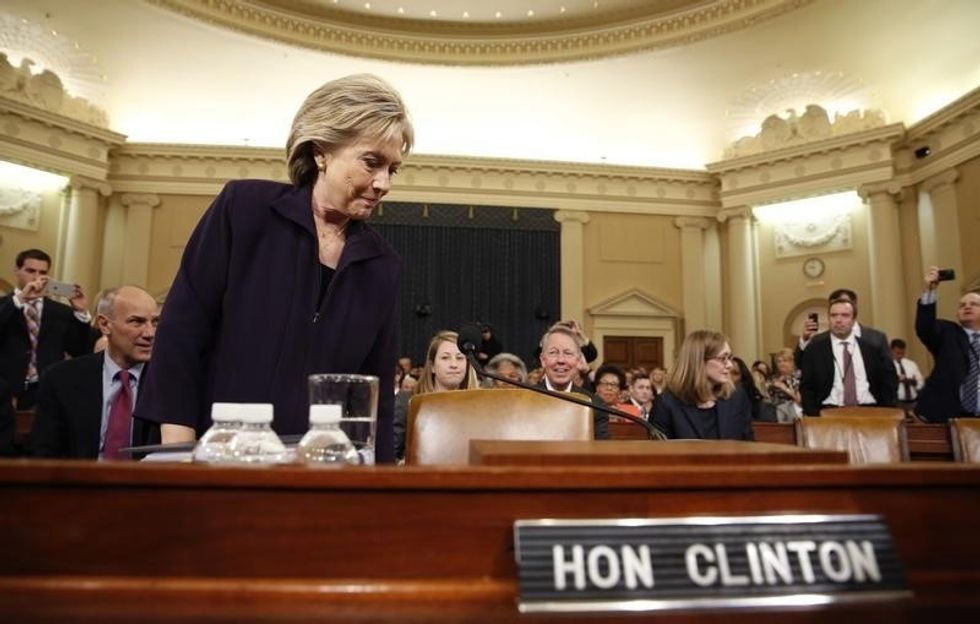 WASHINGTON — Showtime for Hillary. And is she ready for the day, turning in a bravura piece of performance art to an audience well beyond the House walls from which I watched. Our eyes are watching Hillary Clinton for clues to her character under fire at the Benghazi hearing on four Americans' deaths in Libya.
Then again, we've seen her in crisis before, and she always pushes past the pain.
Clinton's presidential stakes depend on this day, landing just before her 68th birthday. Momentum goes with her, given an honest remark by the Republican Majority Leader, Kevin McCarthy (R-CA) that the investigation is politically motivated to undermine the history-making hope of the Democratic Party.
Speaking for me, I wished she'd wear an armband of protest to the marathon committee hearing, chaired by Trey Gowdy, a South Carolina Republican. Gowdy has proved a relentless investigator or inquisitioner — you be the judge. You can catch him as a small-town prosecutor on Forensic Files reruns.
The former secretary of state's demeanor before the panel was just about right: cool, composed and completely rational toward her Republican critics. Rational is a nice change in this leaderless House, where the inmates are running the asylum. She slightly smiled at her Democratic allies, such as forceful Elijah Cummings (D-MD) but did not break face as hours passed. Her pointed opening statement called for statesmanship, not partisanship.
To cut up a secretary of state in Congress is a new thing coming down the road. A low that never happened to any man, not even Colin Powell (George W. Bush's top diplomat) after he erroneously told the United Nations about weapons of mass destruction in Iraq as a pretext for war.
To review facts on the ground, an American ambassador died under siege in a Benghazi compound on Sept. 11, 2012. With Ambassador Christopher Stevens were three security professionals, military veterans, all their heroic lives claimed in the same tragic fiery scene. Of course, the day was sensitive and significant, as the anniversary of the 9/11 terrorist attacks.
Clinton has never said it publicly, but it seems plain Stevens was in the wrong place at the wrong time. As much as he loved to move around and reach out to revolutionary communities, that was not the day to be found and cornered in light quarters. The embassy in Tripoli was a far better fortress.
Stevens was young, energetic and accomplished. Clinton herself chose him for the difficult job when she conducted the nation's diplomacy for President Obama. She is not responsible for his choices or his death. It compounds the original tragedy to seek her downfall, but let's go back to 1999.
We've seen this movie before. First it was one Clinton. Now it's another. Just the names are changed.
Remember the matter of President Clinton's impeachment in 1999? Seems like yesterday. The House was not very different then, led by Speaker Newt Gingrich and then Bob Livingston, both Southern Republicans. They were possessed, along with rotund Republican Henry Hyde, chairman of the Judiciary Committee, to drive President Clinton from office. Their desire to do so seemed bloody and barely clothed. Lindsay Graham, a South Carolina Republican, was then one of Hyde's designated dozen attackers.
Inside the Capitol, the working press and the Congress worked up to a state of hysteria that resembled the Salem witch trials as it pored over salacious details of Clinton's dalliance with Monica Lewinsky. No detail was spared.
Most scary was how close the campaign came to succeeding. But first Gingrich, then Livingston and then Hyde were exposed as adulterers.
Clinton's private email server while in the Cabinet, which came to light in the course of Gowdy's committee investigation, was a flawed idea. It speaks of a wish for secrecy and control. But let the people decide whether it should disqualify her for president. I don't think so.
As a rookie reporter at The Baltimore Sun, I saw Clinton on the January morning when the news broke the president had an affair with a young woman. Slated to speak at Goucher College, the question was: Would she show up? Or would she stay in bed?
The first lady showed up, spoke smoothly and didn't break her stride. Unflappable.
Just like today.
To find out more about Jamie Stiehm and read features by other Creators writers and cartoonists, visit Creators.com.
Democratic presidential candidate Hillary Clinton takes her seat to testify in front of the House Select Committee on Benghazi about the attack on a U.S. diplomatic mission in Benghazi, Libya, on Capitol Hill in Washington October 22, 2015. REUTERS/Jonathan Ernst