A Family Comparison Jeb Bush May Welcome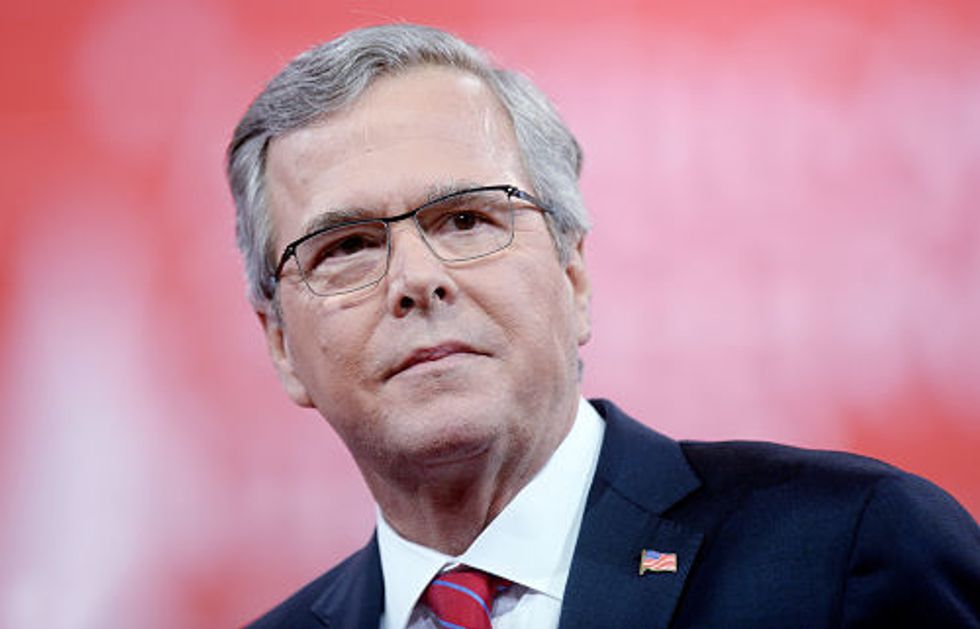 By Michael C Bender and Terrence Dopp, Bloomberg News (TNS)
WASHINGTON — As Jeb Bush tries to turn the page on Iraq, he'll be inviting comparisons to another chapter of the family's foreign policy legacy when he kicks off an overseas tour next month.
Bush's aides have described the weeklong foreign trip in economic terms, saying the former Florida governor and probable Republican presidential candidate planned to discuss innovation and technology in the global economy during stops in Germany, Poland and Estonia. He'll participate in a question-and-answer session during an economic conference on June 9 in Berlin, speaking after Google Inc. Chairman Eric Schmidt, and before German Chancellor Angela Merkel, whose political party is organizing the event.
There will also be obvious foreign policy implications. All three countries have been among Ukraine's strongest supporters amid the country's conflict with Russia. And for many Germans, Bush's visit will invoke memories of the country's reunification in 1990 when his father, George H.W. Bush, was president.
"Bush's father was and is very popular in Germany," Alexander Privitera, a senior fellow at the Johns Hopkins American Institute for Contemporary German Studies, said in an interview about former President George H.W. Bush. "He's much more popular than Ronald Reagan, for instance, clearly seen as one of the main architects of the German reunification."
Privitera, who studies the effect German policies have on relations with the U.S., said Bush's trip was also noteworthy for where he was not going, namely the United Kingdom and France, two of the U.S.'s staunchest allies.
"It sends a message that Germany is relevant, and inherent in that message is a recognition from the Bush camp that talking to Berlin can be more effective in European matters than talking to Paris or London," Privitera said.
Additionally, it sends a "clear message to Russia" that Bush takes seriously the conflict in Ukraine.
Russia has repeatedly denied accusations from the U.S., NATO and the European Union that it sent forces and weapons to aid rebels in eastern Ukraine, which Ukraine President Petro Poroshenko said earlier this month has killed about 7,000 civilians since fighting started in April 2014.
In an interview Wednesday with BBC, Poroshenko said his country's military was fighting Russian troops, not Russian- backed separatists. "This is a real war with Russia," Poroshenko said.
In Germany, Merkel has repeatedly won pledges from her country's business groups that they'll abide by European Union sanctions imposed against Russia for its encroachment on Ukraine. At a joint news conference earlier this month with Russian President Vladimir Putin, Merkel said that Russia's "illegal" annexation of Crimea last year had caused a "severe setback" in German-Russian ties and urged Putin to use his influence on separatists in eastern Ukraine to help enforce the cease-fire agreed in Minsk, Belarus.
In Poland, which shares its eastern border with Ukraine, President Bronislaw Komorowski has backed Ukraine's call for U.N. peacekeepers.
Estonia President Toomas Hendrik Ilves, whose country shares its eastern border with Russia, has supported arming Ukraine and a "physical presence" in the country. In an interview with CNN last month, Ivles said Russia's interference in Ukraine and annexation of territory are "out of a playbook that we last saw before World War II."
Bush has often spoken of Russia since signaling his interest in December in running for president, saying that President Barack Obama and former Secretary of State Hillary Clinton have failed to properly manage relations with the former Soviet nation.
In a March interview with radio host Hugh Hewitt, Bush called Putin a "ruthless pragmatist," and said "there needs to be clarity in Moscow that we're serious about protecting the one alliance that has created enormous amounts of security and peace in the post-World War II time."
"The Baltic states are counting on the United State to be a leader in this regard, and it's not just Baltics," Bush said. "It's Poland, it's Eastern Europe, it's a lot of countries."
But for the past 10 days, it's been the U.S.'s 2003 invasion of Iraq that has consumed much of Bush's attention. After saying in an interview on Fox News interview on May 10 that he would have authorized the invasion despite faulty intelligence, Bush reversed course after several days, saying he misheard the question. He then dismissed the question as a hypothetical, only to say on May 14 that he wouldn't have approved it.
Speaking to about 50 business officials in Portsmouth, N. H., on Tuesday, the first of a two-swing through the state, Bush signaled again that he was not thrilled with the family comparisons, saying "people are just going to have to get over that." "I have a life journey of my own," he said. "I love my brother, I love my mom and dad. But I'm going to move beyond that."
Photo: "I have a life journey of my own," said Jeb Bush in comparisons to previous members of his family who were president. (Olivier Douliery/Abaca Press/TNS)