A Future For Unions, If They Can Keep It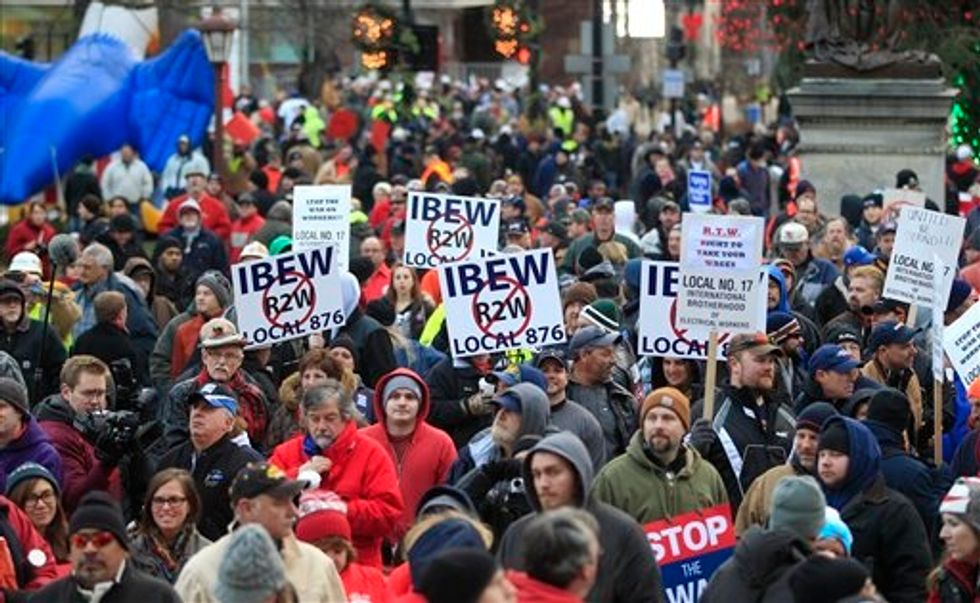 In the space of one day, the Los Angeles City Council votes to raise the minimum wage to $15 by 2020 and Philadelphia Democrats nominate a mayoral candidate who ran on a platform of raising wages. Are unions on a roll?
When it comes to lifting the earnings of low-income workers, the answer is a definite yes. Last year, voters approved ballot measures to raise the minimum wage in Alaska, Arkansas, Nebraska, South Dakota, and the California cities of San Francisco and Oakland. In 10 other states, as well as Chicago and the District of Columbia, lawmakers enacted raises. This year, New York City mayor Bill de Blasio is pushing for a $15 minimum wage and New York governor Andrew Cuomo says he will use executive authority to raise the wages of fast-food workers. Walmart and McDonald's are voluntarily increasing pay to some workers.
The income issue is moving so fast that President Obama's call last year to raise the $7.25 federal minimum wage to $10.10 already seems outdated; congressional Democrats recently introduced a bill to push it to $12. The Obama administration, meanwhile, is expected to announce an update in overtime rules that will give millions of workers a raise.
At the same time, union members and clout are ebbing. Membership stood at 14.6 million or 11.1 percent of the labor force last year, according to the Labor Department. That's down from 17.7 million and 20.1 percent in 1983. And unions are losing political fights at every level.
Even as he readies that overtime-rule update, Obama is in a high-profile, high-stakes fight with labor over what could be the chief accomplishment of his second term. That would be the Trans-Pacific Partnership trade agreement with 11 Asian-Pacific nations, for which he wants "fast-track" authority that would limit congressional input to an up or down vote on a final deal.
The spectacle has featured Obama and Senator Elizabeth Warren trading personal attacks over who is right about potential harm to priorities they both hold dear, and AFL-CIO chief Richard Trumka exchanging jabs with Obama over which one of them is living in the past. With Obama, Republicans and some Democrats lined up against them, the most unions can hope for is that negotiators heed their critiques.
A potentially more dire development for unions is Wisconsin governor Scott Walker's ascent to the top tier of the 2016 Republican presidential field — in large part on his reputation as a union buster. Unions tried to oust him in a 2012 recall election after he ended collective bargaining for state public employee unions, but all they did was turn him into a conservative martyr with sky-high name recognition and a national fundraising base.
Walker not only beat the recall, he won re-election in 2014 and promptly made Wisconsin the 25th state with a right-to-work law that lets people opt out of joining unions in workplaces represented by unions. Public-employee union membership, meanwhile, has plummeted since the collective bargaining ban.
Not surprisingly, Walker is running for president as the David who slew the Goliath of labor. He never fails to rouse conservative audiences with tales of the 100,000 protestors at the Capitol, the death threats to him and his wife, his resolve and ultimate victory over "the big-government union bosses," and his appreciation for the prayers of supporters around the country. Especially supporters in Iowa, New Hampshire, and South Carolina.
Whether labor is really a Goliath is questionable. In South Carolina, Governor Nikki Haley attacked unions in her State of the State address and the International Association of Machinists and Aerospace Workers withdrew a request for an April 22 vote on forming a union at the Boeing Dreamliner plant in North Charleston. Lead organizer Mike Evans cited "an atmosphere of threats, harassment and unprecedented political interference" in an April 17 release that's painful to read. The union said two organizers were threatened at gunpoint and others reported "hostile and near-violent confrontations."
Yet a Winthrop University poll in March finds that even in South Carolina, 68 percent favor raising the minimum wage, suggesting a ballot initiative there could well succeed.
The path forward for unions is murky. Campaigning for issues and candidates important to workers takes money, which takes members who pay dues. And while the push for higher wages is a cause sweeping the land, what about other union functions, such as making sure workplaces are safe and workers aren't abused?
Threats at gunpoint notwithstanding, union organizers should not be deterred. In a Pew Research Center poll in March, people viewed unions favorably by 48 percent to 39 percent. Even more encouraging, support for the right to organize in specific sectors was as high as 82 percent and the age group most supportive of unions was 18 to 29. Polls and election results alike suggest labor has a future, if it can keep it.
Follow Jill Lawrence on Twitter @JillDLawrence. To find out more about Jill Lawrence and read features by other Creators Syndicate writers and cartoonists, visit the Creators Syndicate website at www.creators.com. 
File Photo: Thousands of protesters gather for a rally on the State Capitol grounds in Lansing, Michigan, Tuesday, Dec. 11, 2012. The crowd was protesting right-to-work legislation that had been passed by the state legislature the previous week. (AP Photo/Carlos Osorio)