A Hard Spring Brings Hard Days for Jeb Bush
@JamieStiehm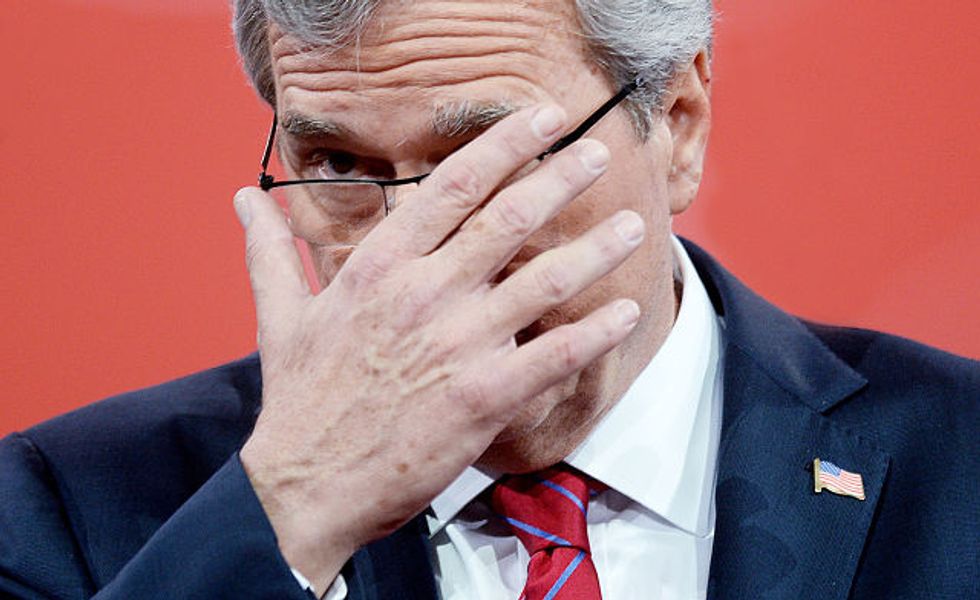 With a lush spring came cruel days. The Philadelphia train wreck happened only a hundred miles up the tracks from the Baltimore riots. Is the wind of history, the zeitgeist, on the job as we face the 2016 presidential race?
If so, it's worth noting that Jeb Bush, the Republican frontrunner, spent days defending older brother George W. Bush, the former president, and the long war he started in Iraq. The younger brother was a one-man off-key Greek chorus.
In defending the decision to go to war based on Iraq's weapons of mass destruction — a claim proved false — the former Florida governor kept saying, "my brother." Like we the folks are all in with the Bush family? It's not as if we enjoy fond memories of a presidency defined by 9/11.
To return to the Baltimore and Philadelphia scenes, equidistant from the Mason-Dixon line. Those shocking sights, from April to May, told us that business as usual is taking a tragic toll. The Northeast infrastructure is old, getting older. So are Baltimore's sad-sack slums, visible from a moving Amtrak window as a train zips up to New York. Lives are on the line. Stressed rails reach a breaking point. And if we let things languish in policing and income inequality, heat will rise on the streets. Plain as that.
But Jeb Bush, the leading Republican candidate (all but declared) had nothing nice to say, no sympathy note to send from his alternate universe. He astonished even friendly media at Fox News and conservative pundits by a doomed defense of "my brother" and his administration's aggression in starting the Iraq War — still playing out. But as we know from previous Bush family dramas, loyalty to the tribe comes first. Nearly all Jeb Bush's foreign policy advisors were on his brother's A list, too.
After several stumbles on whether he would have invaded Iraq as president in 2003, Jeb Bush finally conceded that would be a bad idea. Yet he's echoed his brother's bluster and blunder by speaking to the issue with the veneer of a sneer. Why "re-litigate" the past? Many were puzzled at how little thought Jeb Bush gave to the biggest question facing his quest — and bedeviling his brother's legacy. (If his brother started it, hey, how bad could it be?)
By nature, the busy Bushes don't spend a lot of time lost in thought or looking back: "No regrets" could be the family coat of arms. Now we know Jeb Bush is no exception. Contrary to claims he's his own man, he often invokes his last name, stating his brother is his "closest advisor." Oh brother.
When war goes wrong, it's in the distance. Here at home, something strange went awry seven miles north of Philadelphia's 30th Street Station. A Northeast Regional train came around a bend, speeding at over 100 mph. The derailment devastated and bewildered swaths of the East Coast and beyond. Philly is a handsome city — with the Victorian zoo, the river boathouses, the Museum of Art. The city responded with great compassion and care to the injured and the dead that night. Brotherly love.
Eight beating hearts on that train were gone in a split second, torn from their plans, dreams, loved ones. All eight bodies were found in the wreckage. One victim, Rachel Jacobs, and I are alumnae of Swarthmore College in Philadelphia. She was 39. Somehow she seemed a long-lost friend.
Everyone knows safety improvements and infrastructure investment are overdue (except Congress.) Those old railway bridges over the bountiful, wide Susquehanna River? Sure, it's easy on the eyes, crossing over the river. The most peaceful way to travel is now freighted with anxiety.
Here's the thing this spring asks, starkly. Did our country get derailed at a reckless speed? Was Iraq akin to the curve in North Philadelphia?
The next president should address buttressing transportation, income inequality and beleaguered cities with fresh imagination and ideas. Whether a President Jeb Bush could do all that and regain our moral stature in the world community is a bridge too far. He's failed the test of character.
The younger Bush is not the one to lead us out of our predicament, safe toward home.
To find out more about Jamie Stiehm and read features by other Creators writers and cartoonists, visit Creators.com. 
File photo: Former Governor Jeb Bush speaks at the 42nd annual Conservative Political Action Conference (CPAC) Feb. 27, 2015 in National Harbor, Maryland. Conservative activists attended the annual political conference to discuss their agenda. (Olivier Douliery/Abaca Press/TNS)