A Lesbian Kiss, A Parade Of Trauma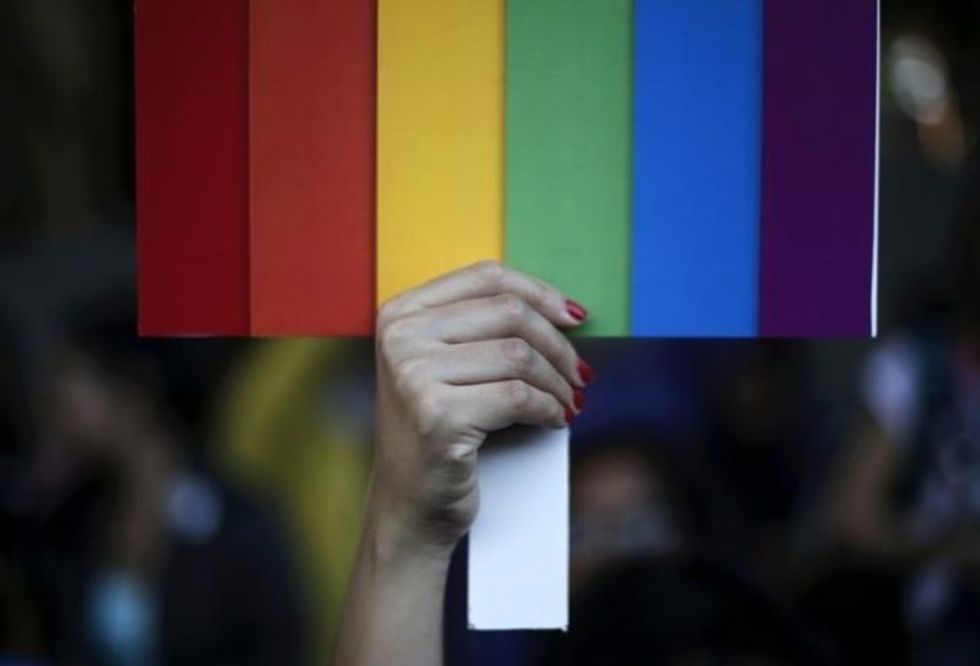 Reprinted with permission from Creators.
Well, it was just the sweetest thing.
It happened during the Macy's Thanksgiving Day Parade. All these happy cast members of the Broadway musical "The Prom" were dancing and singing, when — three minutes and 15 seconds into the performance — two of the actresses kissed.
Holy cannoli.
This was reportedly the first lesbian kiss on camera in the Macy's parade. Social media exploded with expressions of joy and gratitude. It's not hard to understand why if you know someone who is gay — and you do, even if you think you don't. For this historic moment to happen during one of America's most celebrated Thanksgiving traditions felt like hope with rhythm.
But a right-wing group called ForAmerica — of course it is — was having none of this.
"Millions of small children just watched two girls kiss and had their innocence broken this morning," it tweeted. Parents had been "blindsided." Macy's and NBC had colluded to "push their agenda on little kids."
It's just exhausting, isn't it? All of it. The nonexistent tragedy. The false accusations to keep extremists frothing. The willingness to depict children, who are born with hearts wide-open, as small-minded simpletons unable to see a kiss for what it is, a tender act of love.
I feel only pity for the writer of that tweet. We lose such a vital part of ourselves when we are unwilling to see the world through the eyes of a child. It turns us into someone who thinks the sight of two women sharing a kiss is the greatest trauma facing today's children in America.
I was reminded of Jesse Dorris' story for The New Yorker in March, titled "What School Shooting Drills Look Like Through Students' Eyes."
As Dorris noted, the most recent federal data show that more than two-thirds of public school students went through active shooter drills during the 2013-14 school year. Dorris' outstanding reporting allows us to see, through the eyes of children, what it's like to train as if your school will be the next target of a mass murderer.
One account: "George Groves, who is ten, is a fifth grader at Henry Barnard School, in Providence, Rhode Island. He said that he has been doing drills since he was in kindergarten, around once every three months. 'In the classrooms, there's usually cubbies with coat hooks, and we know to go over there and sit down when the teacher says,' he said. 'We have little slides on our door windows. One's green and one's red. If it's red, it means we are missing a kid or a few kids.' The teachers, he explained, 'pull down the shades and lock the doors, and we wait.'"
But that kiss.
The Sunday after Thanksgiving, CBS News' "60 Minutes" aired a story about children who were ripped from their migrant parents' arms and shipped hundreds of miles away, often for months. One of them, a curly-haired cherub named Immers, was arrested — yes, arrested — and taken from his father without having a chance to say goodbye.
For 73 days, Immers lived with a foster family in Michigan as his parents fought for asylum in the U.S. His father has a visible scar from being shot in the back by a gang member in Honduras. A judge has ruled that he may qualify to move his family here.
The scene of Immers' return to his parents illustrates the dangers of these separations for children. His mother is on the floor, sobbing as she repeatedly attempts to hold her son, who is wriggling and escaping her grasp. He does not want her kisses.
"I'm your mother, honey," she says in Spanish. "What is wrong with my son?"
She later told "60 Minutes'" Scott Pelley, "It felt like he wasn't my son anymore. It felt like a nightmare, like I was dead."
Her little boy is different after his time away. She describes him as withdrawn and moody and says it's been very difficult to deal with him.
Most of us want to believe that children like Immers will recover, that they'll return to the cheerful and outgoing little kids they used to be.
This is often unlikely, psychiatrist Pam McPherson told Pelley.
"When a child looks to their parent for comfort and the parent's not there, the child quits looking for comfort. Once the child detaches, they can have lifelong difficulties forming relationships."
As "60 Minutes" also reported, the Trump administration has been ripping apart migrant families for far longer than it claimed, taking away more children than it admitted.
But sure, that kiss at the Macy's parade. How will our children ever recover?
Connie Schultz is a Pulitzer Prize-winning columnist and professional in residence at Kent State University's school of journalism. She is the author of two books, including "…and His Lovely Wife," which chronicled the successful race of her husband, Sherrod Brown, for the U.S. Senate. To find out more about Connie Schultz (con.schultz@yahoo.com) and read her past columns, please visit the Creators Syndicate webpage at www.creators.com.